One of the longest days I've spent in the mountains (16hrs 6mins) is going to make for a long blog entry. This is just a warning that this read might take a bit longer than the average of 1:57min per visit on this site.
The Plan: Start at Alta Ski Area and traverse West to Salt Lake City by tagging all the major peaks on the way and exiting out Bells Canyon. This is similar to the classic 'Super Tour', but much farther, gains more vert, and is considerably more challenging.
This is a similar variation to a route completed by Andrew McLean, Lorne Glick and others a few years back.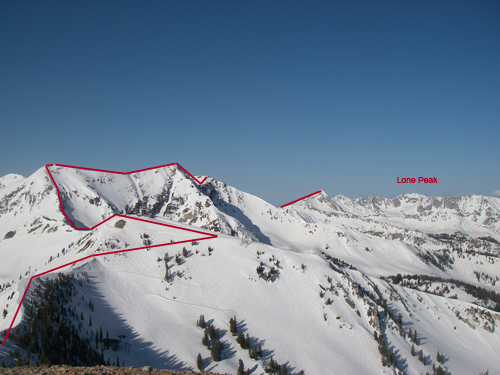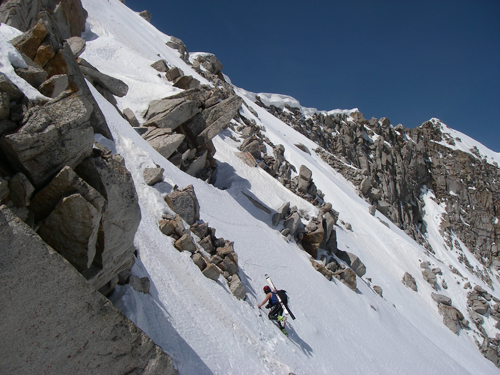 We took a nice 30min rest to dry out our boots, make some phone calls and eat some 'real' food.
I think I got some GU on the camera lens. I wish I had known I would have licked it off.
With one more peak to go it was fitting that THE REAL CRUX would appear. I had assumed that the ridge from Big Horn to Lone Peak was continuous and we could just traverse it. That is not the case. It's a rocky ridge with steep ice gullies and stout rock moves.
Wow, what a crazy day! A classic route with a little bit of everything. With firmer snow conditions this would be a lot less grueling and you could knock several hours off.
I hope you enjoyed reading about our adventure as much as I enjoyed doing it. If this wasn't long enough for you, Jared has some cool pics on his blog– SLC Samurai-