Drew Stoecklein has been hell bent on getting into the distant peaks behind his folks ranch to make some turns. He's gone through hell over the last few years to make that happen. With failed attempts involving everything from donkey's to snowmobiles and more epics than such an objective may warrant, I wasn't that interested in getting tangled up in another debacle (ask him about rabies if you get the chance). That was until I saw photo's of the Lost River Range! Jonah and I thought it could make a good segment for the upcoming film as well. So we headed North to Idaho last week.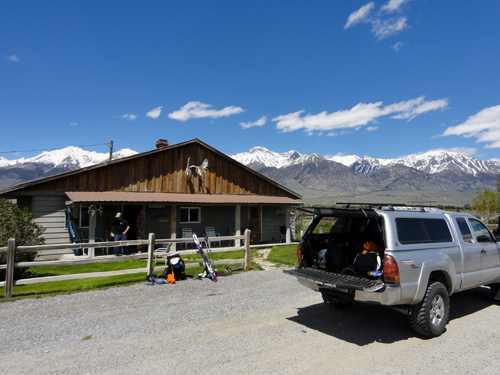 The two hour off road rally made me appreciate one of the obstacles involved in Drew's quest.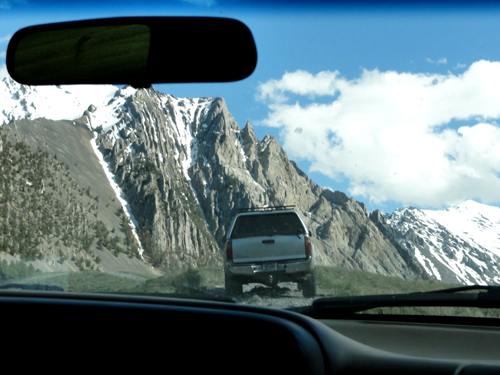 End of the road, beginning of the bushwhack. We hauled in 3 days of food and fuel for a few miles.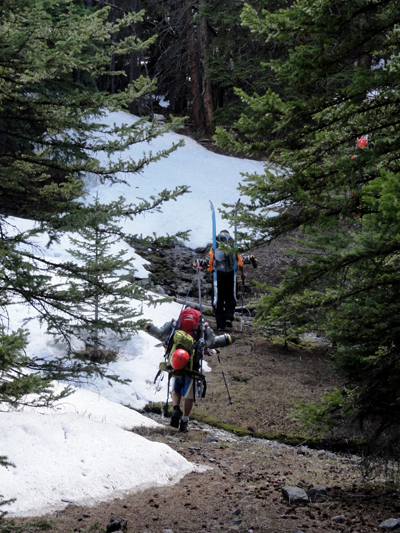 Just as the brochure had promised, our ski in/ski out campsite included such amenities as flat ground, running water and ample firewood. I had heard rumors of Mountain Hardwear's new simple shelter/cook tent, the Hoopster. We were lucky enough to get one sent out and it was the perfect tool for an outing like this.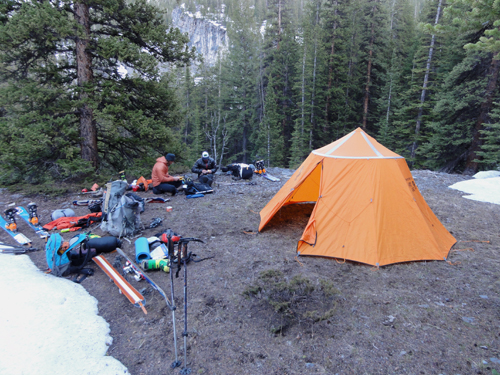 This trip was a real long shot in many ways. It is Summer after all! Many things need to come into place to find good skiing. First off there needs to be a good freeze at night. And snow is quickly getting runnels, covered in roller-balls, and/or covered in avalanche debris. Even if the snow is good then you only have a few hours to lay an edge before it turns to slop.
Griffin Post taking the backcountry ethic of 'leave no trace' to the firm skin track.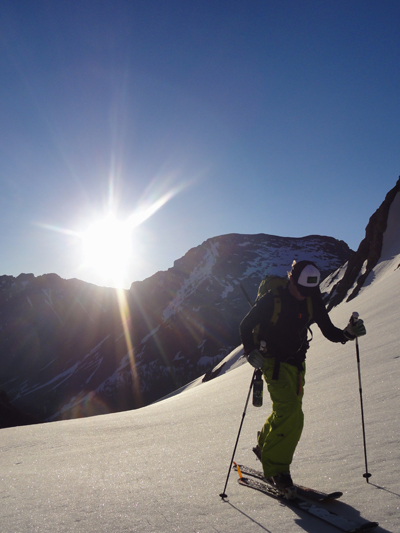 Rolling into the upper basin we finally got to see the incredibly unique surroundings of Bad Rock and Leatherman Peaks. The Northeast face of Bad Rock is the photo that compelled me to come. The arrows mark lines we hoped to ski. And with luck and some good timing we were able to descend all three in really good conditions! Our utmost desire being the ramp on Bad Rock right below the arrow. We were early for it that morning.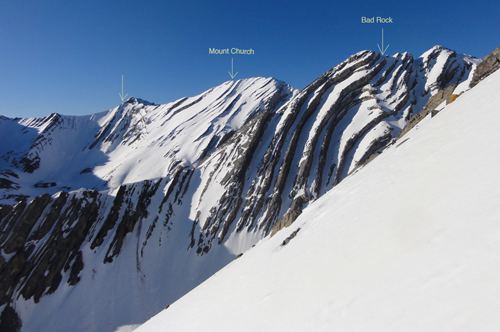 The crew headed to the base to wait and I shot over to a nearby chute that looked ripe for a quickie.  1,500ft of buttering warm pancakes with a hot knife was a good way to start the day. It was a long time since I had skied corn that good.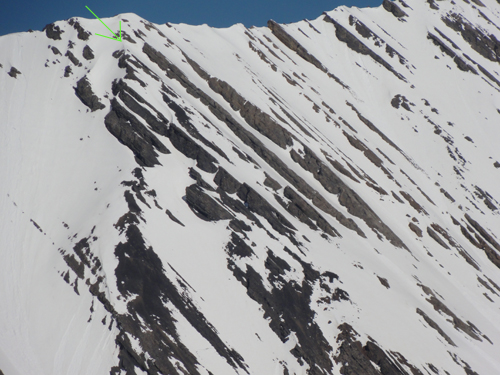 Bozo, Drew and Griffin were crushing the boot pack when I finally caught up (Leatherman in the background). The lower ramp is nice and wide with plenty of room for turns. And it slopes back into the rock, not out over the massive exposure, which is nice.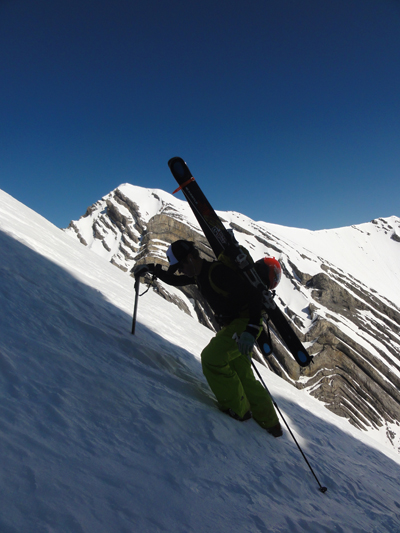 That all changes once you round the corner onto the hanging sidewalk.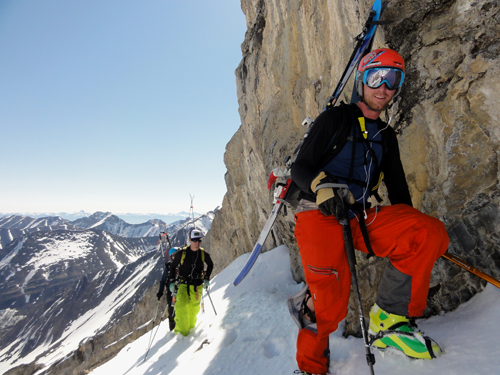 The final few hundred feet grab and hold your attention.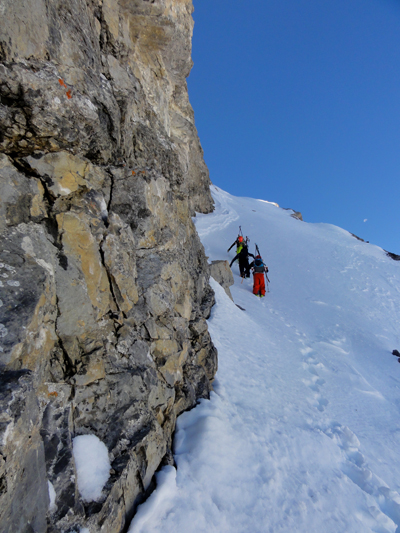 Drew puts in the staircase.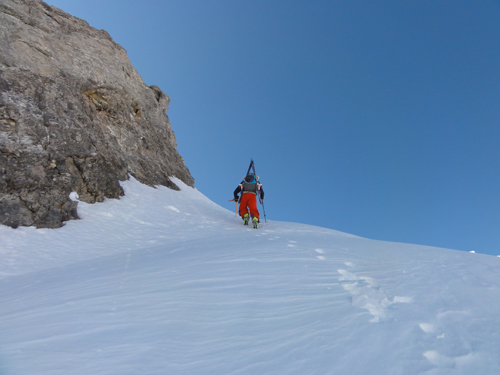 Griffin nearing the ridge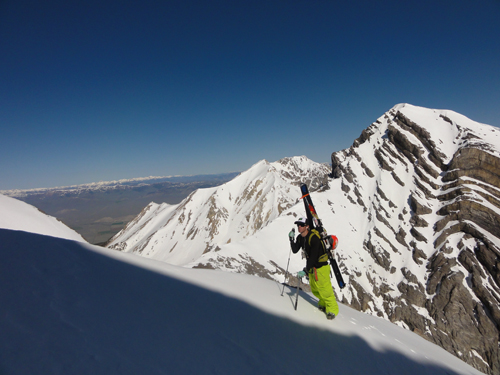 Where the sidewalk ends. Drew's family ranch is somewhere in the background.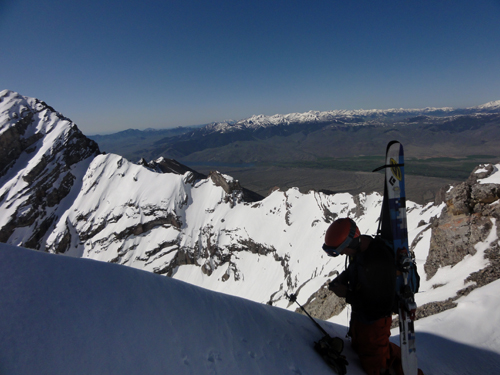 A pretty straight forward 40 degree ramp of firm edgy snow isn't so benign when you place it thousands of feet off the deck. Exposure is a mind game, like scrabble, but more fun and with higher consequences.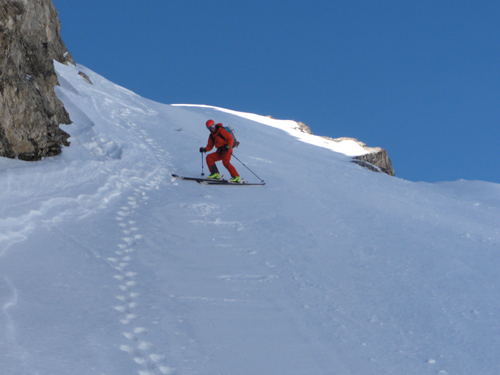 Drew doesn't seem to mind. He's just more than happy to finally be skiing his backyard.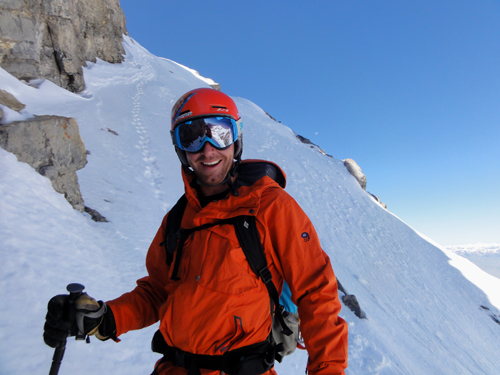 I think it would be hard to get this line in better condition. Bozo unleashes on the ramp! I hope to crush like he does when I'm over 50, but more than that I hope to have his great attitude and mountain appreciation.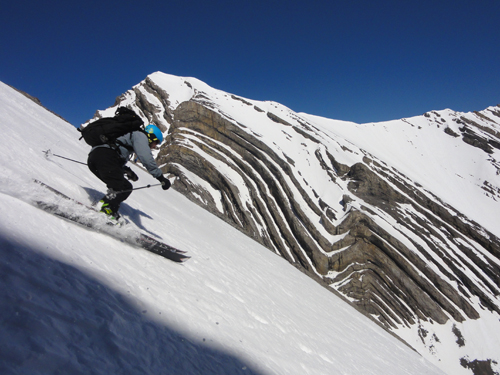 I'm a huge fan of the competitive free-skiing scene so it was really cool to be out in the hills with Griffin and Drew who have been at the top of that game for the past few years. Griffin Post ramping it up.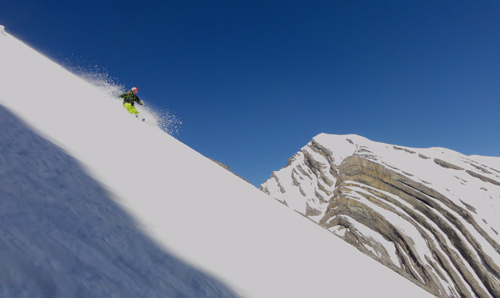 We hung out and waited for the lower chute to soften a little. Exiting the line around 11:00 we found that the mountains were speaking loudly and we didn't like their tone. Huge sloppy waves of wet avalanches swept many of the slopes and several cornices had lost their will to live, hurling themselves down slope leaving 4ft depressions on each touch down. There was plenty more to be skied, but we called it a day and headed back to camp to nap, explore caves, throw rocks and hunt for fossils. I never went to camp as a kid, but I'm making up for it now.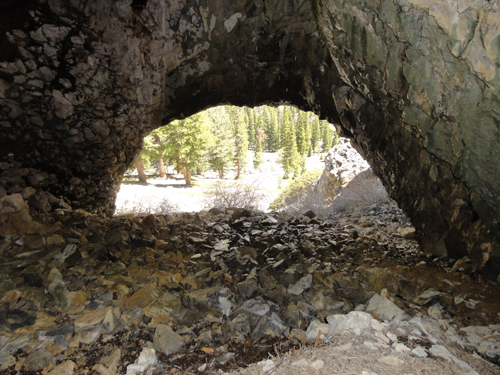 Don't forget to brush your teeth before bed.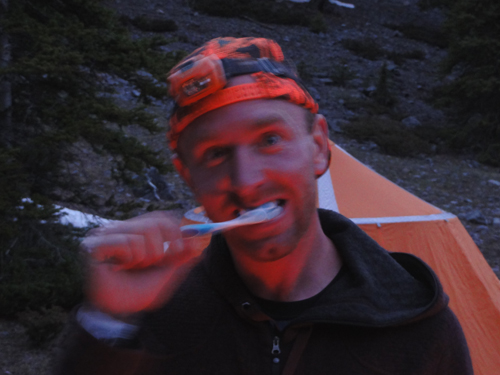 The next day was predicted to rise in temps, so we woke up even earlier and headed off seeking truth and light at (Mount) Church.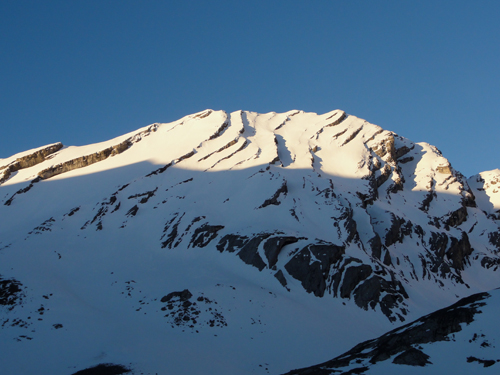 An efficient train of four made quick work of booting up the 2000ft face.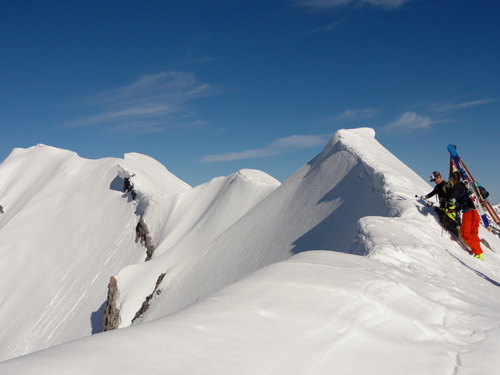 Focusing principally on video didn't allow me to grab any photo's of this descent, but it was excellent! You can take my word for it, or check it out in next years film.
We pushed hard to get one more line in before the daily melt down.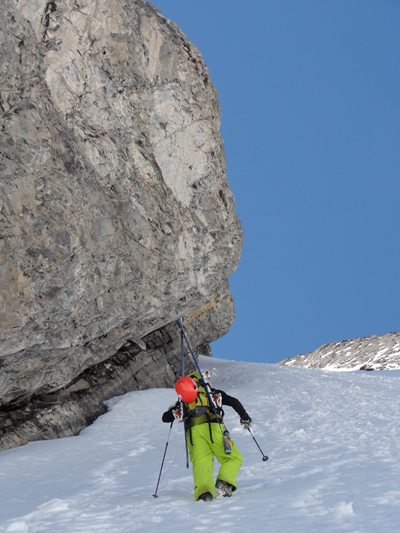 This rock lined chute had enough North aspect that it didn't see full sun until around 11:30.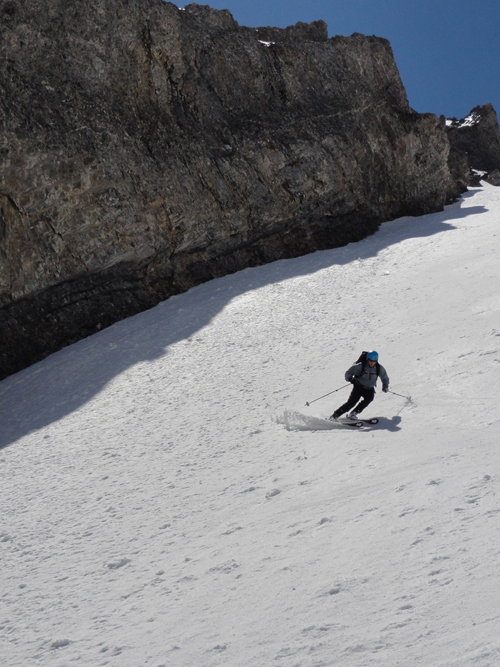 Perfect timing on another classic 2000ft line!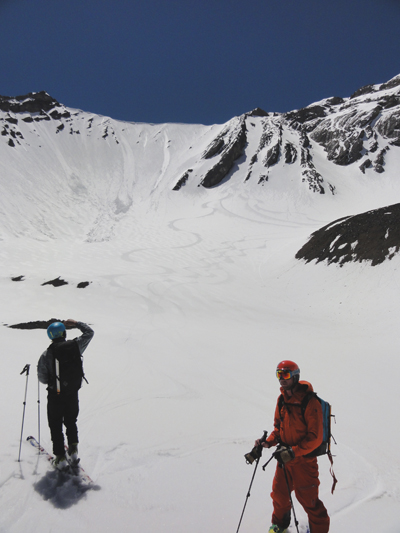 Not much else to ski, must be time for some pond skimming! This was the warm up run for Griffin and Drew who both cleared it without an issue.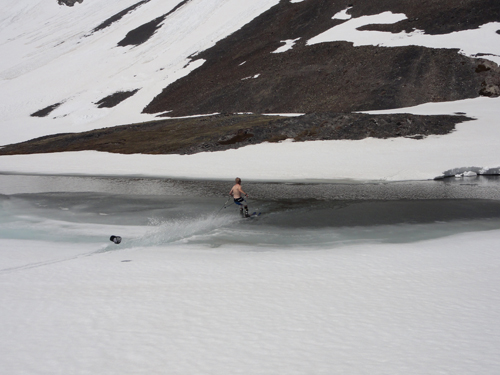 Then they stepped it up to the 150 feet of open water! It was too hot to not give it a go. Bozo and I both made it most of the way and then took a swim. Refreshing!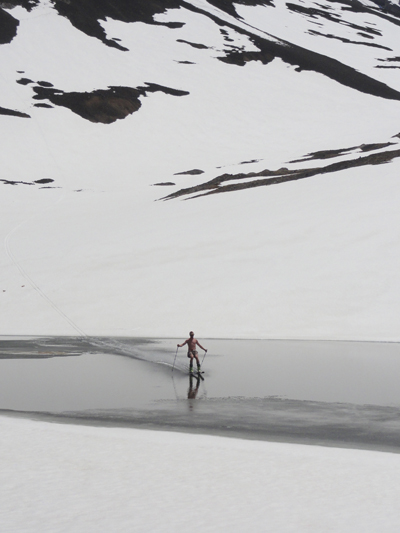 As we sat around drying off the clouds came in and threatened rain. We took this as the perfect cue to give thanks and make our exit.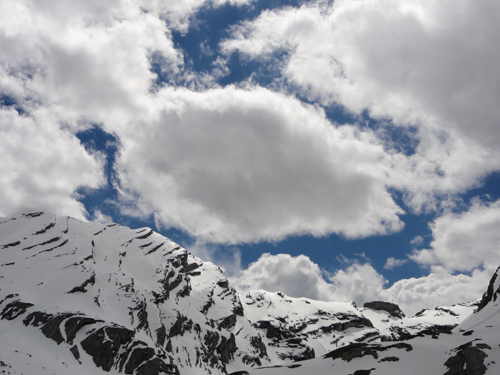 Sometimes you just get lucky and sometimes you work really hard and things finally pay off. This trip was a bit of both.
Check out Backcountry.com for all the gear you'll need for your next adventure.
FREE SHIPPING & Unlimited Return Policy at Backcountry.com ($50 Minimum Order)