As we cautiously skied by the rusted out relics I felt like we were entering the  'Forbidden Zone' from the Planet Of The Apes .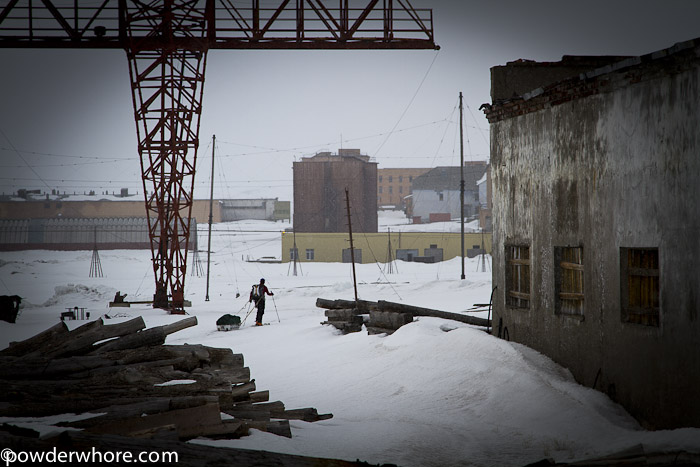 In fact Andrew and I silently coasted through the entire town with hardly a word spoken between us. WELCOME TO PYRAMIDEN!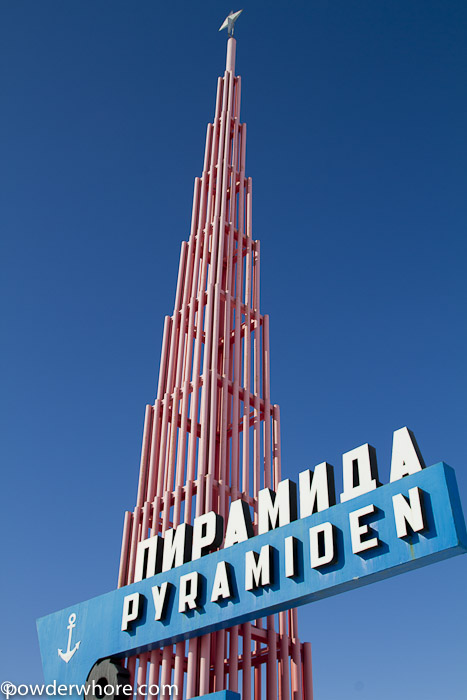 The Russians set up this outpost which 'thrived' during the 70's and 80's and was finally abandoned in 1998. The mining became more difficult and the costs too great. Lenin still commands watch over the central square.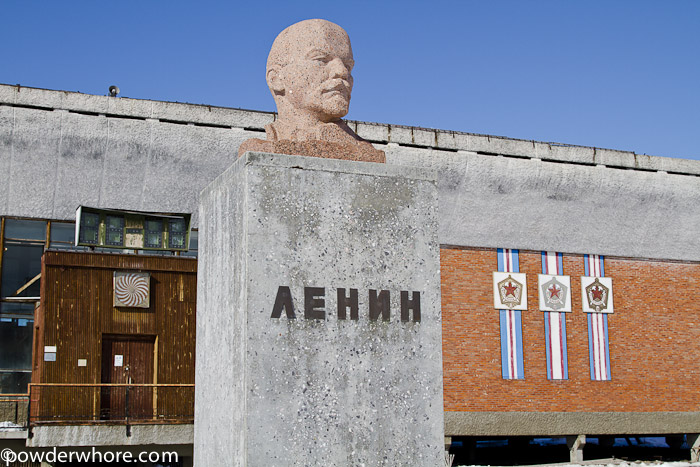 This torch marked the entry to the soccer field and outdoor gymnastics apparatuses that were half buried in snow. At it's height, over 1,000 miners and family members lived, worked and played in Pyramiden.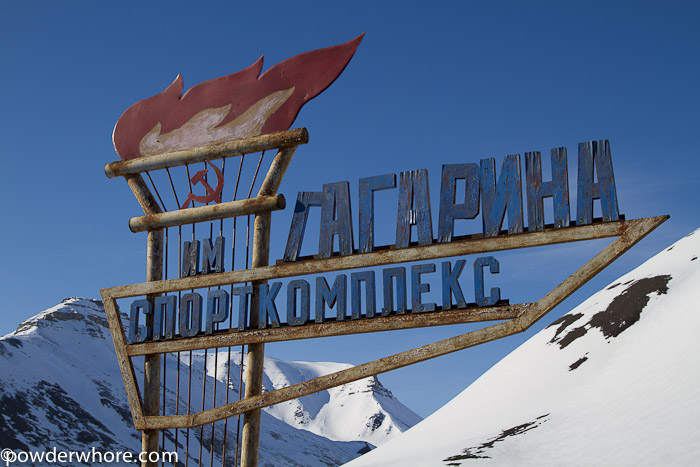 Now it's a boarded up ghost town with a few colorful reminders of a very proud people.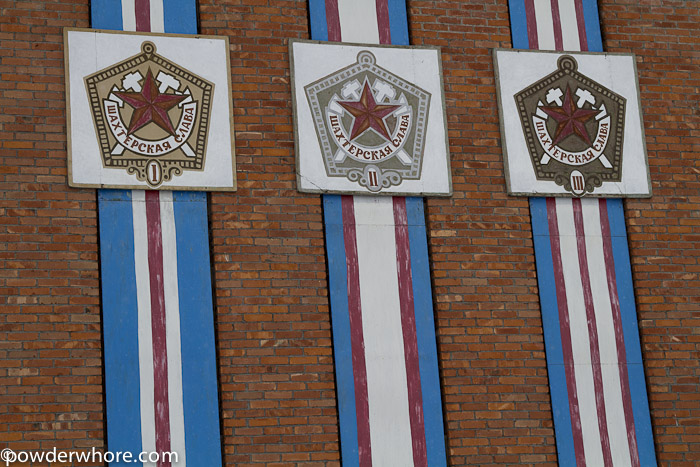 Once we had set camp and were brewing up some water I broke the silence, 'This place is fucking freaking me out, but I'm really glad we are here". Andrew agreed. Not often that you find yourself camping on the back porch of the old swimming hall in an abandoned Russian coal mining town during a ski trip a few hundred miles from the North Pole.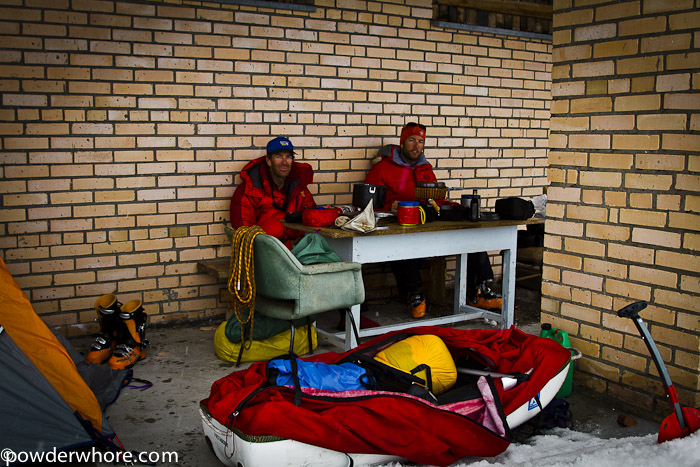 We came to ski Pyramiden Peak and so that's what we did. The whipping winds made an interesting day out of what would have been a mellow 3,000ft climb and ski above town.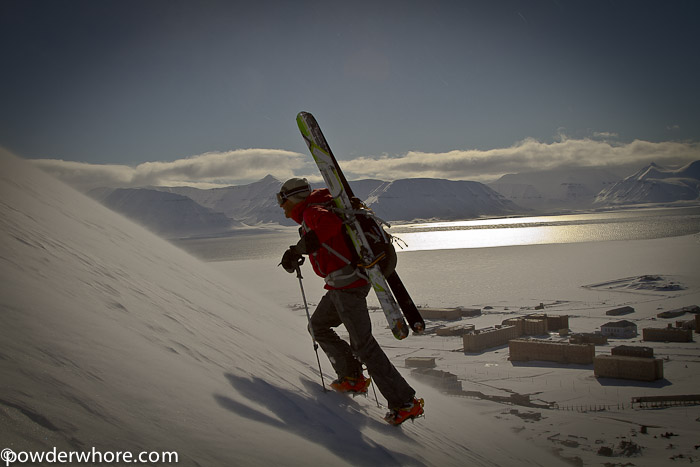 We wrapped around and found some gullies that held good snow.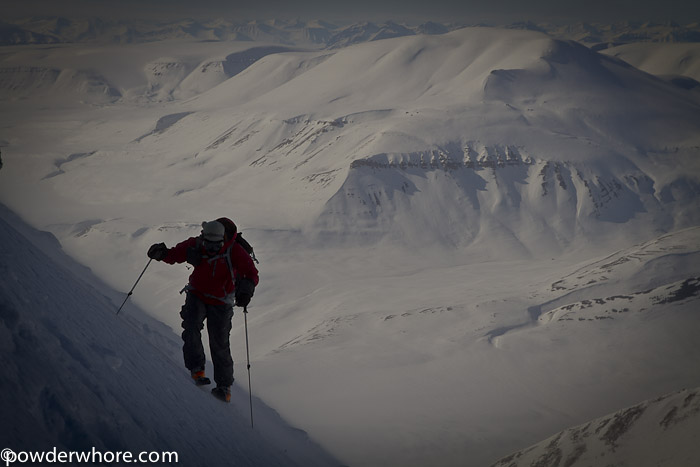 The summit is guarded by 360 degrees of cliff bands. Andrew attempted to sneak up an icy tunnel, but it didn't really go and wouldn't have been ski-able.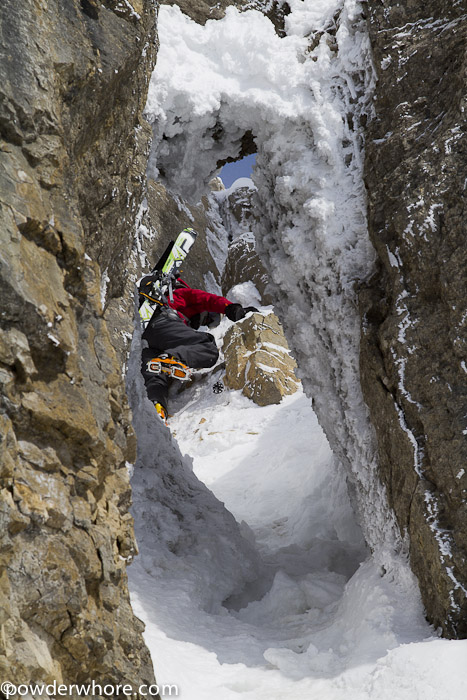 We didn't capture much skiing since it wasn't much to write home about. Andrew shot this one of me descending the backside of Pyramiden. With the lack of skiing I'm not sure the video will make it in the upcoming movie.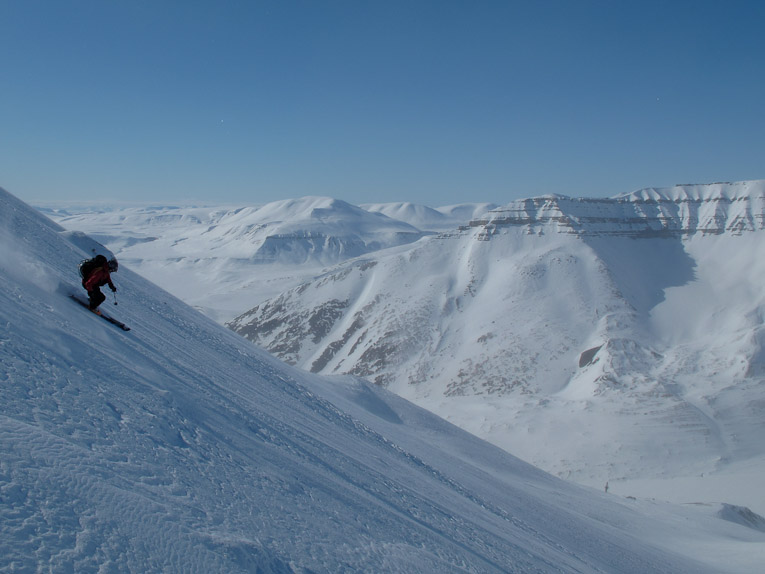 The next day we climbed up onto the adjacent plateau and took in the full scale of town and Pyramiden Peak.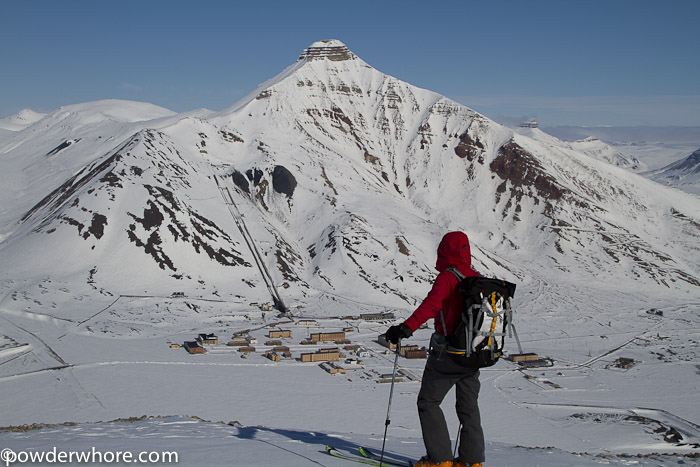 We took in the full scale of many views which were amazing, unlike the snow conditions. The larger peak to the left was our first descent on the trip and turned out to be the highest peak around.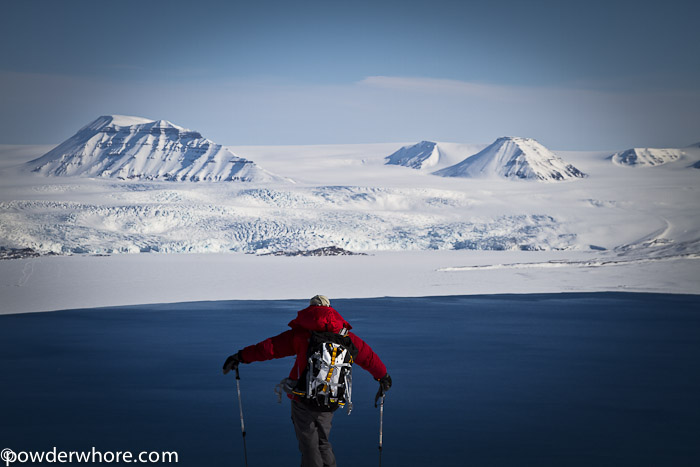 The evenings entertainment was a small herd of reindeer and a shy arctic fox.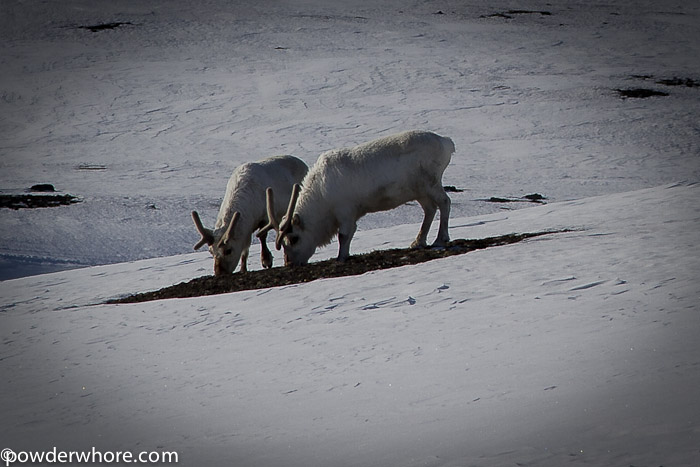 Our last day we went on a full tour of town.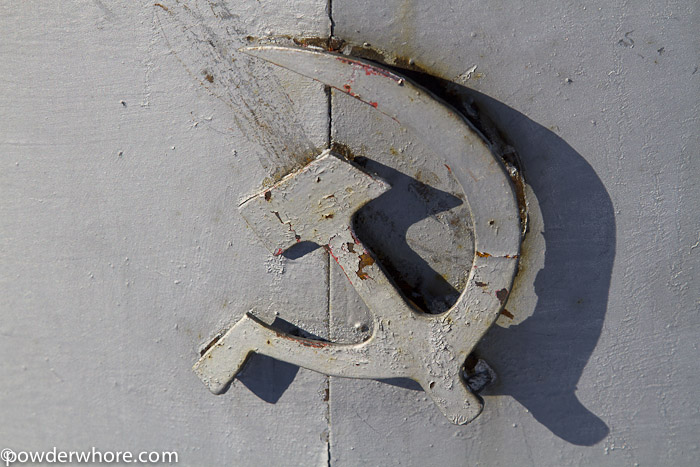 We were not alone- there were 2 armed comrades who watched over the remains of town by cruising around on ATV's. They spoke no English and maybe they mentioned something about not entering any of the buildings, but with the language barrier who can be sure?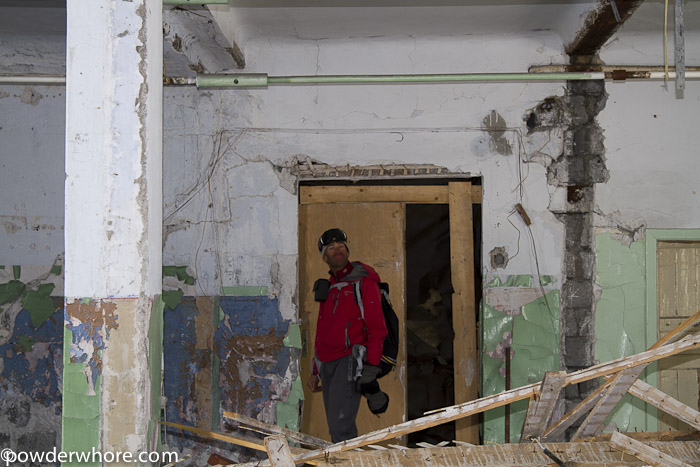 The birds have taken up residence in any available nook, cranny, or window sill. They screeched and screamed 24hrs a day. It sounded like dying babies and added to the creepy factor.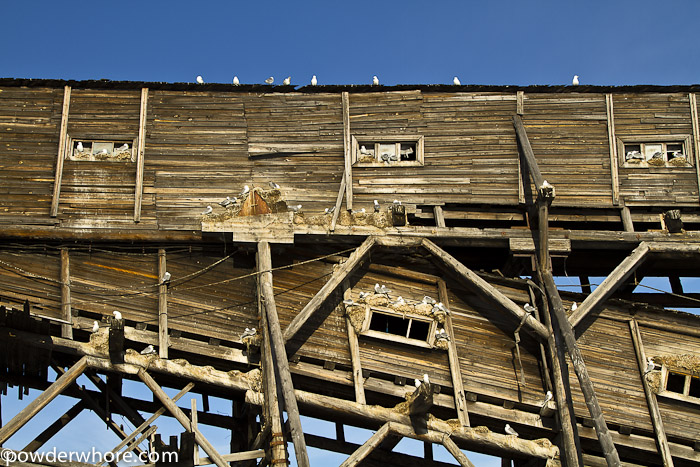 Decay, rust and the undoing of things always gives me a sense of peace.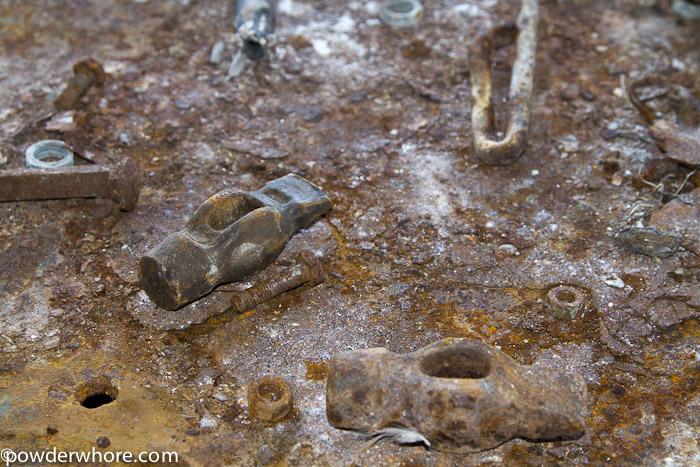 This was my favorite photo from the trip. Still seems haunted by the hundreds of men trudging a thousand feet up into the mountain each day to hammer out coal.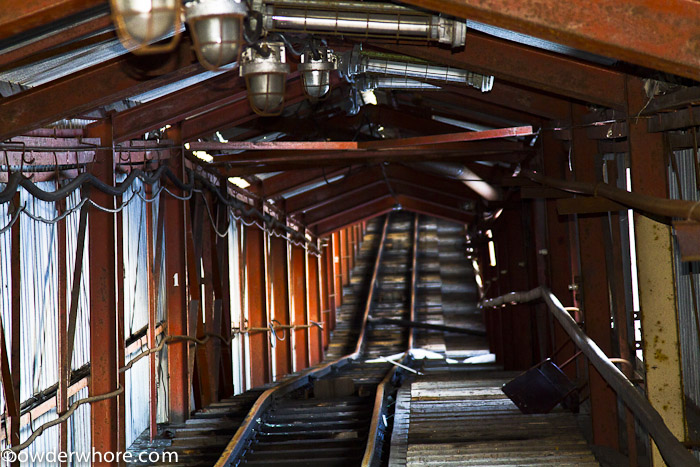 Eureka! What a strange and fantastic place to stumble upon. We hit the mother lode in our mining for remote turns and adventure.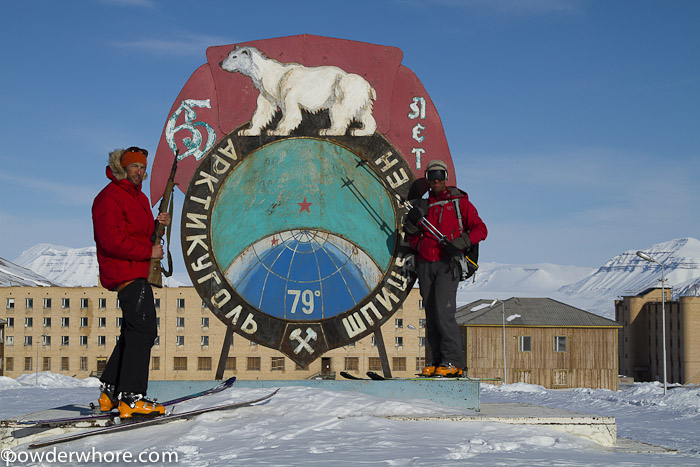 Still one more installment from Norway. Next we set sail on a 65ft sailboat for accessing remote fjords and skiing first descents.
Find the gear you need for your own adventures and help support my future projects by shopping BACKCOUNTRY.COM.
http://www.avantlink.com/click.php?tt=ml&ti=28933&pw=42043