per·verse (pr-vûrs, pûrvûrs)
adj.
1. Directed away from what is right or good; perverted.
2. Obstinately persisting in an error or fault; wrongly self-willed or stubborn.
Route is marked in red.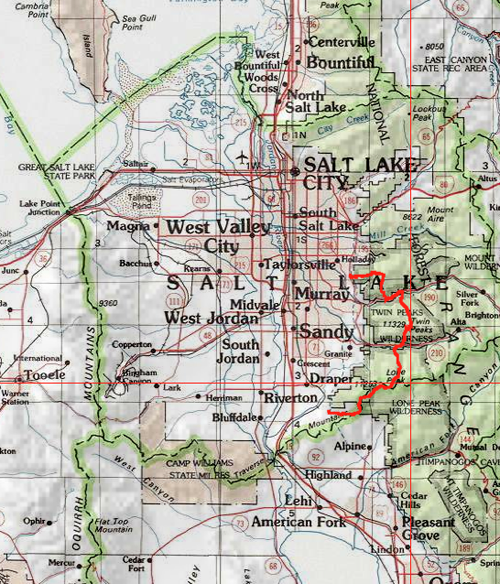 For 23 hours last week I unlocked the mysteries and misery of what I call the Perverse Traverse.



Over 27 miles I hiked, climbed, ran, fell, scrambled, slid and bushwhacked to the summits of the 4 sentinel peaks of the central Wasatch Mountains.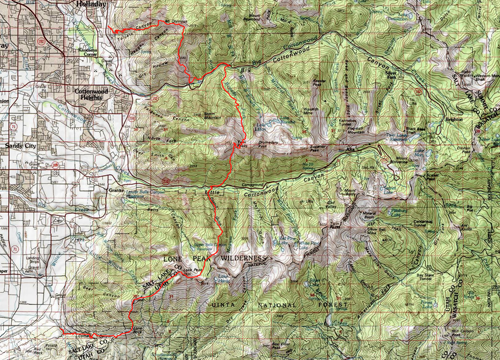 Over 18 thousand feet climbed and descended in a cross canyon effort to connect Lone Peak, North Thunder Mountain, Twin Peaks and Mount Olympus.


Training has been getting me out into the mountains this summer. Running for prescribed times with set goals may be good for the legs and lungs, but it doesn't feed the beast inside. So after 2 months of controlled activity it was time to let the badger out of the cage.
I woke up at 3:30 am, packed the camelback with ice, and stocked up the food and pills i would need.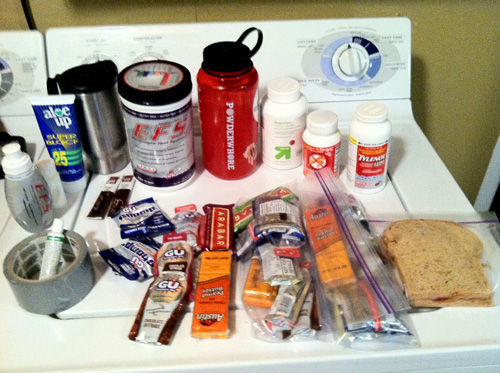 The idea was to go light and refuel in LCC and BCC.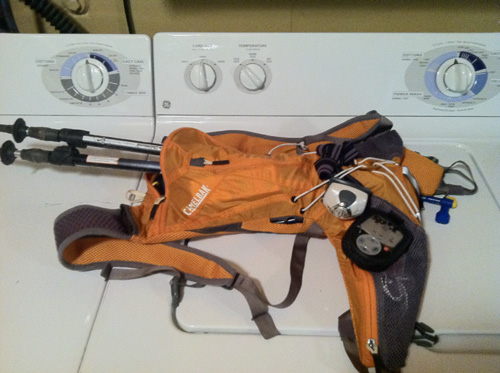 Thank heaven for 7-11 being open at 4 in the morning. Coffee and a doughnut and a sausage biscuit were quickly scarfed down. I dropped off my Moto at the Mount Oly trailhead and sped off for corner canyon in Draper.
At 5 am on the dot I was underway. The city lights and small headlamp lit up the well marked trail and I played with the balance between going fast and going all day. After Jacob's ladder I passed through the glowing eyes of a deer herd that didn't seem too concerned with my trespassing. The sun and I were rising right on schedule.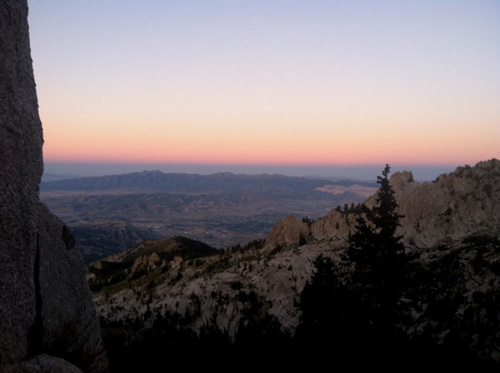 I thought about entering Lone Peak Cirque and climbing up and out on a rock ramp. Fear of not knowing the route pushed me to wrap to the south. I lost the trail, but scrambled near the South Summit of LP and made the true summit at 8am. Not fast, but steady and right on pace for the day.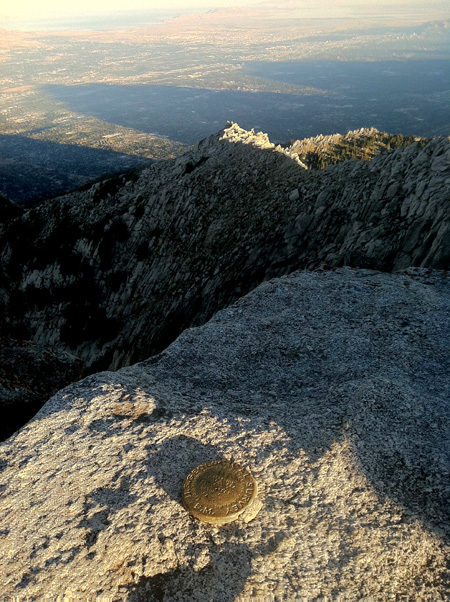 From here I ran down to the saddle between LP and Big Horn Peak and dropped into Upper Bells Canyon. I engaged the force and hopped like a highly trained Jedi across enormous fields of shifting granite. This was a highlight of the day. A gully led to the saddle gave access to Thunder Bowl. This was some slow going due to firm snow mixed in with the rocks. I haven't done hardly any mixed terrain this Summer, mostly trail running, so this was a nice change. I wrapped around low in the bowl and climbed up to North Thunder Mountain and the top of Coalpit Headwall by 10 am. I rested for 5 minutes and took in the view of Lisa Falls.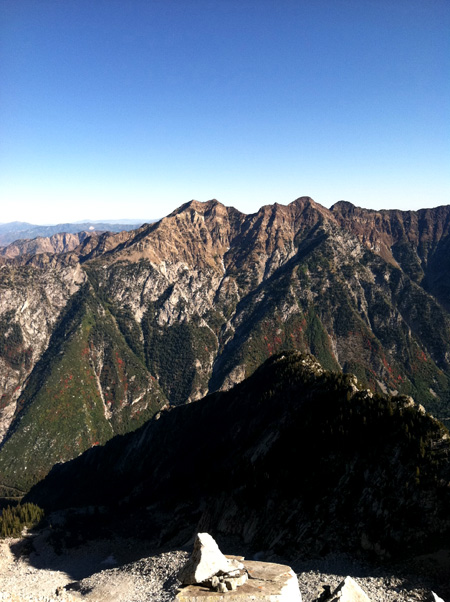 The descent was way too easy for the first four thousand feet-it was like walking down an endless granite staircase. The gully from hell awaited! A bushwhack led to the stream full of downed timbers covered in moss. Trekking poles were a life saver. This gave way to slippery scary rock and waterfalls. Some were skirted, some downclimbed and some I slid down on my ass. Much more risky than I had thought and wanted. I wouldn't do it again without a short section of rope.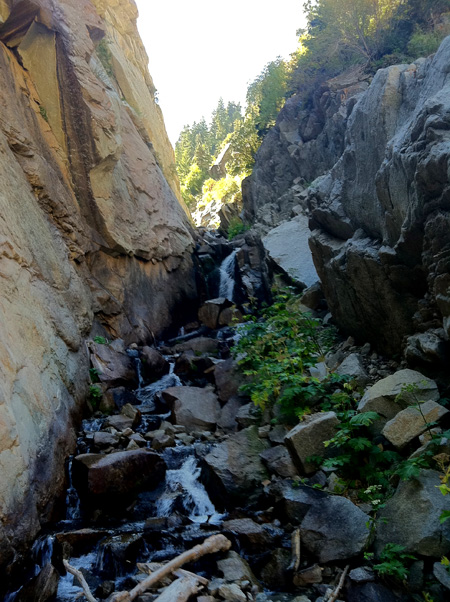 It was great to be out of that gully! And good to see Jonah at the Great White Icicle pullout in LCC. Jonah didn't believe the traverse was possible, but he was nice enough to humor me and help resupply. I had the first leg finished up in 7hrs and 15min, only 15min behind where I had hoped. Jonah drove me up the street to the Lisa Falls trail where I wolfed down a bagel sandwich and coffee and filled up the camelback. My clothes and shoes were soaked, so I dried out and put on fresh socks.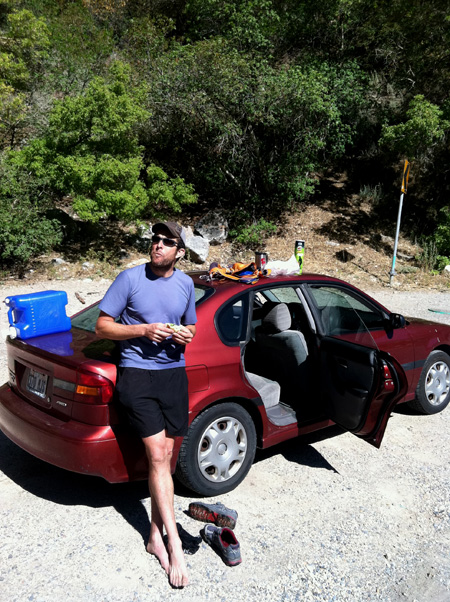 I was feeling great and was back on the trail at 12:30. Lisa Falls is a steep 5,000ft climb. For the lower 2/3 it's really good hiking through the gully with plenty of nice little falls and good granite smearing to get around them. This photo is a series of 4 or 5 bathtub sized pools.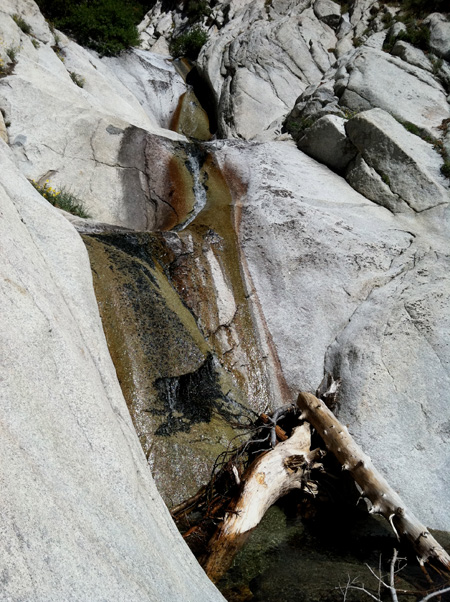 I took it easy on this section hoping not to overheat. The shitfest of loose rock made first gear easy to maintain for the upper 1500 feet. I topped out on the West Twin and took a 15 minute break on the East Twin. There was a very nice couple that needed several explanations before they understood where I had been and where I was trying to get to that day. "No, I didn't camp anywhere" I kept telling them. Trying to show off I ran off Twin Peaks faster than may have been prudent. Showing up at the S-curves in Big Cottonwood at 5:30 I waited for my sister and started walking down canyon. She showed up a few minutes later and we drove to the Stairs Gulch Amphitheater. Total time thus far was 12:30 for the day. Dinner! Dinner!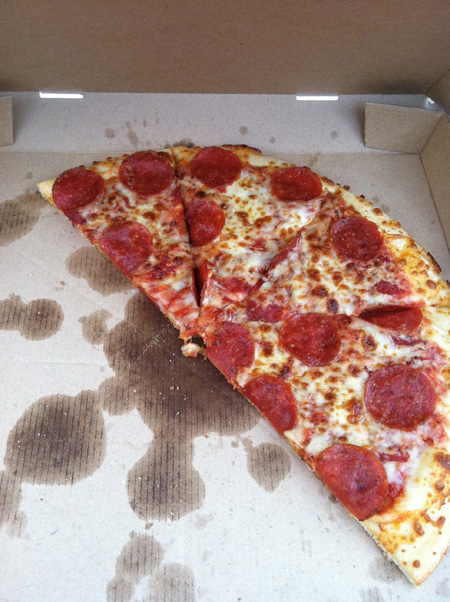 Deborah and her husband asked, "Why are you doing this?" and I answered, "To see if I can." There is much more to it than that and I'm working on a better answer. I'd like to get into it in a later blog post perhaps.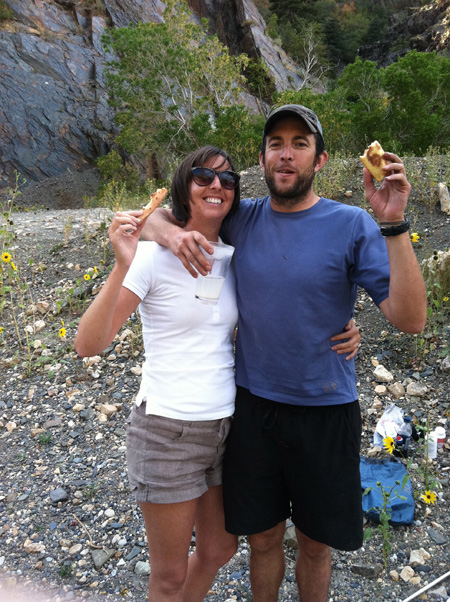 So far things had gone really well. I was within 1/2 hour of where I had hoped to be at this point. The run off Twin Peaks had tightened up my quads a bit, but after refueling they were ready for more.
I made a very bad call at this moment though. My headlamp had gone missing and it was 6:10 pm when I decided to continue. The thought was that I could make the ridge by sunset and finish up by using the city lights. I hadn't traveled the ridge, but it looked ok from all the vantage points. Willing my body through some scrub oak as thick as my skull I gained a rotten ridge and tried to hurry upward. The sun was setting fast and the ridge got more rugged. Several sub peaks were surmounted and descended with very exposed vertical climbing. It got a bit desperate as I realized I couldn't go back down the way I had come even if I wanted to. Then it got dark.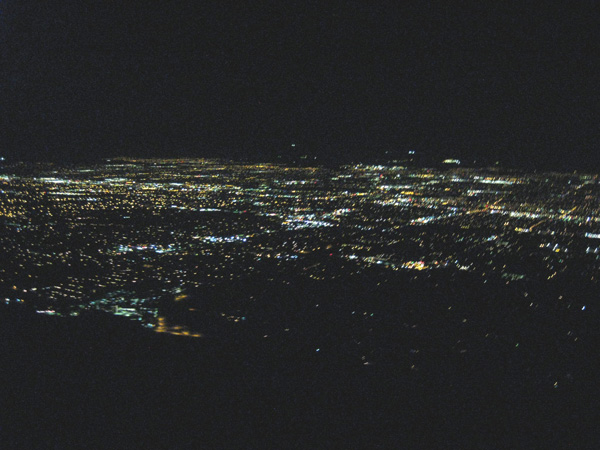 The next 5 hours became a tour of duty. It was a waste of time and energy to stay right on the ridge so I weaved back and forth bashing through scrub oak and contouring towards Widcat Ridge. Even with a headlamp this wouldn't have been a winning battle and without one it was just stupidity. The trekking poles saved my ass, literally. My brand new running shorts didn't survive, suffering tears on both cheeks. Feeling around with my poles, I was able to move forward slowly. Finally, I saw Wildcat and traversed around to the west to gain its ridge. I topped out and almost cried when I saw the actual Wildcat Ridge far far away to the North. It was now 11 pm and I was out of water. Morale was as low as I've experienced. Life is easy though, you make simple decisions based on what's right in front of you. The options were to bivy for the night or to keep moving. Sleeping sounded wonderful, but not here. I needed to talk to someone and God wasn't listening so I turned on the phone and called my girlfriend. Riley had monitored my progress via the Spot Tracker like a mother hen. She thought it would be a pleasant surprise to meet me at the finish with dinner and some ibuprofen. When she heard I was out of liquids and had no light she decided to start up Oly and meet me on the trail. This was great motivation for me to keep going.
I worked back up out of upper Heugh's Canyon and finally onto Wildcat Ridge. I've scrambled this a few times in the light and it's pretty fun. In the dark after 17hrs of travel it's just plain scary. I kept getting forced off the ridge and then had to climb back up. I was whooped, but I never got lazy. I double checked all the holds that counted and moved carefully. When I was close enough to see the summit my eyes tried to deceive my mind. There appeared to be a laser show on top of Mount Oly. I knew it wasn't really there, but it was cool to watch. Then I heard a sweet siren calling, "Noah, Noah!" This wasn't my imagination, but my wonderful woman calling out my name. The summit trail finally appeared and to my surprise I was able to blast up and summit that final bastard just after 1am. I climbed down a few hundred feet and met up with my savior. She had salty food and water and Asia the dog. We had a picnic by the city lights. She told me I was an idiot and I agreed.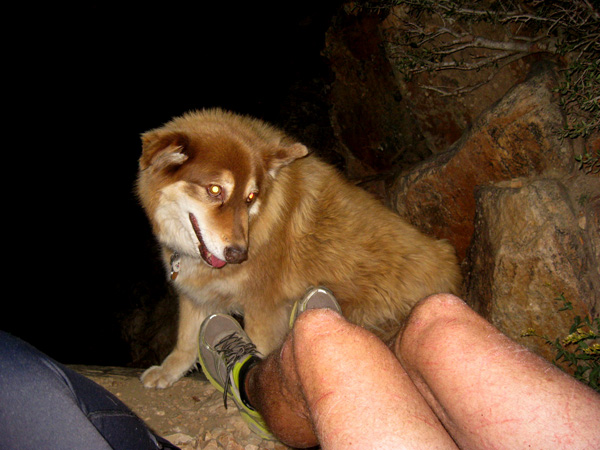 We slowly walked off using the wonderful invention known as the headlamp. I think I was loopy and kept commenting on how nice the trail was and that trails were such a great idea. After 23hrs I limped back into the valley as a cripple.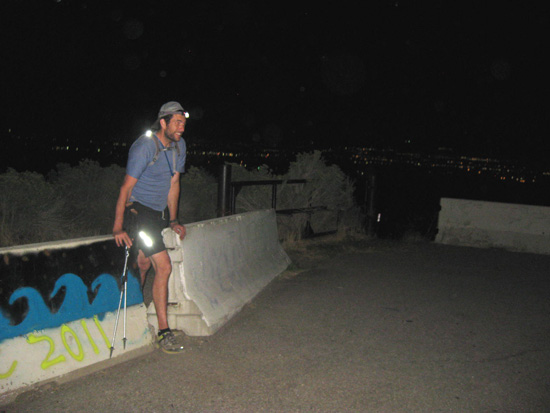 The next morning I crawled to the bathroom and back to bed and didn't do much more than that. Sleep was interrupted by nightmares of high speed descents on loose rocky trail. It was 3 full days before I was walking normally again. I had wanted to push myself and in the end that is what happened even though it was much further than I had planned or thought I wanted. I'm not sure how traumatic an event must be for one to suffer PTSD, but I may have a mild case.
Visit Backcountry.com to find all the gear you need for your adventures.
Hand Picked Deals at Backcountry.com – Up to 70% Off