I have always been a slow reader, but I never imagined it would take me 13 years to finish a flimsy paperback.
'Why would you want to ski that'? I remember thinking as Andrew Mclean was dryly presenting his steep rock lined descents at an REI slideshow. I was fresh out of the resort and diving into the glorious powder bowls of the Wasatch backcountry. It was exciting enough avoiding avalanches and exploring this new world. But something about the photo's I saw and allure of these mysterious hidden lines struck me. I purchased a copy of the book and found myself thumbing through it fantasizing about lines. Kinda like I used to do with the Victoria's Secret catalog. Only difference was these lines were real and attainable and sometimes just as pretty in real life.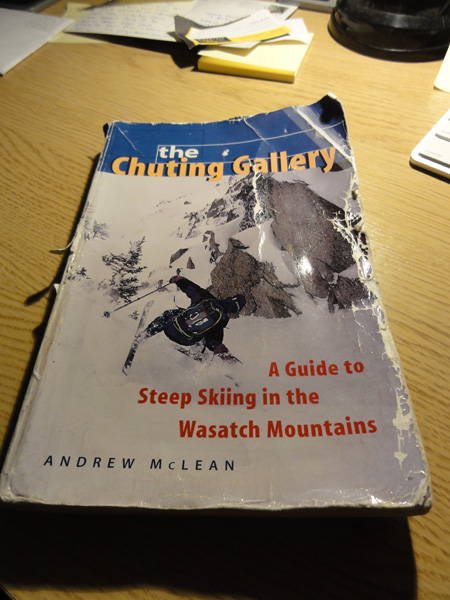 The backcountry was a different place back in 1998 and big scary lines didn't get skied until conditions were bomber. My skill level and confidence grew as I gained experience under the wings of seasoned veterans. We started ticking off the big classics like: S Superior, The Y, Stairs Gulch and Coalpit Gulch all in less than ideal snow conditions. Eventually the three star lines got the 'check' and I was content to let the others remain mysteries.
Fast forward a decade of skiing 100+ days a year in the BC. Many more of the Chuting Gallery lines had been skied in our search for new and interesting lines to film for Powderwhore Productions. I started getting out on some solo missions as well. In training for Denali I skied all the chutes in Wolverine Cirque in a day, ticking off 17 lines. King's Peak went down in a day using lightweight leather boots and fish scale skis. And in a 14,000ft effort I linked up the "Super Coaster" by skiing Lone Peak's NE Couloir, Coalpit Gulch, Twin Peaks East Face and Stairs Gulch in what was probably my favorite day on skis to this date.
The idea to finish all the chutes and lines didn't come about until I was hired on to mule camera gear up to Wolverine Cirque. A friend was shooting a TV pilot. The concept was a series highlighting iconic outdoor enthusiasts. Andrew Mclean was the featured character. During a break in the action I mentioned that I had just traversed "The Ribbon" on Devil's Castle at Alta with Andy Jacobsen and BJ Brewer. Andrew asked how it was and said that he had never done that one. I was surprised. The assumption had always been that Andrew had ticked them all. And if Andrew hadn't skied them all, had anybody completed the book? My obsessive compulsive mind couldn't let go of this newly discovered project.
I started to look more closely at the book and I still had 40 or so to go. It seemed that a serious effort could knock off the remaining lines in a few seasons. Over the next two years I began hunting them out with willing partners and often solo. The Wasatch had hit and miss seasons, but I was able to keep tagging lines in good conditions. Then as the last few remained the project slowed and became quite difficult. Skiing steeps is so condition dependent and I wanted to do all the lines in relatively good snow, not just hacking down to say I did it. The only one that was very forced would be the Great White Icicle, which is a WI 3 ice climb that hasn't been "in" for many years so I didn't feel bad about that one.
The winter of 2011 came around and I had 4 remaining chutes. I worked around our filming schedule and knocked them all off except the NE Couloir of the Pfeifferhorn. This one had become a real son of a bitch! I'd tried it several times and chosen out due to too much snow, not enough snow and not enough balls. All decisions I'm fine with. I really began to wonder if I could get it this season as it began winding down.
I'll let the video tell the rest of the story.

I had a great group of partners to ski with and "show me the ropes" on this project. Thanks to all the following twisted folks for helping me safely get down the mountain: Darrell Finlayson, Jonah Howell, Andrew McLean, Jay Beyer, Andy Rosenberg, Andy Jacobsen, Todd Stuart, Judson Widner, Pete Rude, Dylan Freed, Jeremy Larsen, Courtney Phillips, Kyle Erkilla and Sam Cox.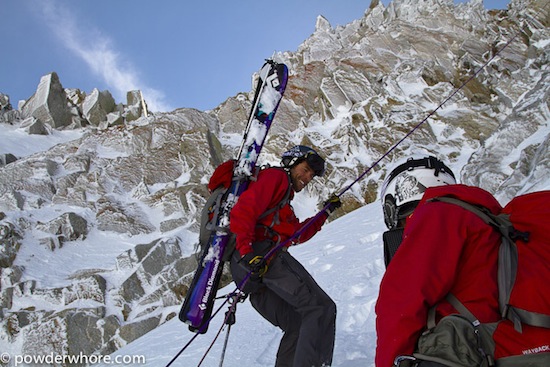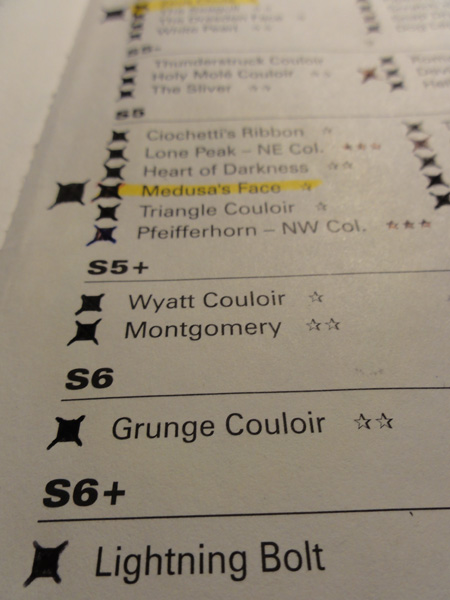 So, the answer still surfaces, "Why would you want to ski that"? A wise man I worked with once told me he'll keep doing what he's doing until he finds something more fun to do. I'm going to borrow that line for now.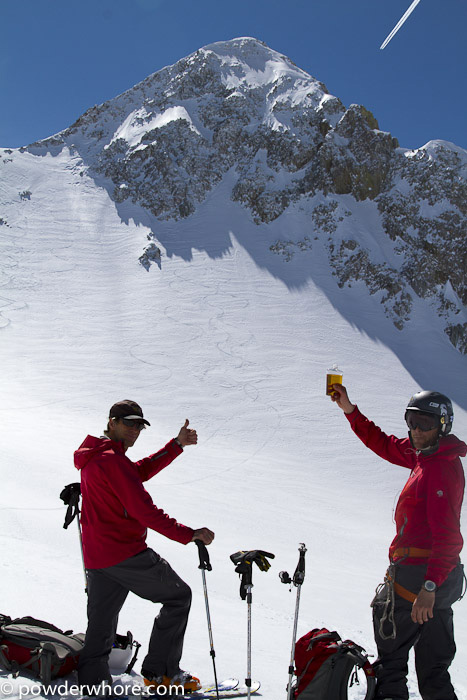 Find the gear you need for your next adventure and help support my dreams when you shop Backcountry.com through the link below.