It's still a little early for movie trailers, but a short teaser from our Antarctica segment might cool things off a little.
Traveling to exotic locations to film skiing is a legalized form of gambling. Similar to hopping on the fun bus to Wendover and with roughly the same odds of coming home a "winner". As production companies go, we are not high rollers. More like the old-timer: addicted to the flip of the next card and what fortune it could bring. We make a living putting in the long hours and wrestling good hands away from The House. However, last fall we saw an opportunity and decided to lay down a heavy bet. All in for Antarctica! Ice Axe Expeditions gave us an incredibly discounted opportunity that we couldn't pass up. Even still, we had never wagered this much on a single trip.
There are no guarantees, but we needed one anyway. The skiing could be horrible, weather could be worse and a whole slew of other elements could make the trip a bust for filming. We needed to stack the deck in our favor.
Inspiration hit like a Mutha F'ing iceberg in the night. ON A BOAT! (You'll want to click on that link in case you're not one of the 70 million viewers that have already seen it.)
That's right, we were going to parody the parody! So, I packed up a captains hat, some tuxedo shirts and an inflatable dolphin and confidently flew to the end of the earth for a roll of the dice. In the end, we pulled the winning hand on an adventure like no other. Capturing enough great footage for a full segment and a short spoof. Enjoy the teaser for the Antarctica segment in our upcoming film Choose Your Adventure (Special thanks to Tanya for stepping up and dressing down for the part of back-up dancer in fish net stalkings).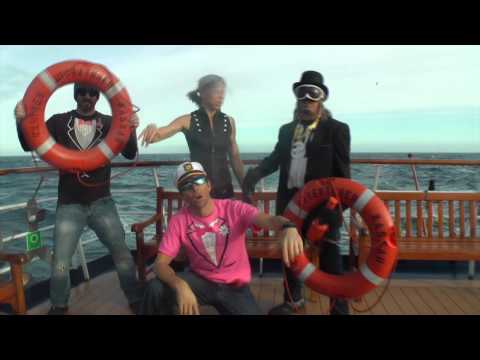 The lack of snow and accumulation of injuries last winter challenged us to get creative. And we honestly believe Choose Your Adventure is our most entertaining movie yet. We've got high adrenaline drops, deep face shots, characters in action, and exotic locations.  This years film is a stacked deck.
Check out the tour calendar and Pre-order the DVD and purchase PW gear.
Full trailer coming soon!