It's Winter, time to ski. And blog again, sorry for the huge blackout to those of you still checking in.
The legs have been feeling good with a handful of mellow touring days and some intense uphill training days already logged.  12/12/12 was on the horizon and it seemed like a good day to step it up and bang out 12K. I invited a handful of folks to join in the fun and three showed up. The strong winds and considerable avalanche conditions must have been a deterrent.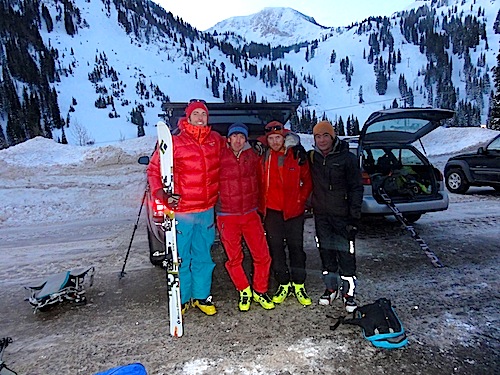 Myself, Andrew McLean, Andy Jacobsen and Jared Inouye left the car at 7:30am.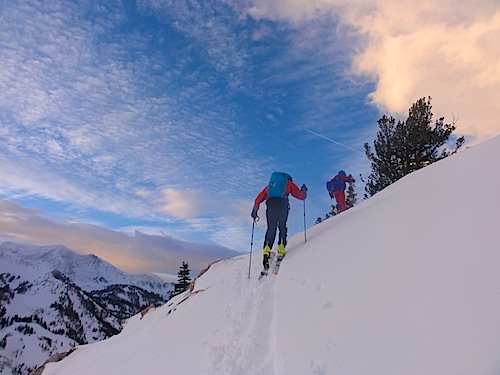 Winds were gusting near 50 mph as we broke trail up Pole Line Pass. The idea to return to the car and drink 12 beers instead was thrown around, but maybe it was lost to the wind.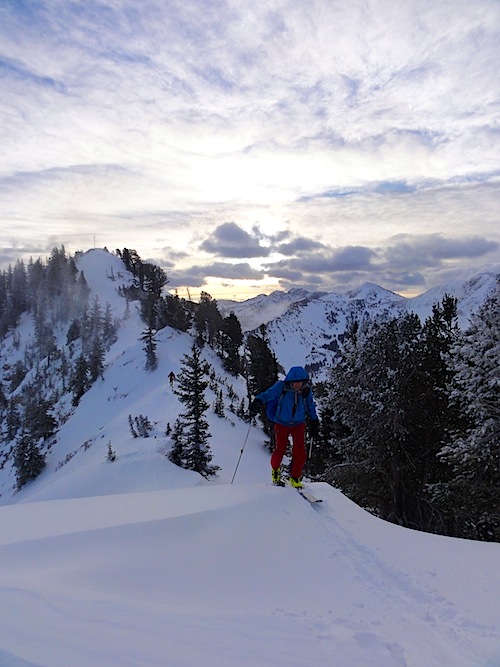 Persisting into Cardiff Fork we found much calmer conditions. All the snow looked pretty wind effected though. We broke a nice skin track keeping us off the ridges where the new snow drifts and wind slabs can be found.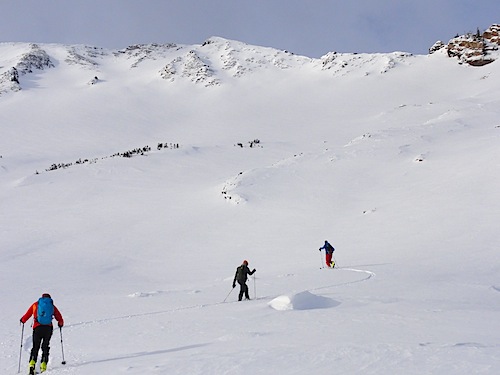 Jared is one of the nicest guys you'll ever meet. And one of the fastest (the speed ski record on the Grand Teton)! Don't stop on the skin track or you may get this annoyed look from him.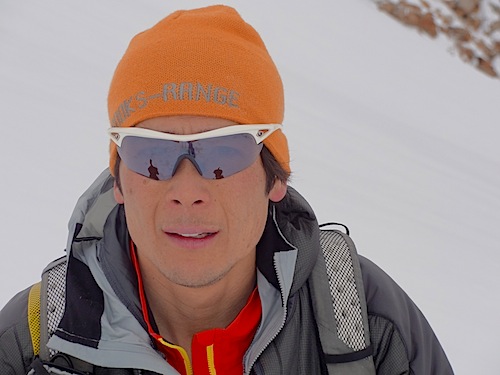 The first few laps were fun, but the vertical wasn't adding up as fast as I had hoped it would. By the time we were halfway the reality of 12k was HEAVILY setting in. Two years ago Andy J, Jake Sakson and I did 10k on High Ivory on Black Diamonds Gigawatts, T-Race Boots and O1 bindings. I can't even do the math to add up that much weight. It was nice to be on a "mid-weight" set up of BD Drifts and Scarpa Rush boots and Dynafit bindings. The 100mm underfoot was nice for the mixed bag of skiing we encountered.
Great spot to transition to ski mode.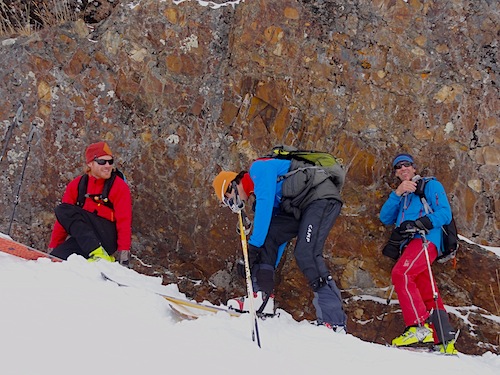 The uphill was fine, but the legs really burned on the downhill. Fresh snow from a day or two ago had been whipped into a creamy yet grabby powder. Andy J battles the burn of the turn.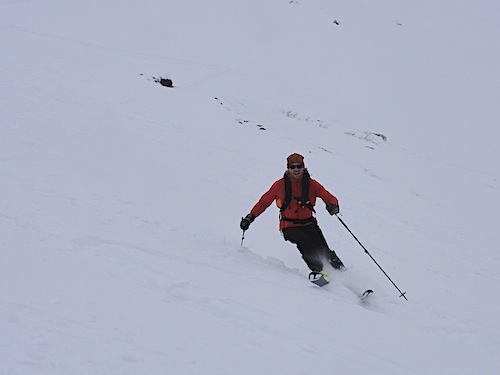 Jared's method was to haul ass, using momentum to bust through the rough conditions. It worked really well all day except for once and luckily I happend to capture it.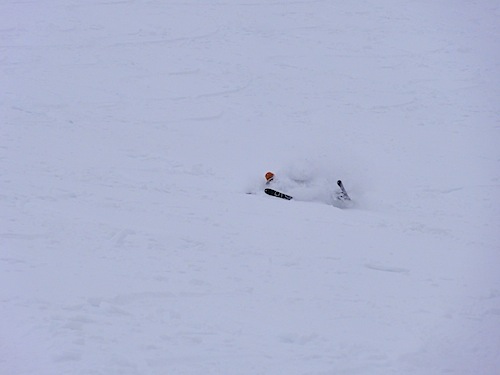 A refueling station was strategically located off to the side of the run so we could swing by for liquids, gels, blocks, smoked salmon and bagels. Several folks stopped by, but couldn't join in the full sufferfest. Forrest Shearer and Ian Provo ripped two laps and put in a nice exit track. Then Jason and Andy Dorais joined us for the final 2 laps and helped pick up the pace.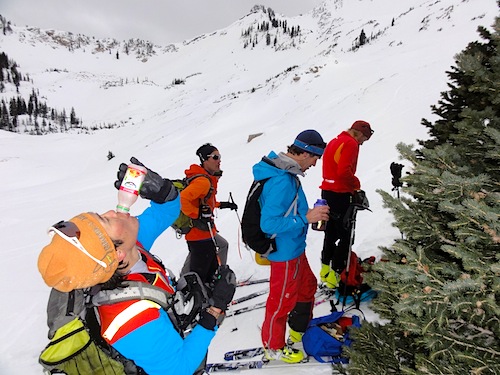 12k really isn't much to blog about. Especially if you compare it to the 40,000 Andrew pulled off in a 24 hour race. That seems so impossible that it almost makes me want to try it, but not really. Andrew beat me to the top of each lap and even got the drop on the 12/12/12 blog post. Getting in such a big day just helps to recalibrate the body, from here on out a 6k day just won't be that big of deal.
We were each logging feet on our own watches and they all read different totals at the top of Cardiff Bowl. Jared's was a few hundred feet higher than the rest of us, so he did a quick lap just in case.  Andrew's hit 12,070 or so and he called it good. Mine was shy by 90ft so I skinned back down and up to hit the mark. Andy J's was really low which led him to climb and descend the snowbank in the parking lot take him over the top.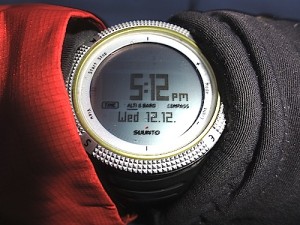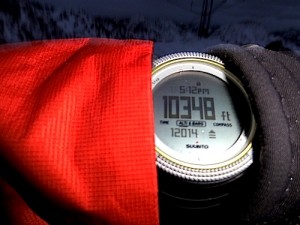 Excellent crew to spend the day making laps with!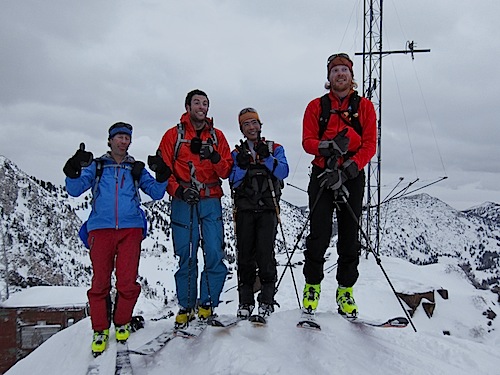 Thanks for the photo Jason!