Not much time has been spent on my blog covering the gear I use. Having the right tools is a huge part of successful and enjoyable days in the mountains. I'm planning to do a few blog posts in the next few weeks covering the boots, skis and outerwear I choose to use.
I'm very lucky and honored to be sponsored by one of the greatest boot companies out there. Scarpa has a huge range of plastic boots to compliment your every backcountry need. There is no one boot to rule all conditions and activities. I've been expanding my quiver over the past few seasons since I've been locking down the heel as well as training for some uphill racing. Here, I thought I would give a quick overview of the boots i'm using this winter and why.
First and foremost is the Meastrale RS. This is my primary boot for backcountry touring. It's a much stiffer version of the orange Maestrale. They added a minimun amount of weight, but much more performance. They don't seem to have quite the range of motion as the orange model, but they're close. They fit like a glove and right away you can tell they're stiff in all the right ways. The older version seemed like it didn't wear very well. After one season mine looked 3 years old. These boots seem like a major step up in that area. I like the buckles, you can flip them upside down so they don't catch when you're removing them.
Usage- Deep powder, big mountain, steep technical lines
Ski Pairing- Black Diamond Megawatt, Gigawatt, Amperage, Convert, Aspect (skis 130mm-95mm) w Dynafit bindings.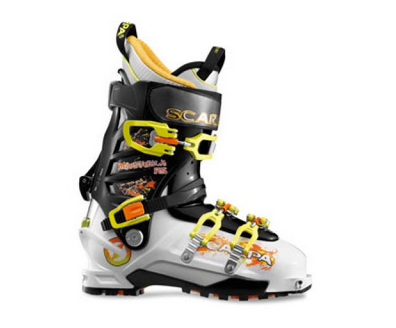 My telemark quiver is dwindling, but still remains. My issue is that I like a big ski, stiff boot and burly binding for making the turn. When you add up the weight it's much much heavier than an AT set-up. However, you can't match the grace and fun of the telemark turn. I'm still a fan of the duckbill and so I ski the T-Race. This is the tried and true beefy rockstar of the telemark world. And now that it's gained the tour mode it's a great backcountry ride.
Usage- Deep powder
Ski Pairing- Black Diamond Megawatt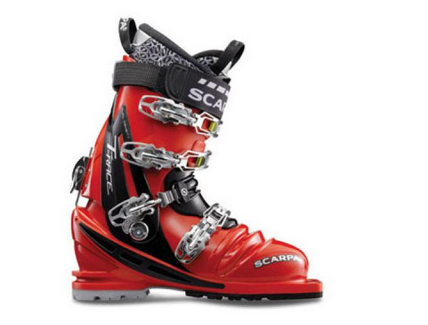 The Rush won't see a ton of use, but will come in useful. I plan on porting these around when I'm getting out on bigger days on moderate gear. A significant step down from the Maestrale RS, but still fully capable when in good snow or at lower speeds. Great Scarpa fit and excellent walking mode.
Usage- long days on mid fat gear, ski mountaineering
Ski Pairing- Black Diamond Aspect, Ski Trab Free Rando Light on Dynafit bindings.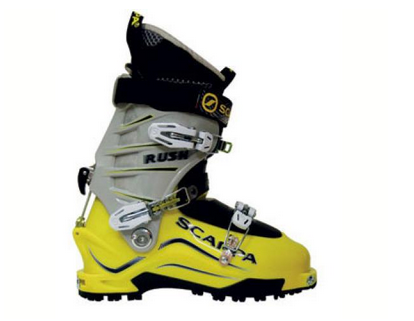 Last season I received a pair of the Alien 1.0 and started training for ski running, or Skimo races. When I tried this boot on I laughed and that seems to be a common response when I show them to folks. They weigh as much as my around town shoes. The truly funny thing is how well they actually ski and yes, you can run uphill in them. I'll be giving them the true test next weekend at the Jackson Hole Ski Mountaineering National Championships, but you can read a great write up about them from Wasatch speed demon Andy Dorais. 
Usage- Racing, ultra-long traverses, ski mountaineering
Ski Pairing- Ski Trab Aero Wold Cup, Free-Rando Light with ski trab bindings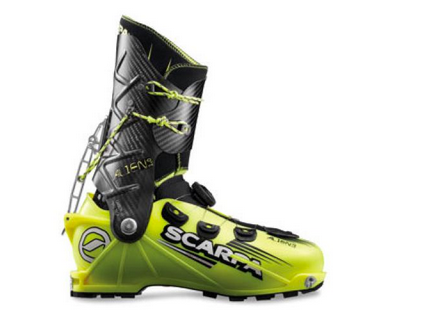 And last but not least there is a high performance "freeride" boot that Chris Davenport and Scarpa have been collaborating on. I was in Boulder when Chris dropped by with a prototype and they look like a great new addition to the quiver. He didn't have a name for it yet, but it should be released at the upcoming OR show. This boot is very burly, but manages to add in a walk mode. This seems like a great boot for the resort crowd venturing off piste, or hard charging in the backcountry on heavier bindings and big skis. Check out more info HERE.