May 31, 2013
(A delayed posting from an outing several weeks ago)
Alaska had produced 2 great skiing expeditions and I found myself back in the Wasatch with toes and fingers still thawing from the cold. Winter was attempting to flee and warm temps were the trend, but my desire for turns hadn't melted away yet. I was hoping good snow could still be found up high on north facing slopes. Some steep and spicy ramps in the upper Mill B drainage were calling.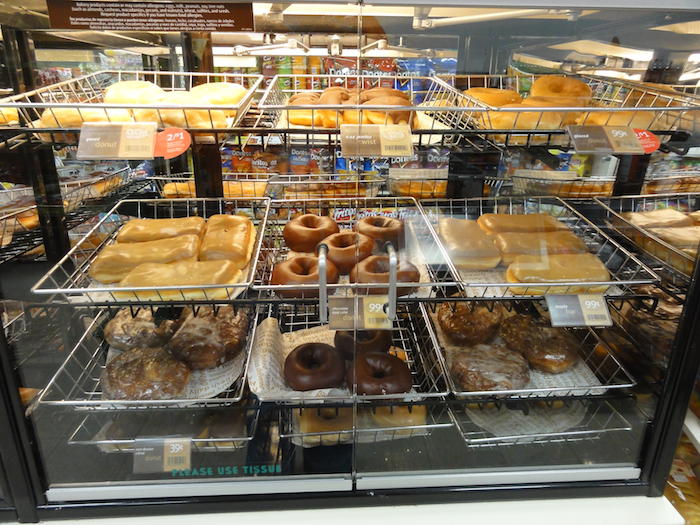 Thank heaven for the only place to grab breakfast at 3:00 in the morning. The clerk looked confused and asked where I was going hiking at this hour.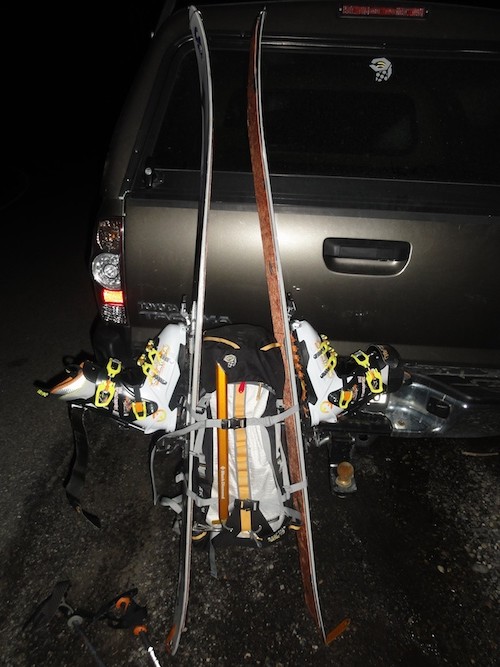 You know you're in for good things when you find yourself traveling solo, in the dark, with a piolet, to a line you've never skied before. All geared up and on the trail at 3:20.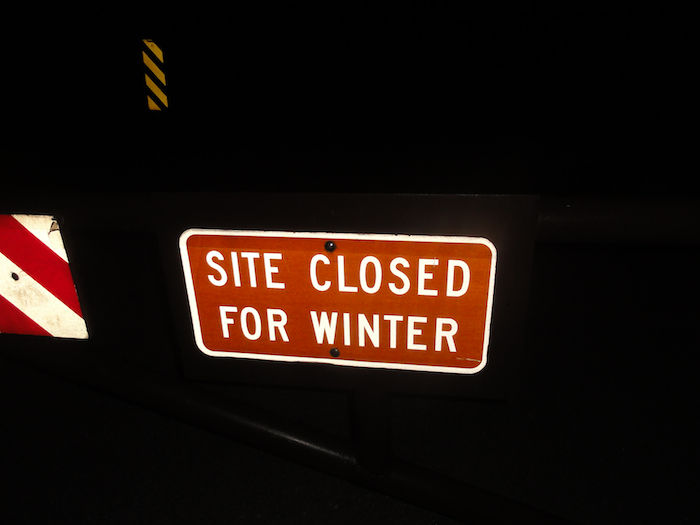 Proof that it is still winter for all you fair weather "friends" that have racked your skis for the season!
The first half of the Mill B trail was a mix of dry dirt and rock hard snow.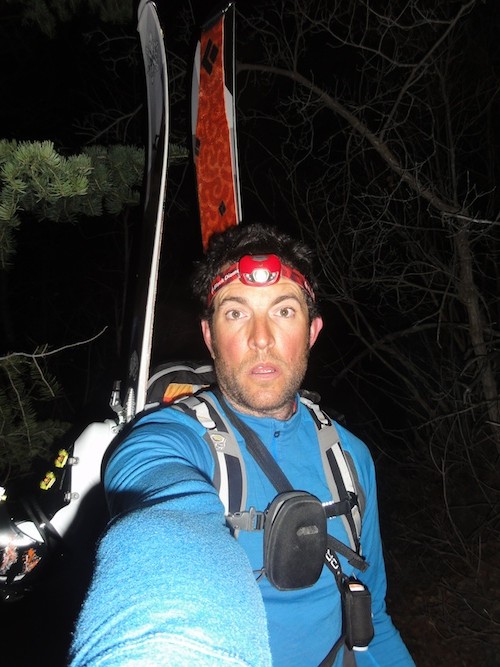 Next time I'll forego the Ambien and just lay if bed for hours trying to get some sleep. It took a few miles before the sleep aid's effects wore off.  However, it really accentuated the 99% full moon.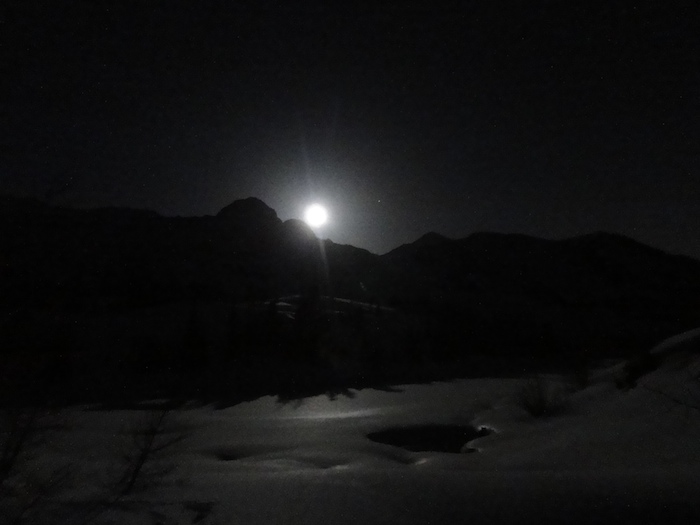 The lovely Lake Blanche living up to her name.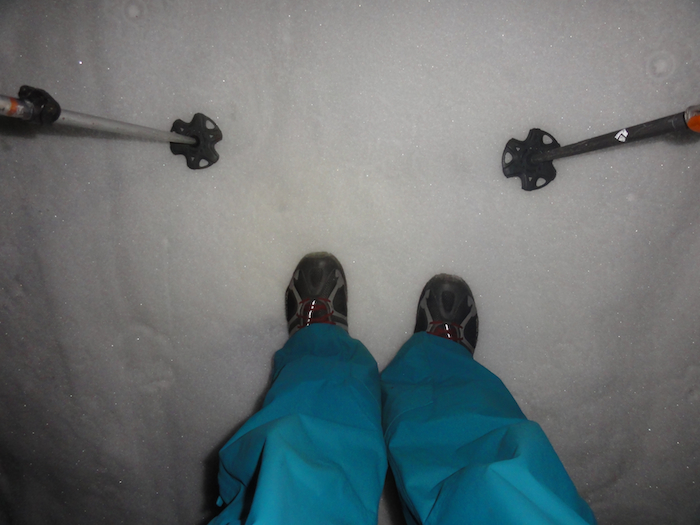 Travel was light and easy on fully supportable snow to the base of  The Sundial, then I switched over to skinning.
Meanwhile, over on Monte Cristo my good brother Jonah and photographer Jay Beyer were preparing to get some shots, should the conditions permit a decent descent.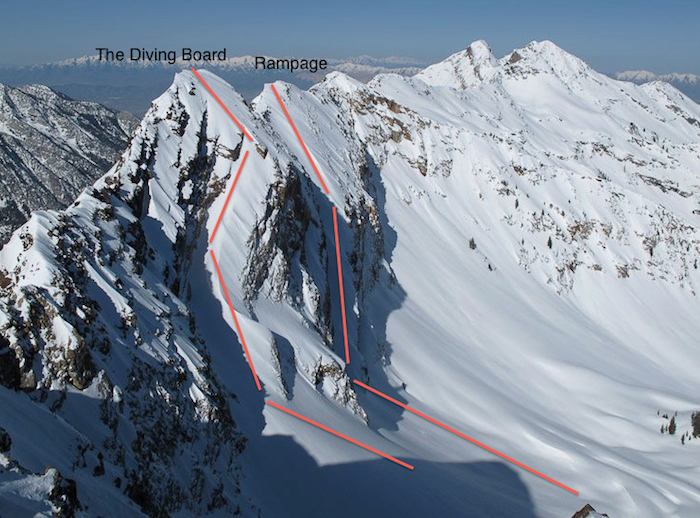 Behold the upper ramps of Mill B in all their glory!
I know what you're thinking, "Damn, I want to go ski those ramps!" Well, that's the exact thought I had many years ago when I popped out on top of Monte Cristo and looked to the west. Of course when I looked into it, that son of a bitch Andrew McLean had already skied the one to lookers left, The Diving Board. Andy Rosenberg and I attempted the one on the right and named it Rampage, but turned back when it felt a bit too slabby. It was "ticked" shortly thereafter by Andrew (of course) and Derek Weiss. So not first descents, but first time for me. I don't know if The Diving Board has been skied solo? You've got to do some really stupid stuff to get a first descent in the Wasatch these days.
The slightly wind whipped apron was promising for good turns to come. I ditched skins and trail shoes to lighten the load and increase upward mobility.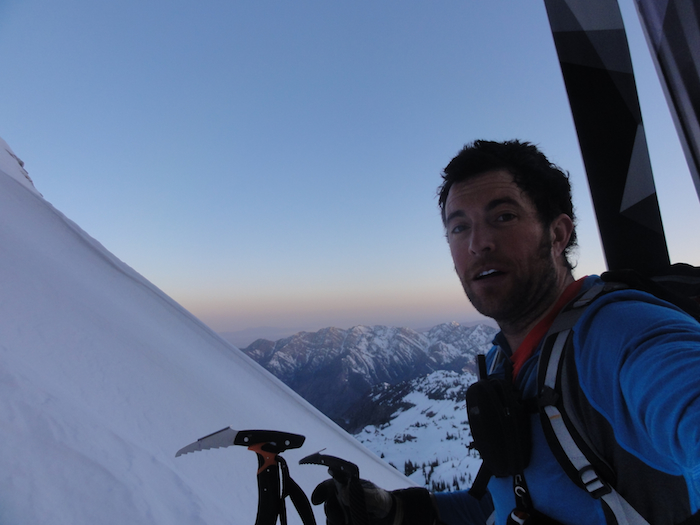 Booting up the wind features on The Diving Board, conditions changed from soft to firm and then to breakable crust in the crux area where there was maximum exposure. Still in the dark, but sunrise was coming fast! Photographers are really picky about light, especially this time of year when it gets hot early. Jonah and Jay had busted their ass up really early to "get the shot". The hope was to catch early light and those slight pressures were on my mind as I hurried along.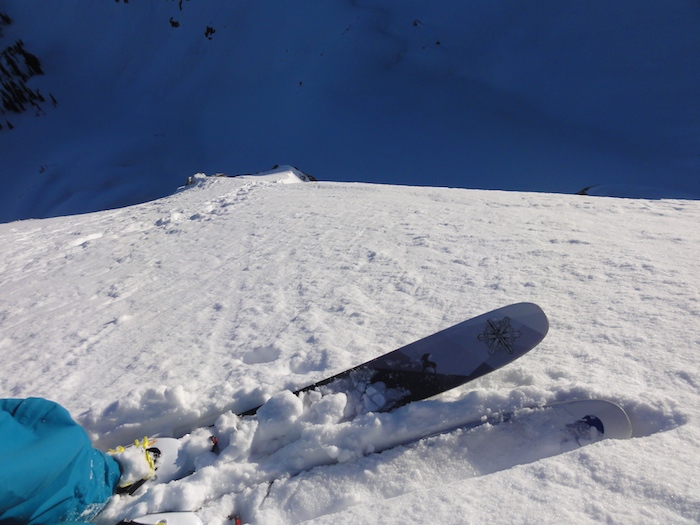 However, these lines contain "fall and you die" exposure. I was planning to come and do this before the cameras were involved, so I put all other concerns aside and focused on the snow and my mental and physical states. To ski, or not to ski, that is the question. The answer needs to be yours and I believe the better you can know yourself and be clear on your motives the "safer" you can be.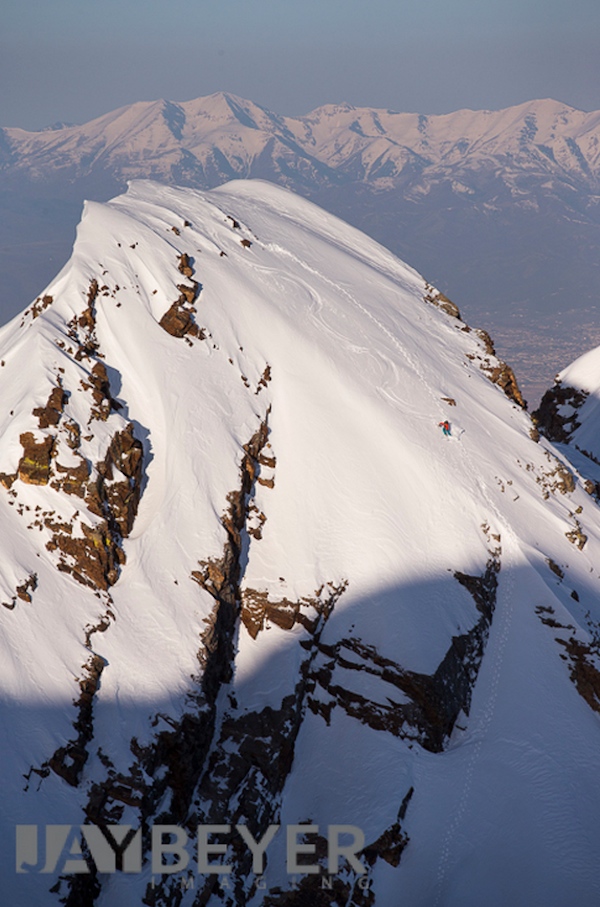 The short hanging face was perfect snow, but quite shallow and rocky. Slow hop turns = good for ones longevity, but not for pictures and video.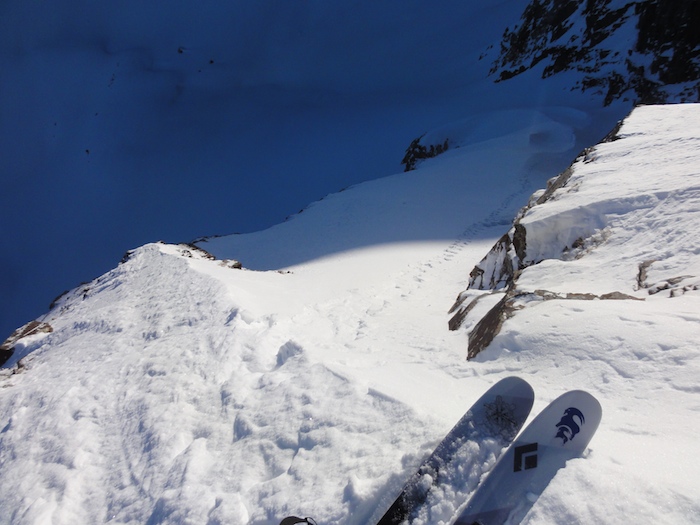 And then came the scary little sneak from the upper face onto the ramp. I've seen this much better filled in during big winters. The steep pitch and breakable crust over 600 feet of cliffs was a vibrant reminder that I was awake and alive on this morning.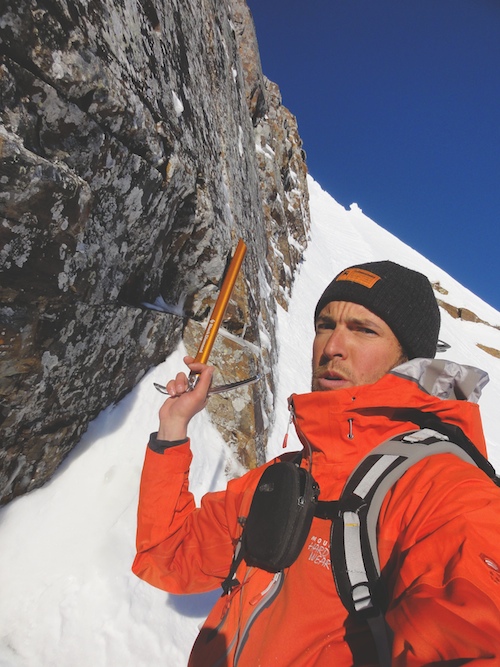 The axe came in handy for side-stepping through the 55 degree choke.
The rest of the ramp was casual fun and emptied onto the buttery apron. I made some turns and hooked a hard left to put me near the start of Rampage. Blood was flowing and snow was perfect for booting and skiing. This ramp sees much less sun and stays in better condition. I topped out pretty quickly and discovered the answer to a question I had: "Could you boot up one of these ramps to ski the other?" The miniature version of Mount Huntington's French Ridge didn't look appealing at all.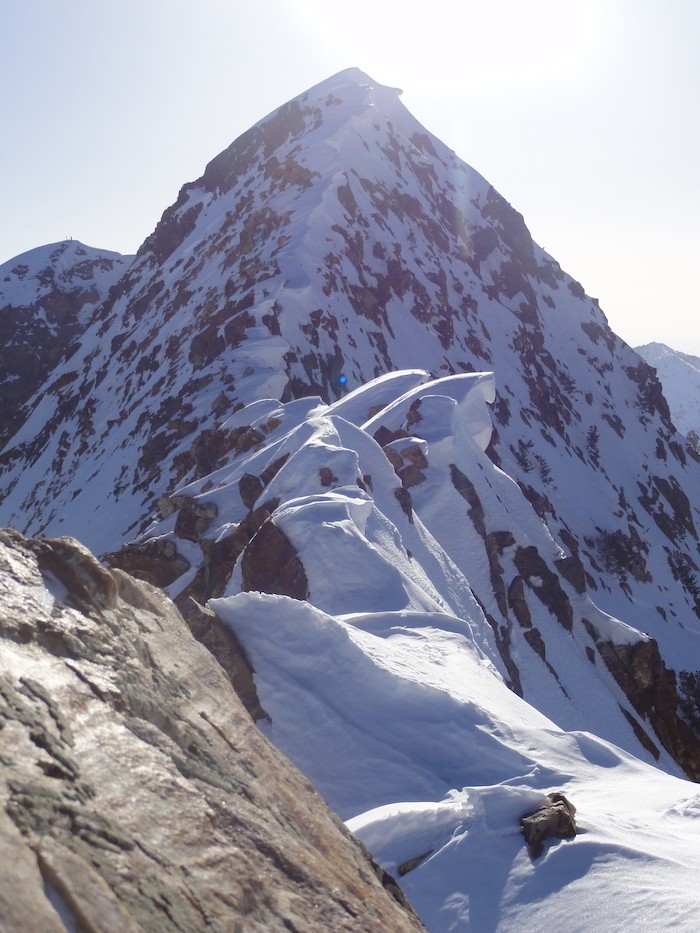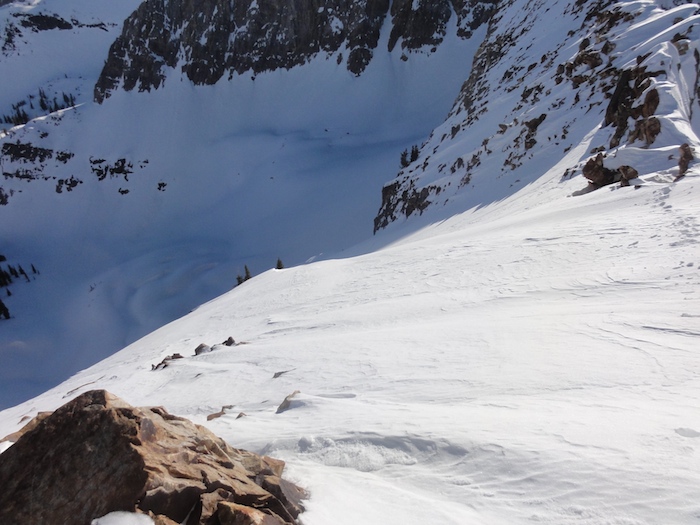 Looking down Rampage was a nice relief after The Diving Board. A much mellower and continuously skiable route with good conditions awaited.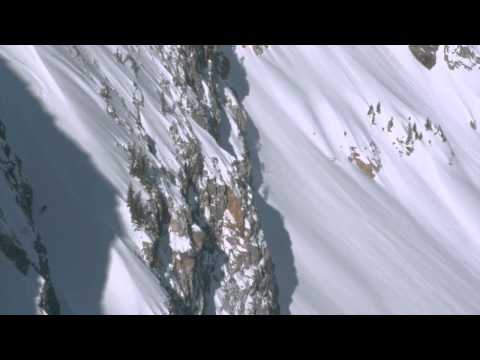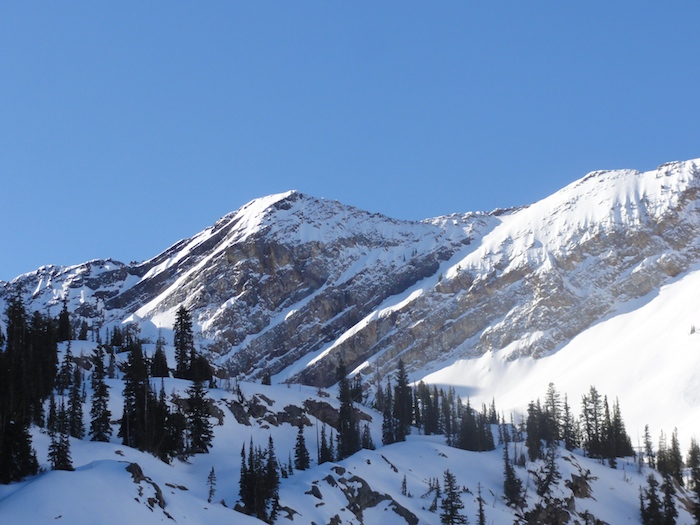 Whooping and hollering on the apron was followed by a FIRM and fast ski out Mill B. Fun to look back at the very different perspective. Not huge classic lines, but short and sweet runs if you're in the area, or running out of things to ski in the Wasatch.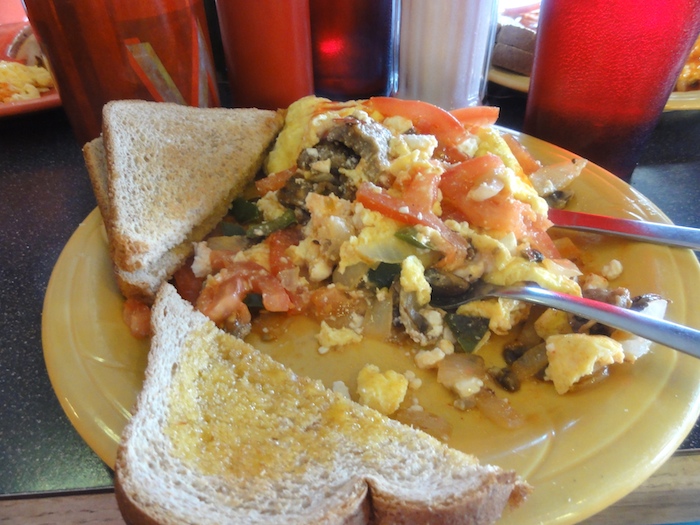 Back in the valley by 9:30 to catch a proper Cottonwood Cafe breakfast with Jay and Jonah.

Tags: Andrew Mclean, chute skiing, Mill B, noah howell, Rampage, steep skiing, The Diving Board, Wasatch Descents, Wasatch Skiing