July 24, 2013
The Wasatch is packed full of good trails for hiking and running, or routes for climbing, and a few great scrambles. My preference is grappling up the steep stuff that doesn't require a rope. I've been recently enjoying a steady diet of my favorites; Olympus West Slabs and the South Ridge of Superior. But with all these peaks it would seem like there could be more long classics. And each summer I've been exploring new ridges and gullies seeking hidden gems, but mostly finding shale, loose dirt and new curse words. Here are some stinkers from over the past few years.
Storm Mountain's North Ridge- Very loose and sharp rock, but the main detractor is that it's full of trees and shrubs. Fine if you need to scratch that itch, but better avoided.
Stairs Gulch- The lower gully is fine, but the upper head wall is just steep hiking. Great for a calf burner, but not steep enough to scramble.
Lisa Falls- The lower portion of this huge gully is really cool! Fun climbing through waterfalls, pools and some nice slabs. Then the fun ends in loose shale the likes of which aren't too likable at all. One step up, half a step slide back down.
Olympus from Big Cottonwood- This looks promising and fun observed from the valley, but it's not. Nowhere near as solid as Wildcat Ridge and very broken and convoluted, this is one to pass on.
The North Ridge of the Pfeifferhorn? There's not much web info about this as a summer route. Word on the street is that it's  just a broken jumbled mess of granite shards recommended for winter travel when it freezes up. Only one way to find out.
We started at White Pine Trailhead, to Red Pine, crossed the bridge to Maybird, followed the trail and cairns up into the moraine, cut over to the first obvious notch in the ridge. It's the same as you would do in the winter to enter Upper Hogum.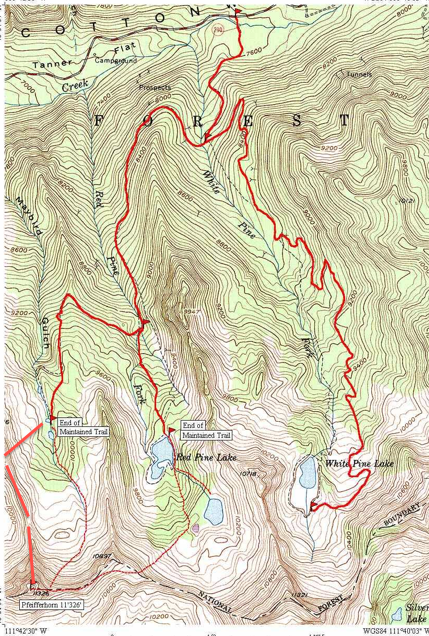 Voila! And like most mountains it appeared more steep and intimidating than it is.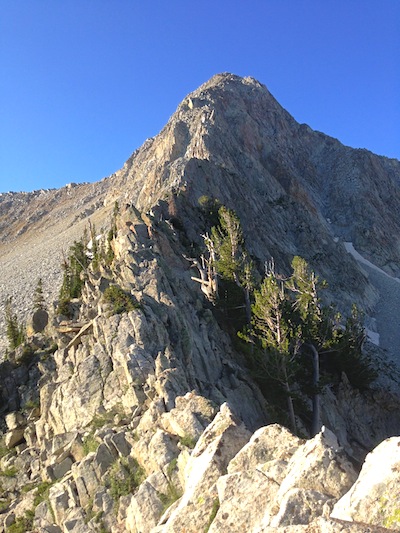 Looking into Maybird's moraine.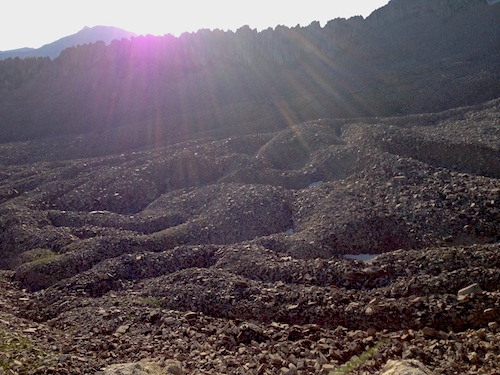 Nice to have climbing ninja Tommy Chandler along! Pretty fun moving up down and around small blocks for the first section.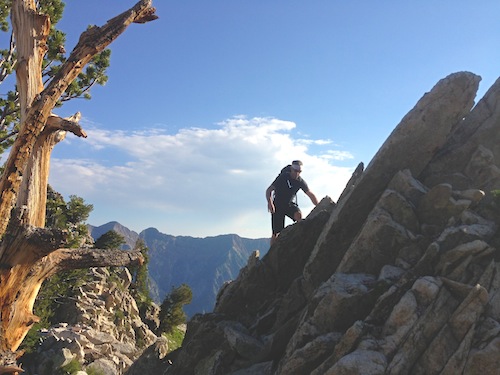 We brought rock shoes, but didn't use them. There was one section of east facing slab where they would have prevented a rise in adrenaline. I was really impressed with how well the Scarpa Epic GTX gripped the rock.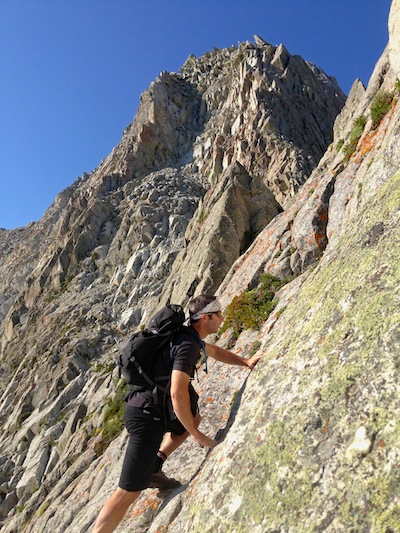 The ridge is pretty straightforward and we just kept working out left whenever we ran into obstacles. Step left.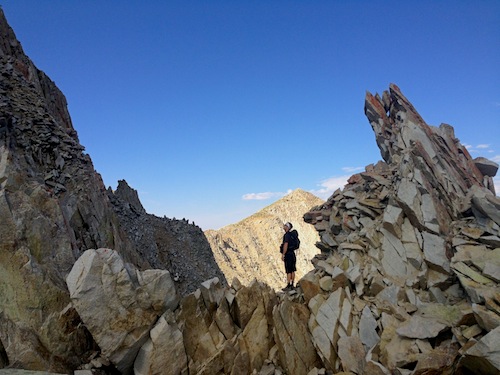 Whenever you trace the origin of a skill or practices which played a crucial role in the ascent of man, we usually reach the realm of play.  -Eric Hoffer-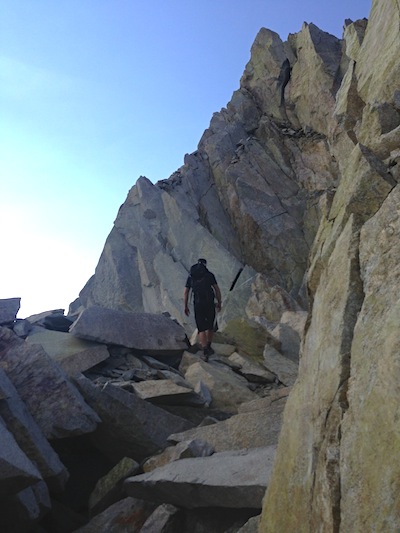 We found some steep and solid rock for the final bit of climbing. Tommy exposing himself!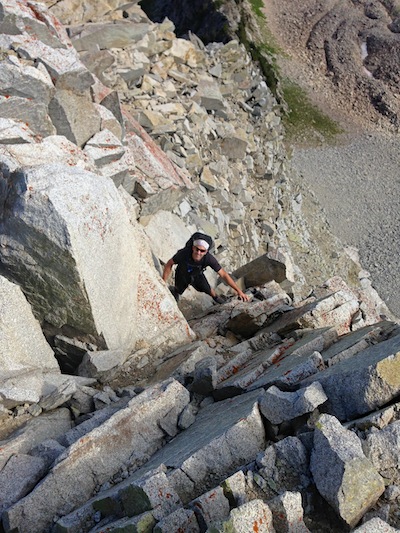 Having deep seeded trust issues can come in handy, in the mountains anyway. Three points of solid contact at almost all times. We continued to move carefully and avoided getting below one another in the really loose sections.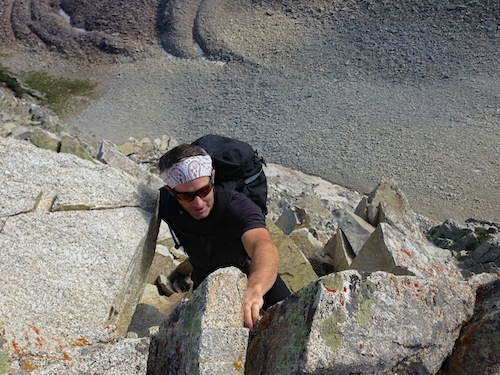 The last few hundred feet to the summit was a total busted up shit pile, but not as steep and exposed. Entire mounds would shift and settle keeping it interesting. Easy place to get ralston'd.
Nice to finally find another route to add to the repertoire. Anybody have any other suggestions?

Tags: climbing the pfeifferhorn, noah howell, North Ridge of Pfeifferhorn, Pfeifferhorn, Scrambling Wasatch, Summer, summer of fitness, Tommy Chandler, Training, Wasatch Climbing