I haven't blogged about gear very much in the past because I do a bunch of gear reviews over at Backcountry.com. They make it easy to get the product information, post reviews and ask questions. And now you can follow folks that have similar interests and watch what they use. Check out MY PROFILE if this is of interest.
Thought I would take a minute to give some love to the sponsors and show off the current line. Very proud and excited about the full quiver this season. As a snow compaction technician it's imperative to be well armed for whatever type of mountain or condition lies ahead. Sometimes light is right and other times weight is great! Massive thanks to Black Diamond and Scarpa (distributor for Ski Trab) for developing and providing the following transportation utensils of delight.
Ski Trab is putting out some incredible skis on the ultra-light end of the spectrum. These pixie stix ski really well for what they are. And what they are is light and tiny! For conditioning and racing they are the way. And they may come into play for some long traverses. They rail and respond quickly, but you really have to stay on top of them. With very little backseat and no room for error they force one to be a better skier.
Size: Cm. 171
Weight: Gr. 760
Sidecut: r = 26 96/92/64/78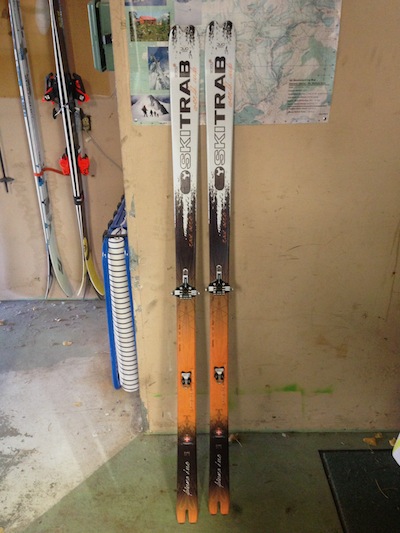 With the Magico (178cm) you get a wider beefier race ski, more of a "real ski" than the World Cup, but still make sure to hold onto them or they will blow away. I've had a few days on these so far this season and I'm really impressed. I just completed a 10K, 39mile traverse of the Central Wasatch (Summit Park to Sundance) and they were the perfect choice. Light enough to travel fast all day, but could break trail and skied really well. Planning on putting these into service for link-ups, ski mountaineering and long traverses.
Size: Cm. 178
Weight: Gr. 1085
Sidecut: r = 20,36 116/82/104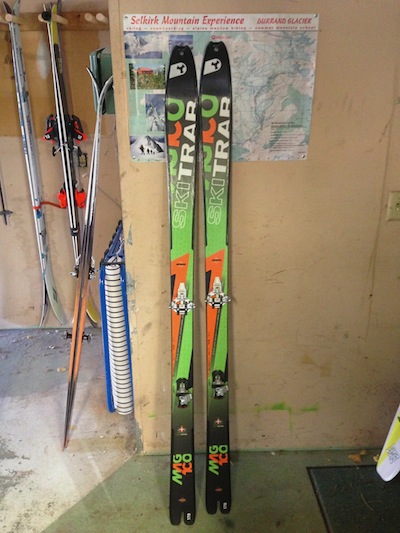 Black Diamond has been cranking out many new models of skis! It actually makes it a little tricky to choose what to ride with so many good choices. So, I've started out with the Current and covered all the bases all the way up to the Gigawatt.
The Current chop sticks are assigned to ski mountaineering and long link ups. I went with the 178cm length to work through tight chokes and keep 'em light and lean for easier hop turning on steeps. The Current are on the soft end, but the rockered tip is really nice for unlocking the ski from the slope and coming around quickly.
Dimensions :[175 cm] 118-86-106
Weight Per Pair : [175 cm] 2.8 kg (6 lb)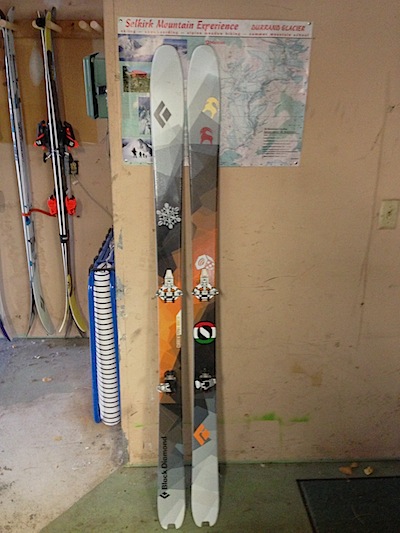 I've ended up using the new Convert in the 180cm as my main ski mountaineering companion. I like more girth and float underfoot and the slight rocker allows them to let go of the slope easily and they don't grab like traditional cambered skis will do. You don't hear about the side-slipping abilities of skis too often. But the truth is it's a very useful and necessary tool. Traditional cambers and shapes don't want to smear and slide easily and will hook up on tip or tail. Slight rocker in the tip allows for better sliding, but will still grip underfoot when it's needed. They are very light for their size, but don't handle that well in variable conditions or at speed.
Dimensions :  [180 cm] 133-105-117
Turn Radius : [180 cm] 23 m
Weight Per Pair : [180 cm] 3.3 kg (7 lb 4 oz)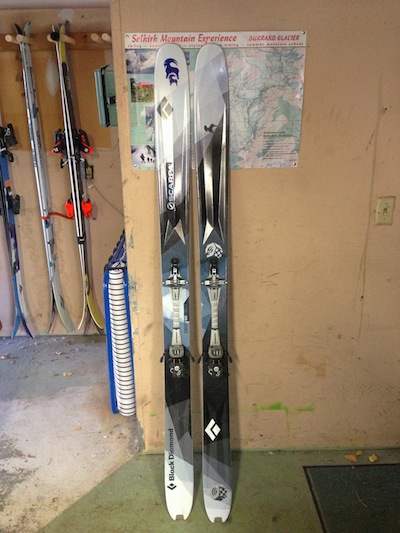 The Zealot are waiting to be mounted up for resort duty. What started out years ago as a stiffer than hell 2×4 of a ski has been made friendly and modified to the point of perfection. These are the best all around ski in the BD lineup. They excel at speed and are a high performance charger (not sure what the means, but I read it in a "gear guide"). Surprisingly versatile and nimble for how fast and solid they ride. I tried to get away with the 182cm last season, but found they just weren't long enough so I'm upgrading to the 192cm.
Turn Radius :  [192 cm] 29 m
Dimensions : [192 cm] 136-110-125
Weight Per Pair : [192 cm] 4.9 kg (10 lb 13 oz)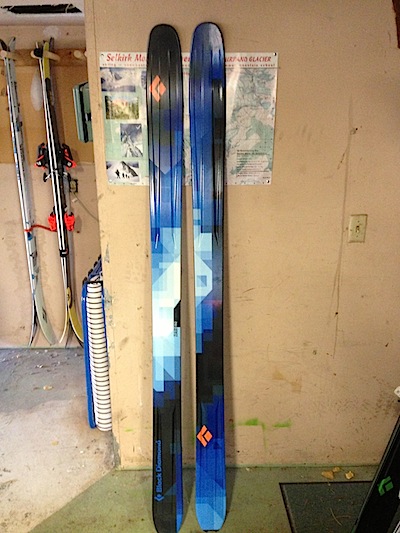 Great name, nice coloring and copious amounts of fun. The 195cm Amperage was my favorite ski from last season and it continues to be my favorite with the slightly different design.  It's the perfect love child of the Megawatt and the Zealot and I'm adopting them as my go-to ski for the backcountry. Very fast and fat and handles well in all but the deepest of snow. Even at the 195 length they whip around quick and easy and I'm going to stop writing about them because it's making me want to go ski. Argh!
Weight Per Pair : [195 cm] 4.5 kg (10 lb)
Turn Radius : [195 cm] 23 m
Dimensions : [195 cm] 143-115-125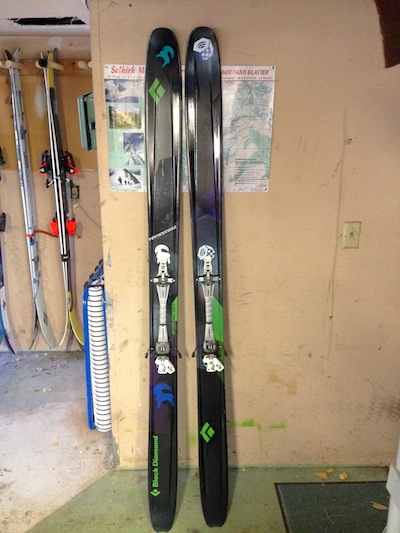 I'm learning to love the new Carbon Mega. The problem is I was expecting it would be like the old Carbon Mega. Probably because of the name. But, it's a much different ski. Weight and girth was cut and it doesn't quite have the robust float and ride of the old CM. It is a fun ski, but it's not as stable or powerful as the previous CM. For a ski of this size though it's really light and skis almost like the Amp, which is good, but different.
Weight Per Pair : [188 cm] 3.7 kg (8 lb)
Dimensions :  [188 cm] 147-120-127]
Turn Radius : [188 cm] 28 m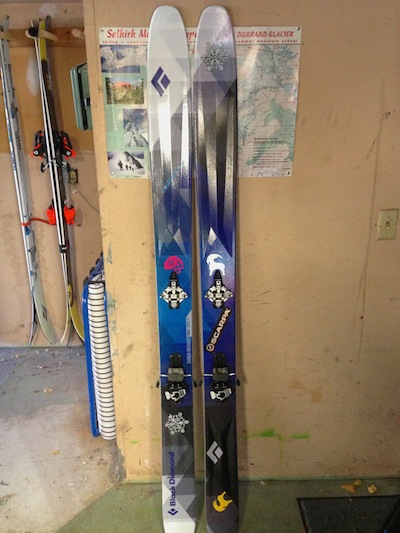 The Megawatt has been my most often used ski over the past several years. Size matters and the Mega is such a great floater and makes everybody ski better with it's big forgiving shovel and stable body. Remember Glen Plake in Fistful of Moguls talking about buying "tongue depressors" to make you a better powder skier? This is the ski he was talking about. The new construction makes it much more fun in crud and hard pack, but it's still my dedicated deep pow slayer.
Dimensions : [188 cm] 151-125-131
Weight Per Pair :  [188 cm] 4.8 kg (10 lb 9 oz)
Turn Radius : [188 cm] 35 m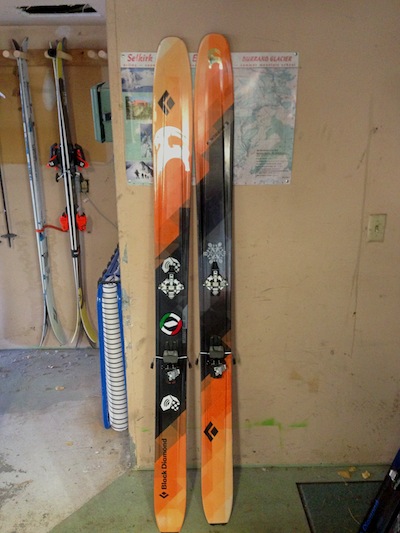 Pick up a pair before they are gone! Looks like BD is dropping the Giga from the line, but they are still available on the website. I originally had these mounted tele and didn't care for them. The reverse camber was hard to stay centered on and no backseat made them slip out from under me like banana peels. However, skiing the Gigawatt locked down is like being a superhero in a video game. The reverse camber is so springy and fun that you really have a hard time telling when you're touching down to earth. They are really heavy to tour with once you add the necessary square footage of plush, but worth every strained abductor muscle. I've always told friends and those that have skied them know that the giga doubles the depth of soft snow, If you're skiing 4″ it feels like 8″, 12″ feels like 24″ and so on. Joy enhancement that won't require you to see a doctor if your smile lasts for more than 4 hours. I only take them out when it's tits deep and they are the most fun I've ever had on skis, hard to tell if it's the ski, or the fact that it's tits deep.
Turn Radius :   28 m (185 cm)
Dimensions :   163-135-141
Weight Per Pair :   5.3 kg/11 lb 11 oz (185 cm)