Last weekend was the 13th annual Wasatch Powder Keg. After many years of threatening to enter, it finally happened. Injuries, illness and powder have kept me away in the past, but it was inevitable. If you live in the Wasatch and backcountry ski it's your duty to try it, at least once. And once may be enough. And since I was going for it I thought I'd do all three events; the sprint, individuals race, and the technical teams race. Training has been sporadic since the Wyoming Round-up, mostly skiing for fun on real skis. The week before the P-keg I rested up, remounted my Wasatch Speed Project's forward 2cm's, and finally bought a real race pack and actually practiced transitions.
The Sprint Race-
The weekend started off on Friday night as about 25 of us blew out our lungs on a short course. We started at 30 sec intervals and pushed hard for a few hundred feet of switchbacks, booting, transitions and then descending through gates. Half the field would advance to semifinals and six to finals. I held back a little bit figuring I'd make it through and wanted to save some for the next round. Bad idea! Transitions went well and I felt good about it. Turns out I blew a gate though and the time penalty of 15 secs was enough to keep me from moving on. It was a strange gate, in the middle of the course that didn't incorporate a turn and wouldn't shed time by cutting it? I don't see the point in it being there. There were seven of us that missed gates and were penalized. I prefer not to take personal accountability, instead I'm going to blame it on the course since one third of the field missed gates. 😉 Not off to a great start with a 16th place finish.
The Individual Race-
This is the main event with over 60 competitors in the "elite" category racing up and down Brighton resort for over 6,000 feet. There is also a heavy metal category that draws a crowd of about half that size. At 8am we bust out of the corral at full speed. I love the starts of these races, such an explosion of power. I'm fast enough for the short spurt required to get out front and avoid the mayhem of hundreds of clapping skis and stabbing poles. The sound of it is intense.
Many thanks to Shannan Hansen and Sean Quill for the quality photos from the day!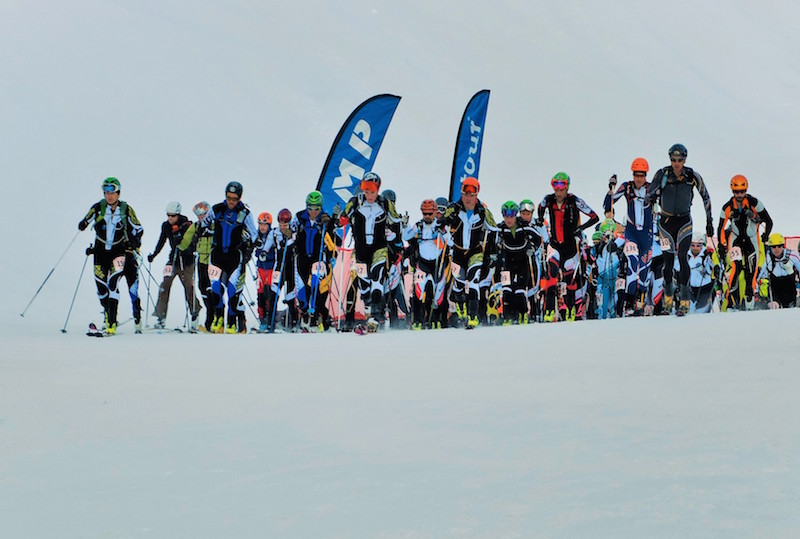 Things went really well as I rode the fluctuations of feeling great and horrible, but keeping it just below total blow up. At the top of the first climb I was in 7th or 8th and for the first time I actually skied well in a race. The remount of my skis was very helpful, adding much more control on the downhill and the kick-turns were more snappy with less tip.
Things went south just as we skied south into Snake Creek! I really can't understand why we have to ski down the worst snow on the mountain, but we did. Punchy crust was sucking everybody up. I must have seen 10 people fall and some people multiple times. And, they even passed me in doing so because I was "skiing" so cautiously. Now, if it were me I wouldn't want a race that favored reckless skiing and put so many at risk. Some of the best skiers in the sport went down hard! One even receiving a concussion and another a bloody face?! To me this isn't racing, it's surviving. But I'm new to the sport and what do I know. It sucked to get passed and bumped back to 11th place. We slipped and gripped our way back out of Snake Creek and then enjoyed deep and soft powder back down towards Millicent lift. I was right behind Elliott Barcikowski, Tom Diegel and Stevie Kremer. All my race had been used up and I knew I couldn't catch any of them. It was just a matter of hanging on for the final 1200 foot climb.
The final ski down to the finish was fun and fast. There was a rather large "bump" that took most competitors by surprise and even bucked a few folks off the horse. I saw it last minute and was able to suck it up. This was highly entertaining for the crowd!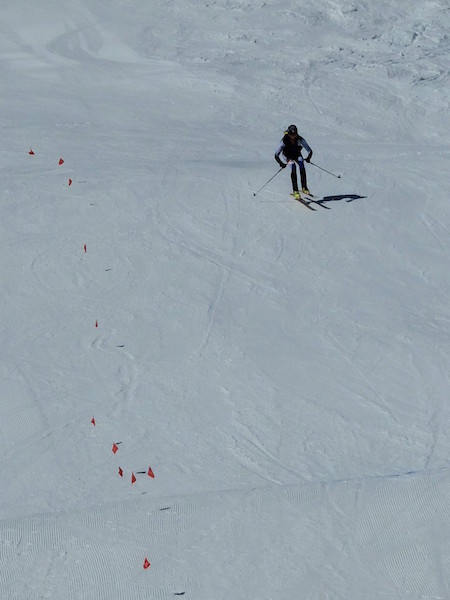 A sharp turn and a skate finish in the background while Tom and Paul Diegel chat it up.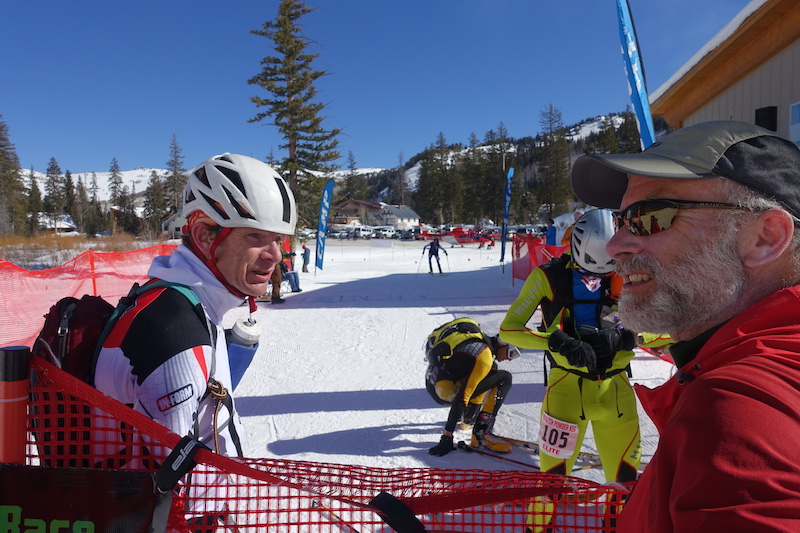 So fun, to be done racing for the day.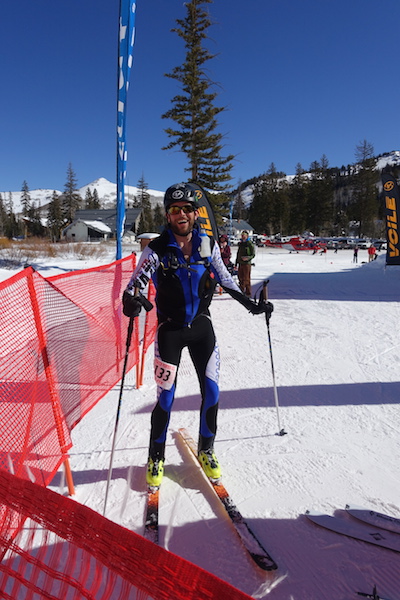 Time to put down plenty of fluids and some food. I felt pretty good about how it wrapped up. The field was much less stacked and competitive than I had expected. There are eight folks I can think of off hand that would have whooped me if they'd shown up. It felt great to finish in 11th, but knowing many of the best in the West didn't make it out deflated it a tiny bit. The Utah Avy Center and Voile had asked me to teach a "steep skiing" clinic in conjunction with the Vertfest. For the rest of the afternoon I had a great time with a solid crew, riding chairlifts, and hop turning steeps on real boots and big skis!
The Technical Teams Race-
My plan for the weekend was to give it all on the individual and then just survive the teams race. Luckily my partner Tom Diegel was on the same program. He beat me by two spots in the individual race and we seemed like we'd pair up really well for the team race. The start was a much more manageable pace with everybody still feeling the effects of the day before.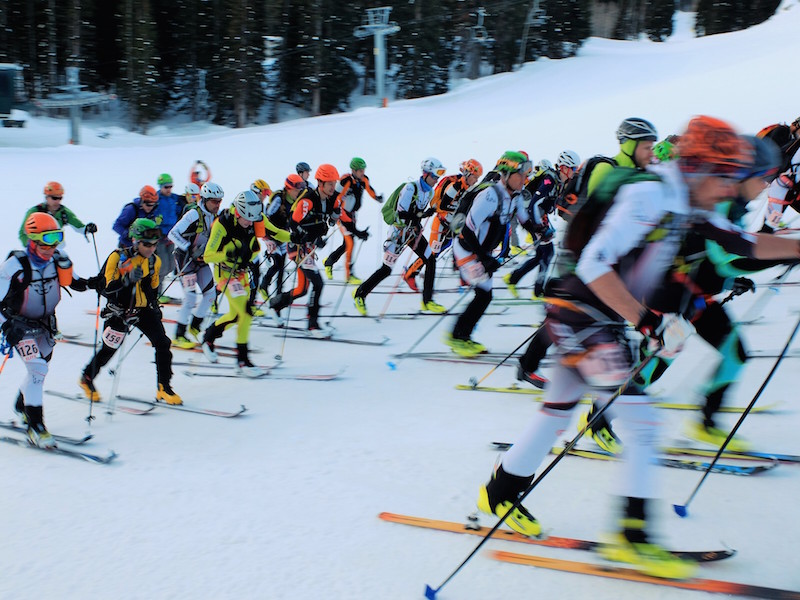 Teams must enter transition zones within thirty seconds of each other on the climb, and ski into transition zones within ten seconds of each other.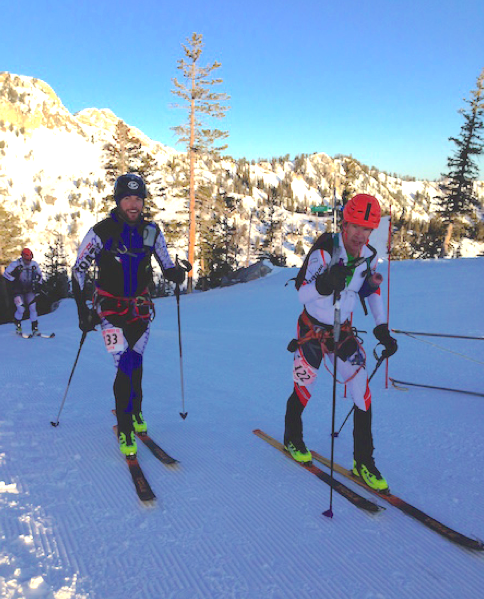 We were actually racing and in 4th until we got passed on the second climb and then again on the third. After the first few climbs we just settled into a good sustainable pace and plodded along.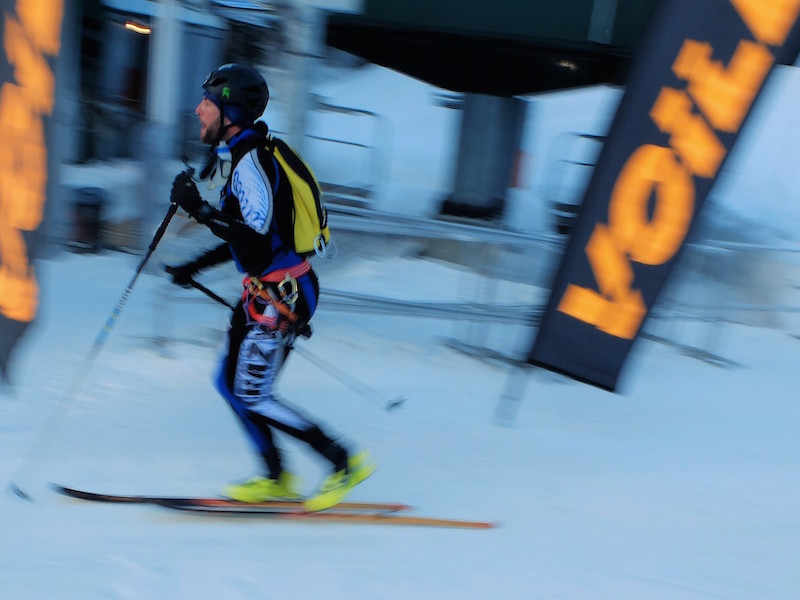 We didn't see anybody else after the descent into Snake Creek, which wasn't half as heinous this time.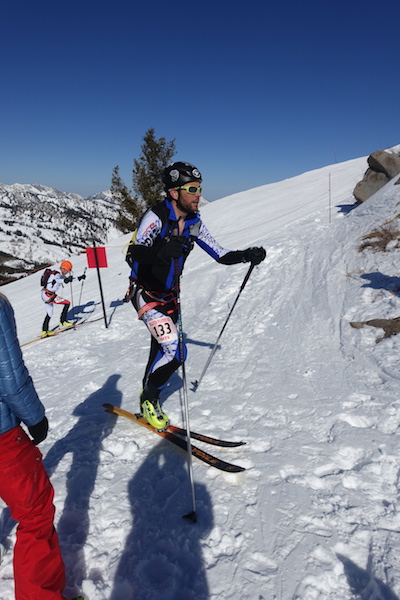 He's stronger on the up and the down, so the plan was to "tow" on the uphills using a thin eight foot long bungee cord. I'd never used this before, but had heard about it. I never bonked and didn't really need it. There were a few times where it gave me that extra little boost to keep up, but I don't feel like it really did much. So worked, but happy with a 6th place finish after climbing and skiing 8500 feet in just over four hours.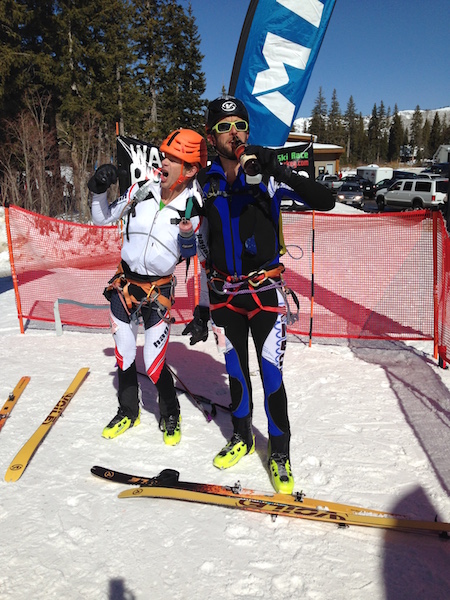 So much effort and time put into this event by a great group of folks! Without Chad Bracklesburg, Nick Francis and Eric Bunce this legendary local event would have disappeared years ago. Thanks to all the helpful volunteers for cheering us along and giving us the chance to suffer well.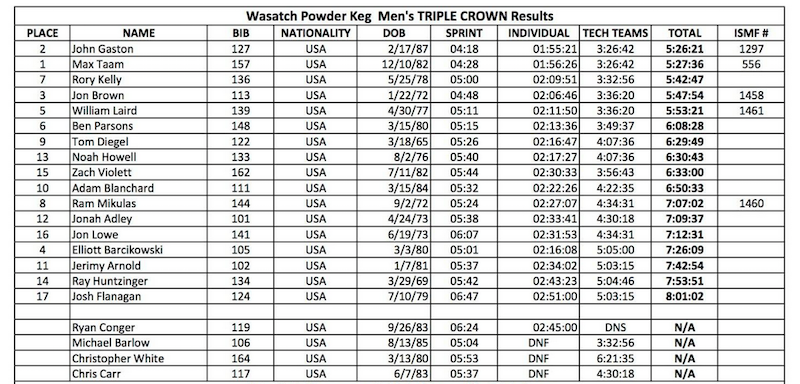 So glad to have that over with! Very pleased with an 8th place overall, but it was the fitness I'm after and it's fitness I have acquired (once my legs come back to life). Now it's time to ditch the spandex and ski for real. Despite the 60 degree weather in Salt Lake right now, the prime ski mountaineering season is just beginning. Spring means longer days, sticky and stable snow, and travel!
Huge thanks to Mountain Hardwear, Voile, Scarpa, Backcountry.com, Gnarly Nutrition and Gym Jones who have been great supporters and sponsors of gear, fuel and training tools.