"For He causes His sun to rise on the evil and the good, and sends RAIN on the righteous and the unrighteous."
-Matthew 5:45–
I guess all the praying for sunshine that we did was for naught. But we did devour the good book, (or guidebook I guess): Classic Climbs of the Cordillera Blanca for some inspiration. There was a well used copy at the hostel. Our acclimatization was in question, so we needed something lower in elevation and with a shortish approach for lack of time.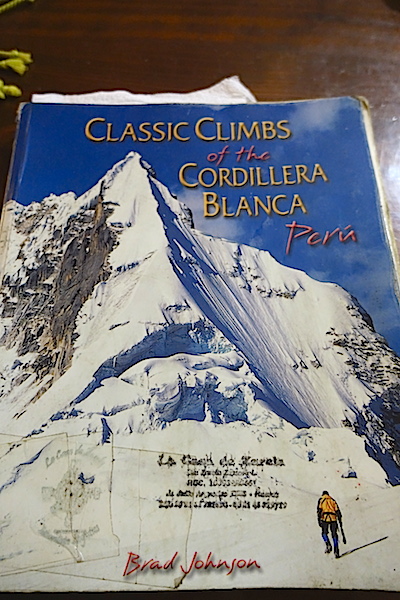 Matt was reading about Shaqsha a smaller peak in the southern part of the range, it seemed to be a great candidate for us and our requirements. We quickly realized that the sharp stout rib on the cover is part of Shaqsha and added that to the list of things we'd really like to ski!!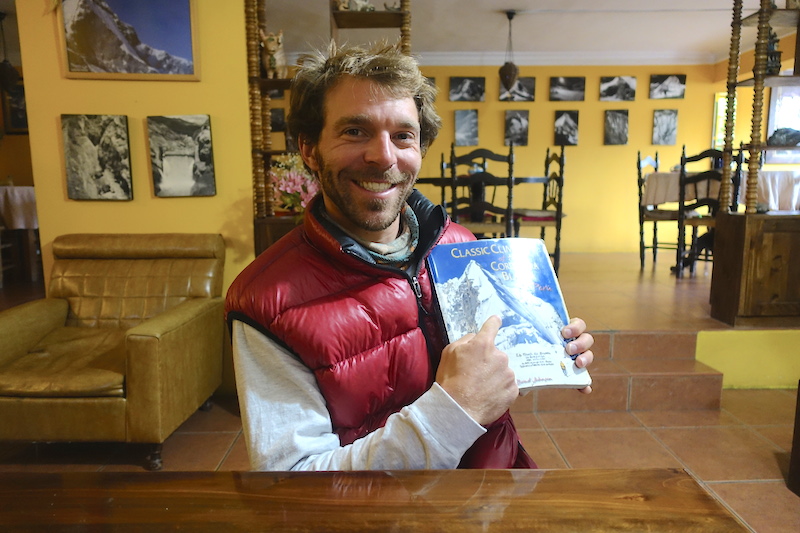 The rain had eaten up most of our trip, but we had one last shot. Spirits were high, but so was hesitation due to the large amounts of new snow. We had to at least go and see. The "weather window" in the forecast was for one day, but it appeared to be pretty well developed.
Sorting, sifting, bagging, shifting, stuffing, stacking, weighing, wondering, adding, dropping, counting, cutting and finally packing. It's an art and a science.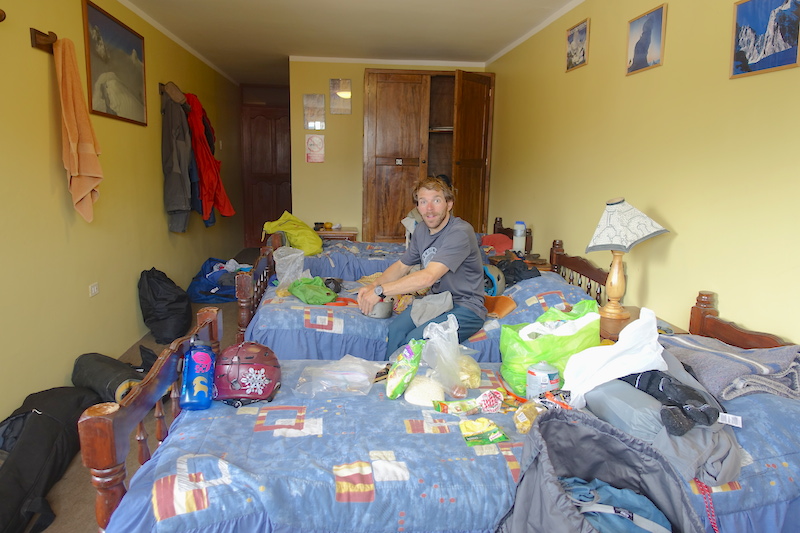 I got hit with one more quick and painful bout of the "boo". Better here than in the mountains.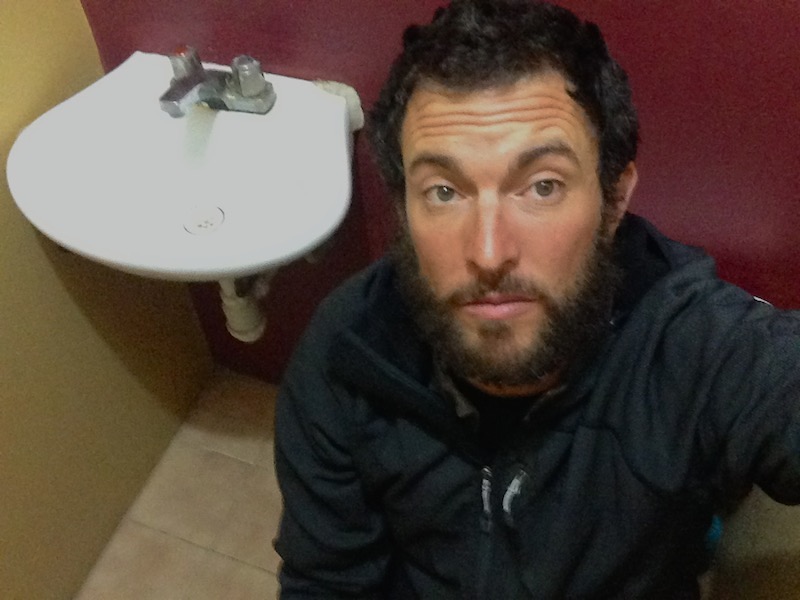 From what we gathered Shaqsha is very infrequently traveled. Matt getting his in car "nav" on.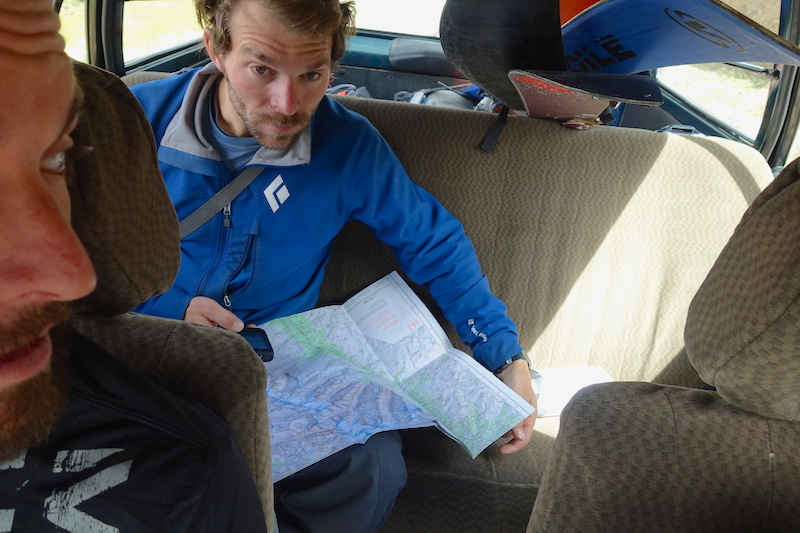 A new road had been put in since our driver had last been there. It looked like it headed in the right direction and he was game to follow it until it got too rough, so we did.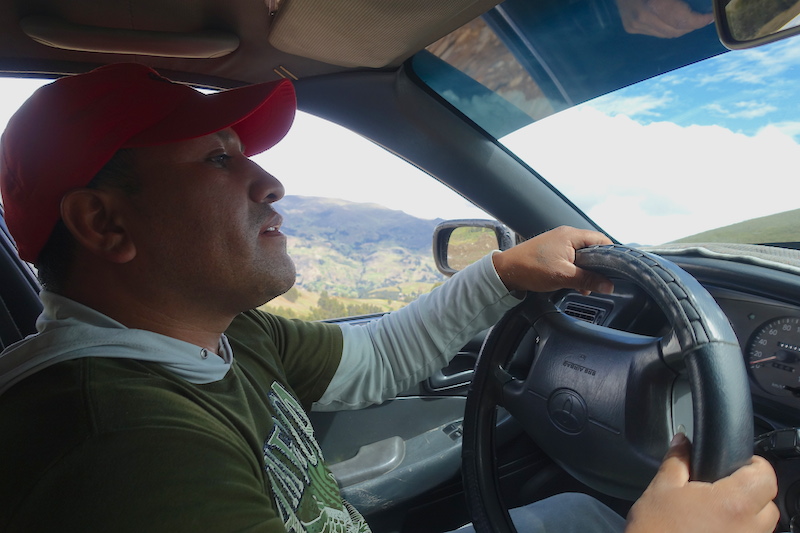 The road proved to be well graded and we saved several miles and some elevation by pushing on.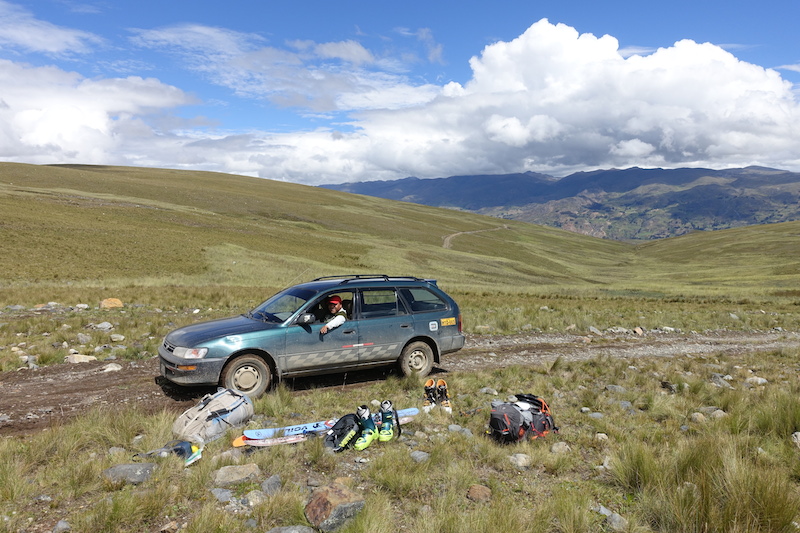 We were dropped off in the vast rolling foothills. The trek in was on. Shortly after we started hiking the clouds started making ugly, or beautiful, depending on how you look at it I guess.
Some short squalls passed through, but there were promising breaks in the clouds as well. Fuck it- onwards and upwards.
We topped out at the first potential campsite and pitched the Hoop Dreams tent to get out of the snow. The change in precipitation was ideal, our gear was much better suited for snow than rain.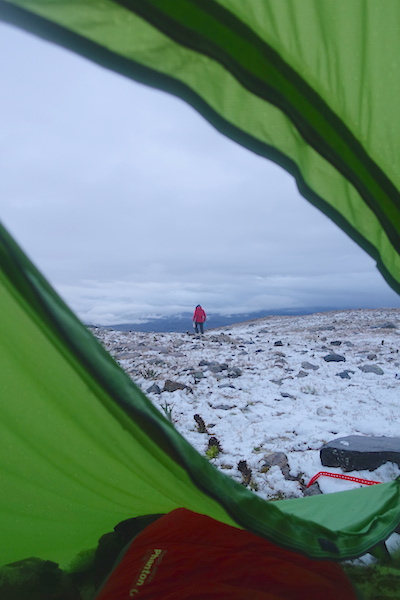 The plan was to wake up early and go for Shaqsha. We ate dinner and settled in for the night. I hadn't seam sealed the tent and we spent the night dodging drips and hoping the snow would let up!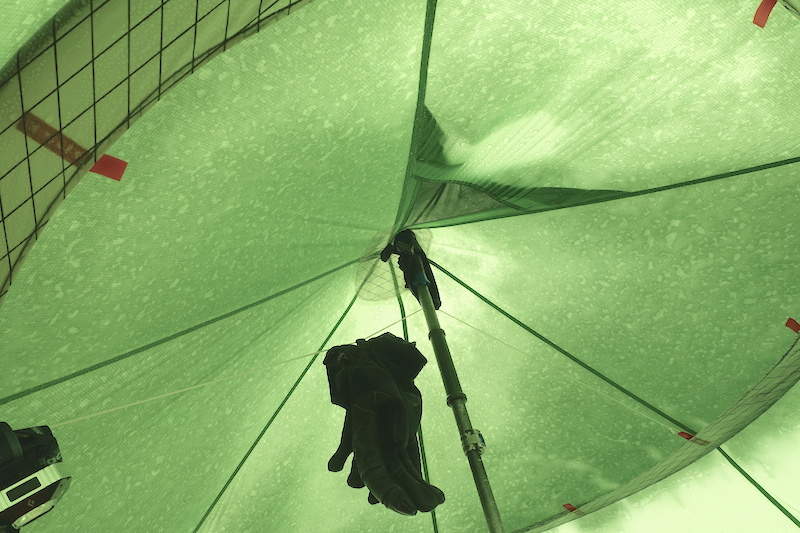 However, the heavy wet flakes continued all night and we kept pushing back our start time. No point in heading out onto a glacier when we can't see a thing. Oh Joy!
The snow finally stopped, but there was no visibility to enable forward progress. Then we could feel the sun through the clouds and it got hotter, then brighter……
………forms started appearing in the distance………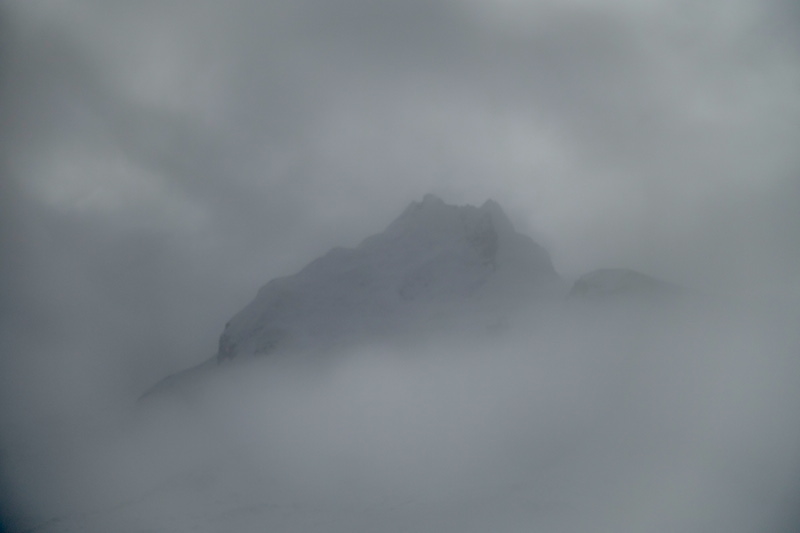 ……and finally it popped! We stared at Shaqsha and even started preparing to head towards her.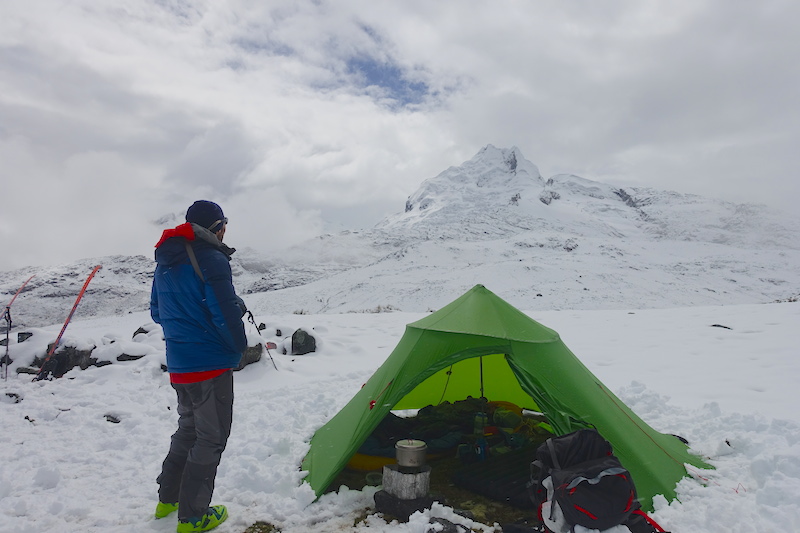 The incredible view was quickly sucked back up by clouds, thick ones. And what we saw moving towards us was more clouds, dark and unfriendly ones, not good for navigating crevasses. This was not the window we had hope to find.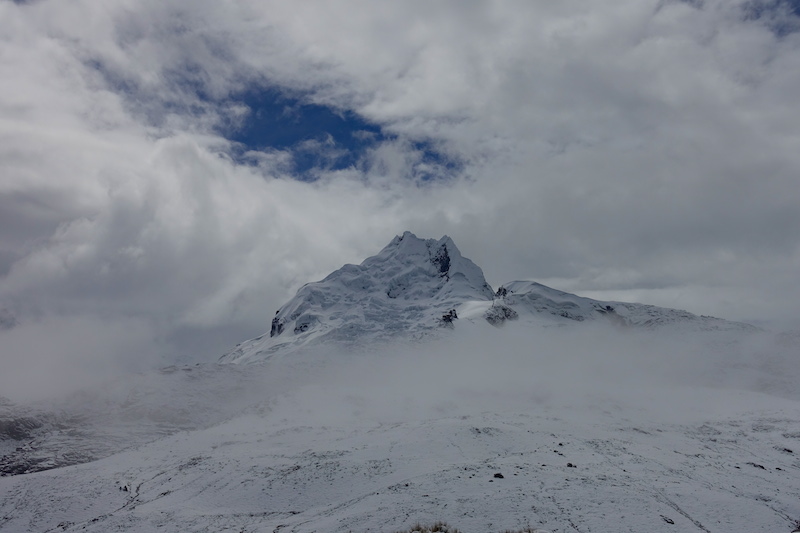 Sometimes decisions are tough and sometimes they're easy. This was a tough one. The very poor weather, a week of new snow accumulation, and the lack of time to wait it out should have made it easy. But it wasn't easy, we sat there in disbelief that if we turned back now we would have traveled half way across the world to carry our skis around not making any turns whatsoever. So it goes. This was a tough one to swallow and I've swallowed some big ones before (that's what she said). You always know this is a slight possibility, but it's still a very harsh reality when it happens.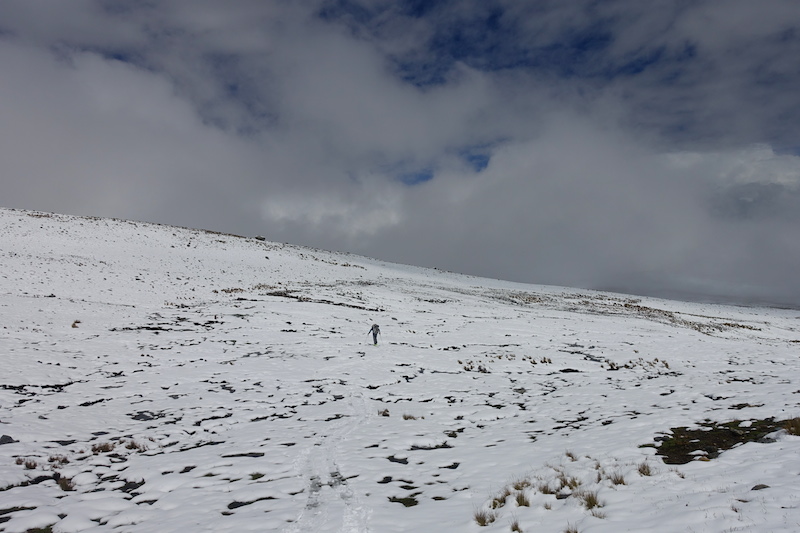 We put our skins on and glided back down the way we had come, across a mix of spongy grass and snow. My inner optimist suggested that maybe this could count as skiing. "We've got skis on, so it's skiing, isn't that right", it asked? "That's really stupid", I said. It can be good to listen to the inner optimist at times, but sometimes it's best to tell it to shut the fuck up and just enjoy being in a dark place.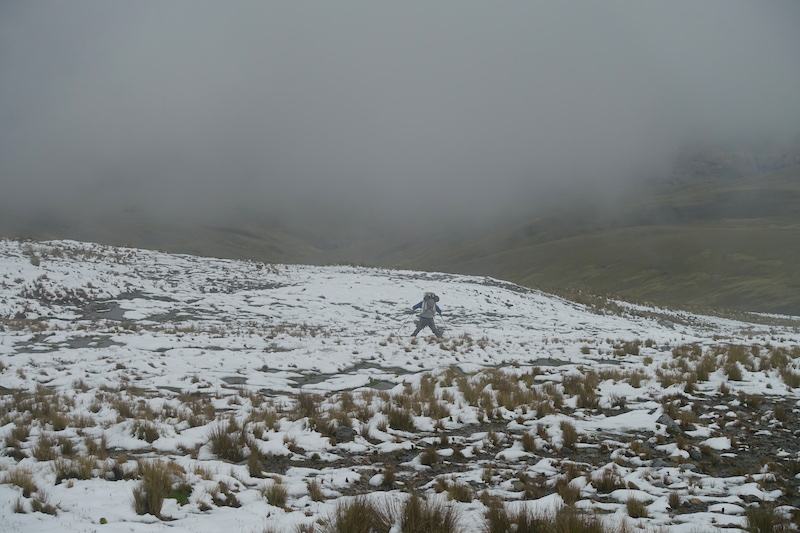 The foul mood couldn't stop me from enjoying what a beautiful place we were in. Yes, I see that I'm such a spoiled little bitch.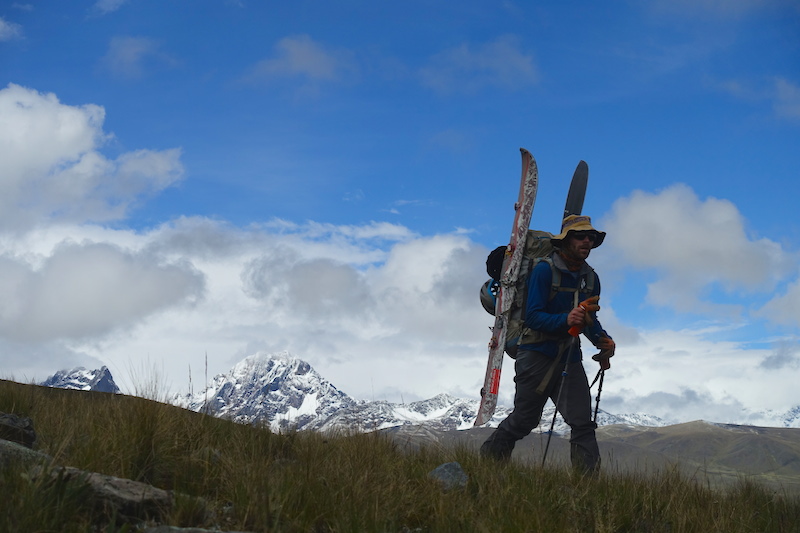 Nothing better than a long walk with a heavy pack to help clear your head.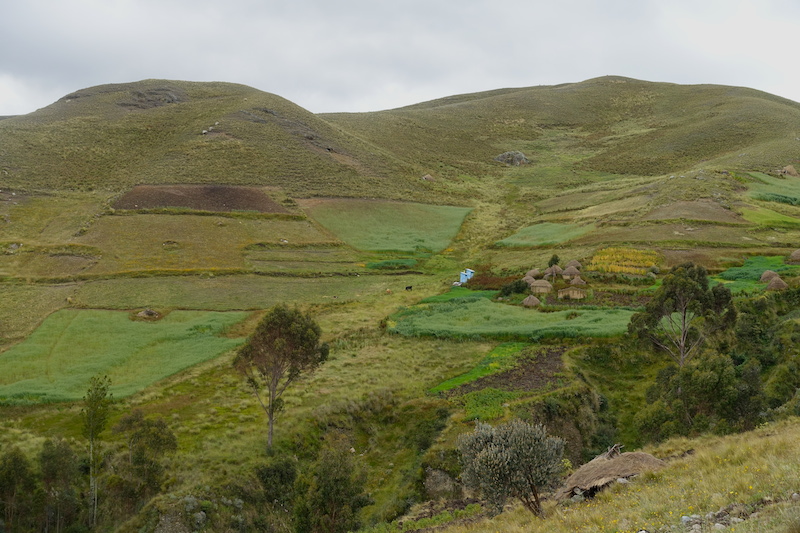 The heavens spat down on us a few more times on our walk of shame.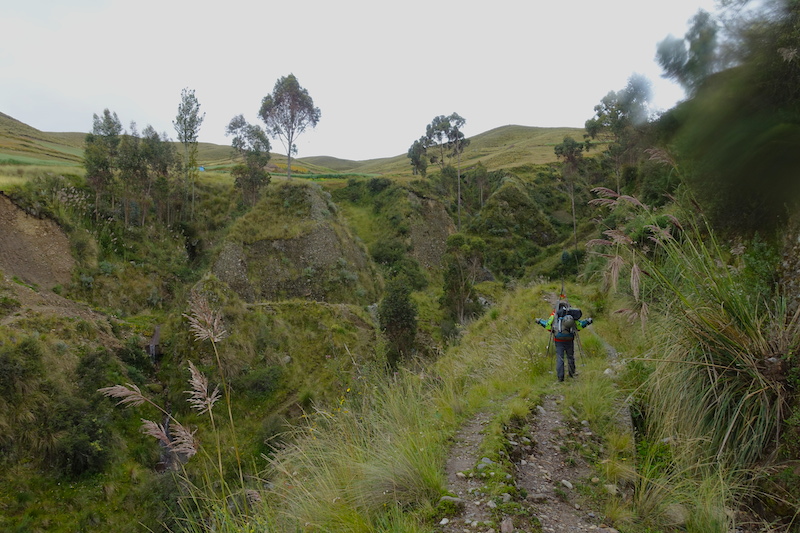 Inner optimist mentioned that "well at least it's all downhill from here". "Fuck off" I said. Still too soon.
We opted to hike all the way out to town instead of meeting the taxi up high.
Few words, just walking through fields and farms surrounded by iconic Peruvian imagery. I felt like we were inside the glossy pages of a National Geographic article (a Nat Geo article about not skiing in Peru).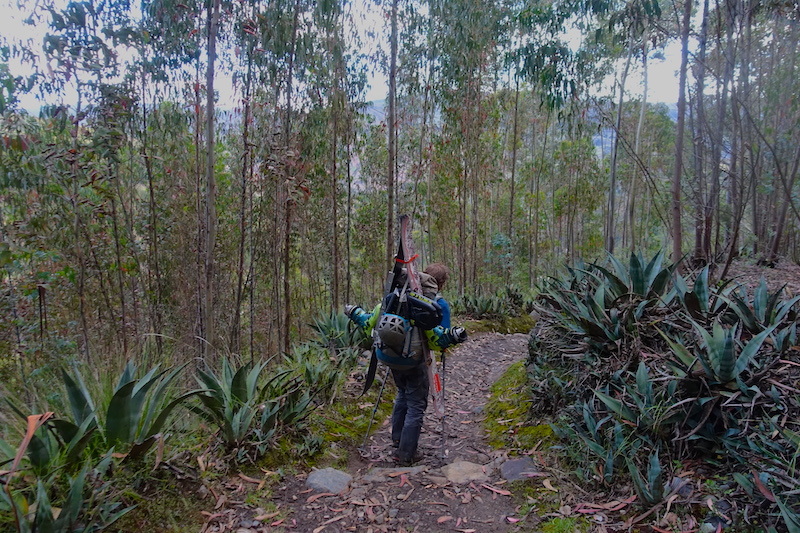 Not sure how to wrap this one up. Still so many feelings and thoughts on this trip, but I'm out of pictures and I feel like I've gone on too long as it is. I hope Matt never reads this, or he's going to find out what a whiny #@*! I am.
This one attempt was broken up into three parts, but I feel like over all this was just part one in a several part series with many future adventures to the Cordillera Blanca.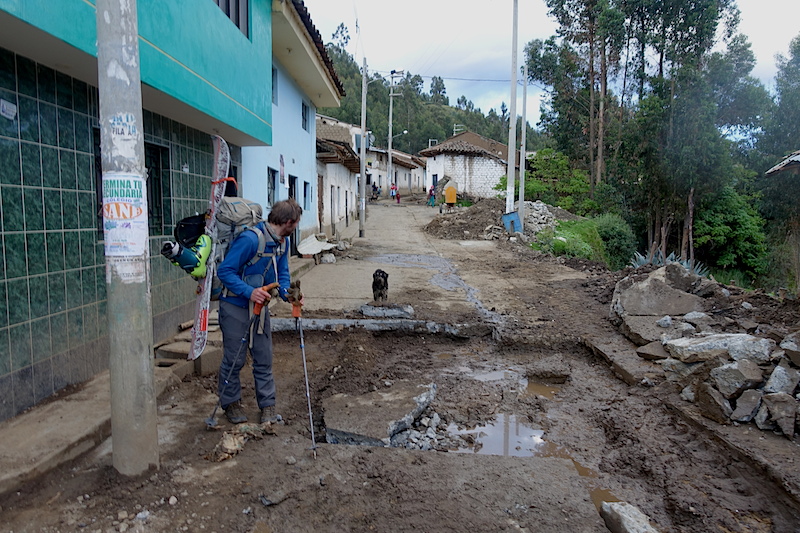 To be continued………..?