This guy out front, with the shit eating grin, had an idea for a medieval traverse last week. Two big traverses actually, in one day. For some reason he invited me and for some reason, I said yes.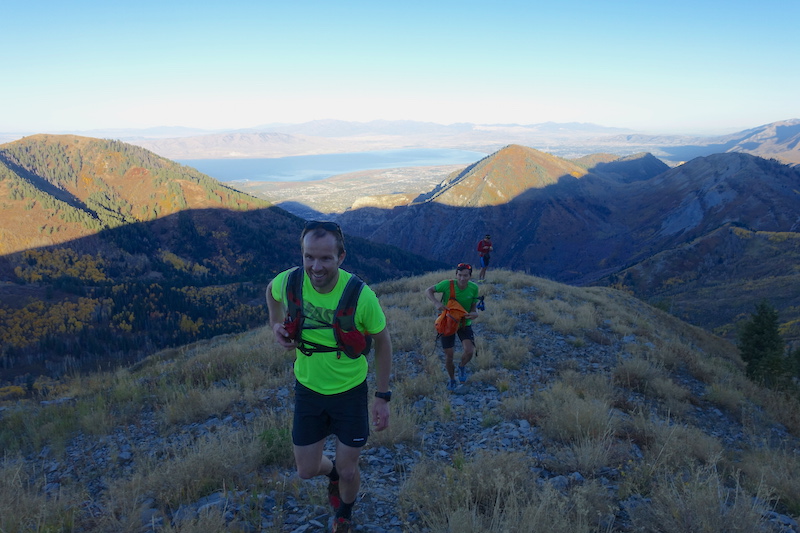 Behold the PURL (Provo ulitmate ridge link-up).  I know, this URL (ultimate ridge link-up) thing might be getting out of hand, but taking things too far is fun. There was a fair bit of discussion about what this traverse should be called, if it were accomplished. Courtney Pace was the one who had the brass balls to make it happen, and he didn't care what we called it, he just wanted to complete it.
The PURL of Great Heights (a little Mormon reference for all you heathens) combines two rarely done traverses into one epic suffer-fest. It starts on Squaw Peak road, then gains the ridge and stays on it all the way to Provo Canyon tagging Coral, Provo, Freedom, and Cascade peaks along the way. From Bridalveil Falls you walk up the freeway and climb Slide Canyon to reach and traverse ALL of the Timpanogos massif. It hurts just typing it out.
Below is our route from south to north on the spine of the Wasatch, overlooking Provo, taken from Courtney's GPS.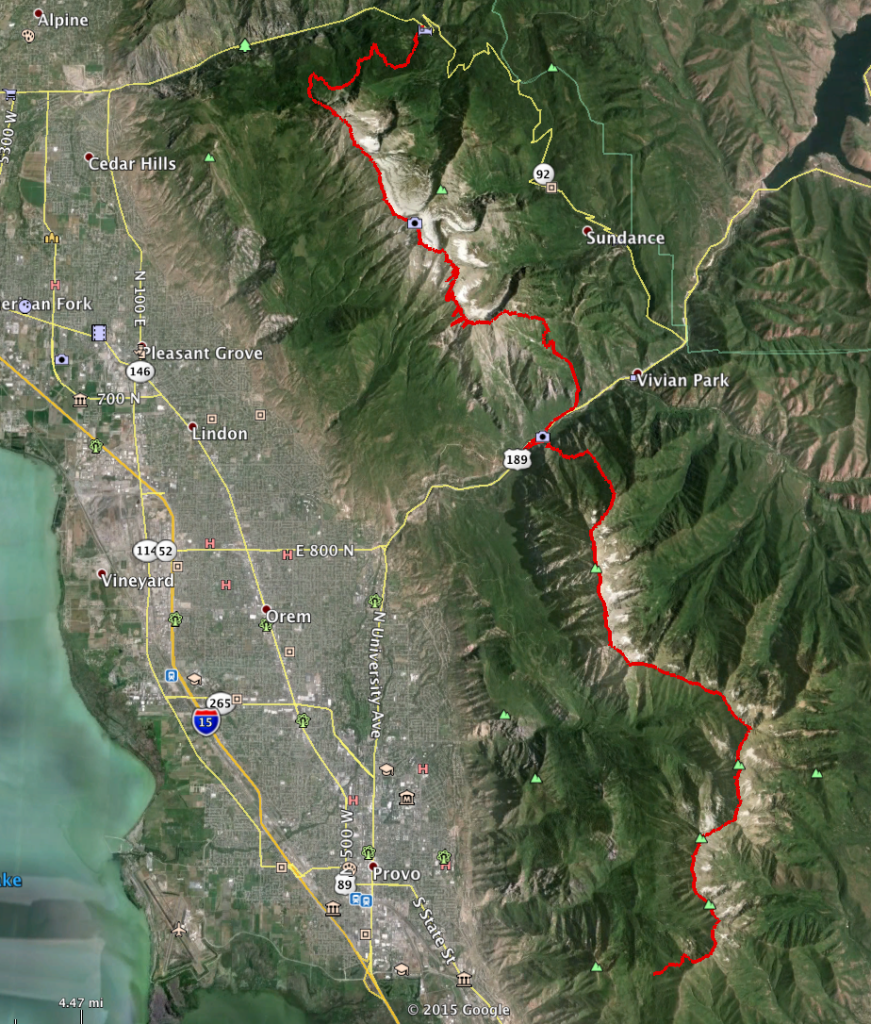 The southern section.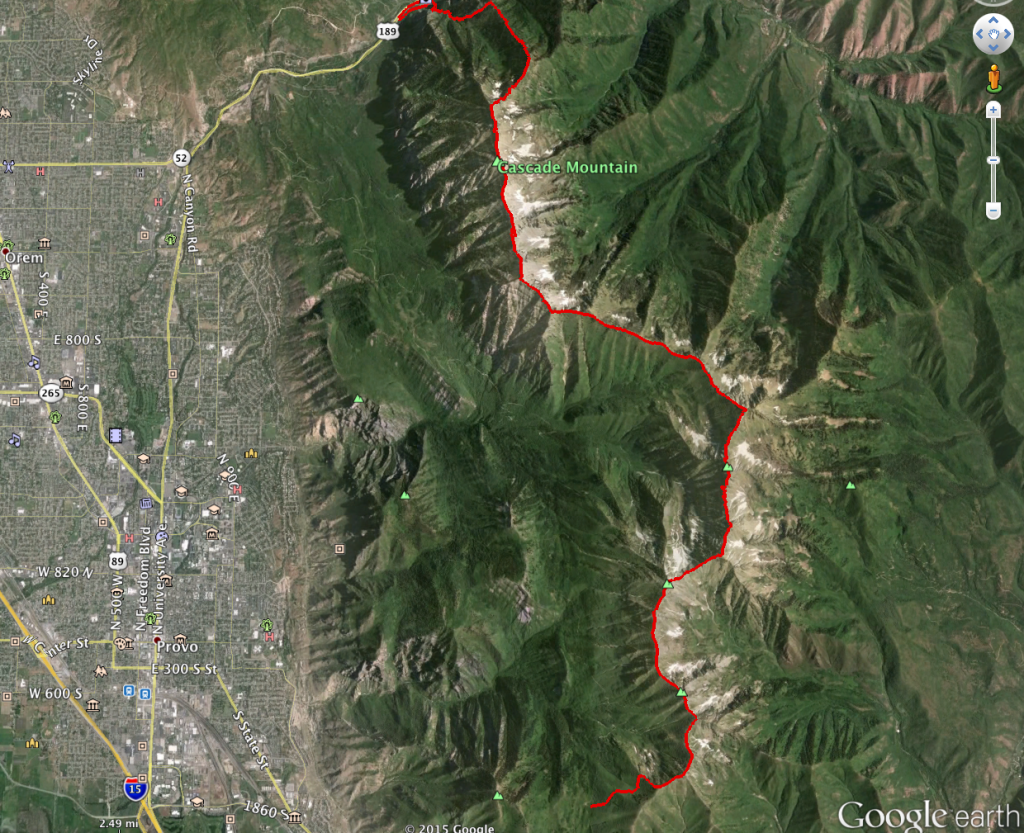 The Timp section.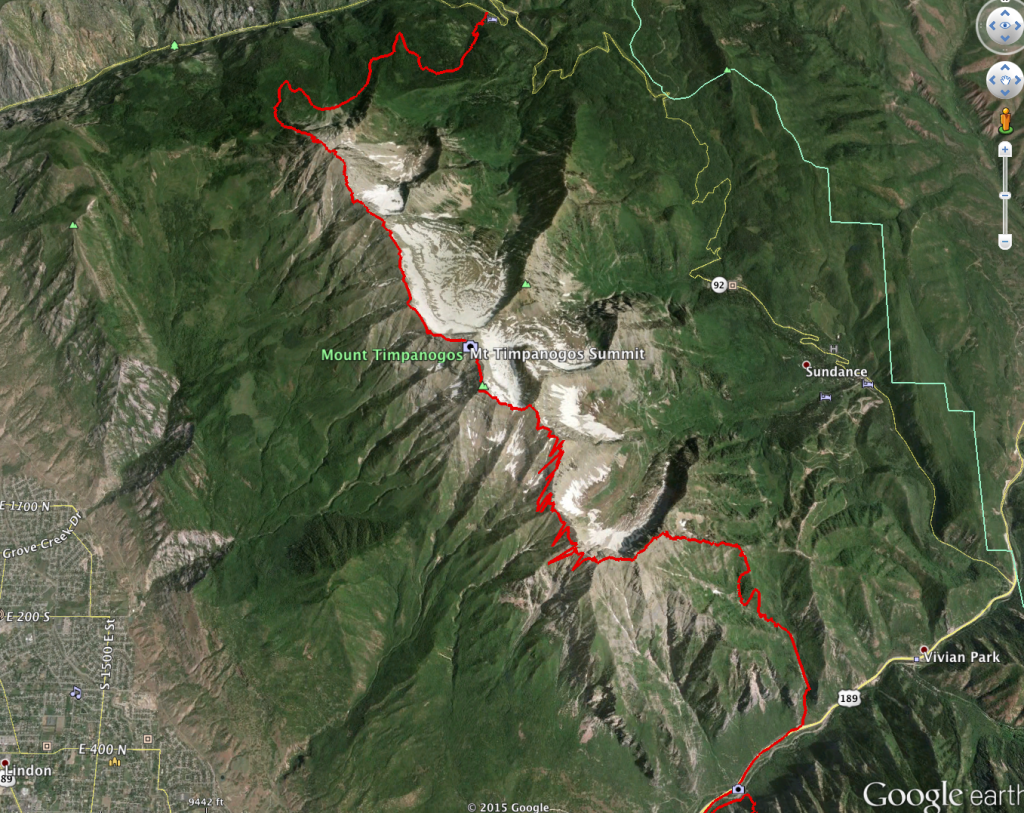 I invited Andy and Jason Dorais along and they were fired up, as always. They added good company, with their twisted sense of humor, and solid mountain sense. Due to time and physical constraints, however, they were only able to do the first half.  Andy posted some great photos from the initial part of the day. View here.
Jonah was a sport and aided in the car shuttle to Squaw Peak road. Courtney had slept in AF and dropped a car in the canyon. We picked him up, then drove into Provo Canyon, picked up the Dorais bros while caching supplies to refuel for the second half. High clearance vehicle strongly recommended.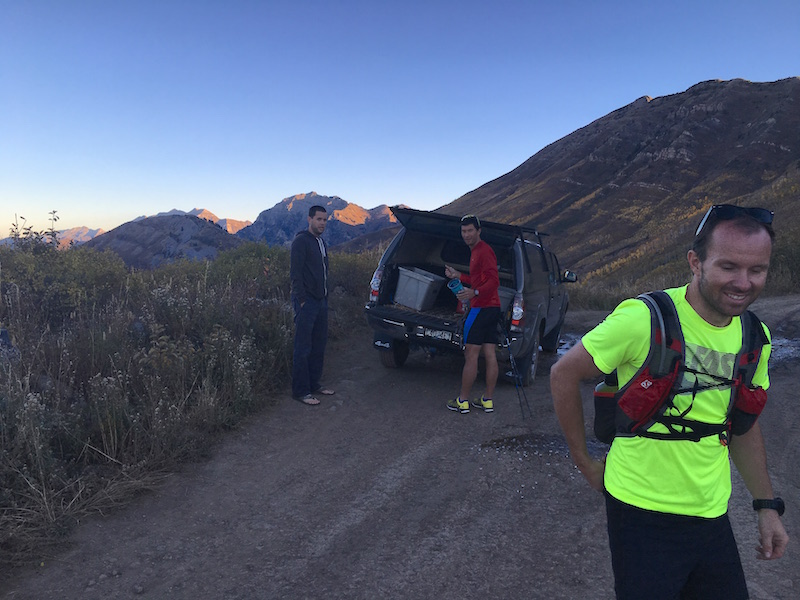 The drive up took longer than anticipated and we were about an hour behind schedule. We gained the ridge pretty quickly though, all smiles.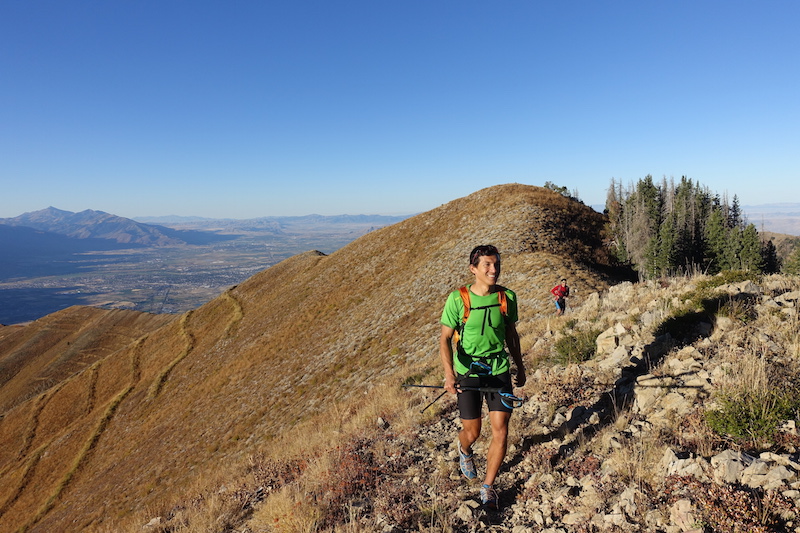 The initial ridge was broad, open, and smooth traveling.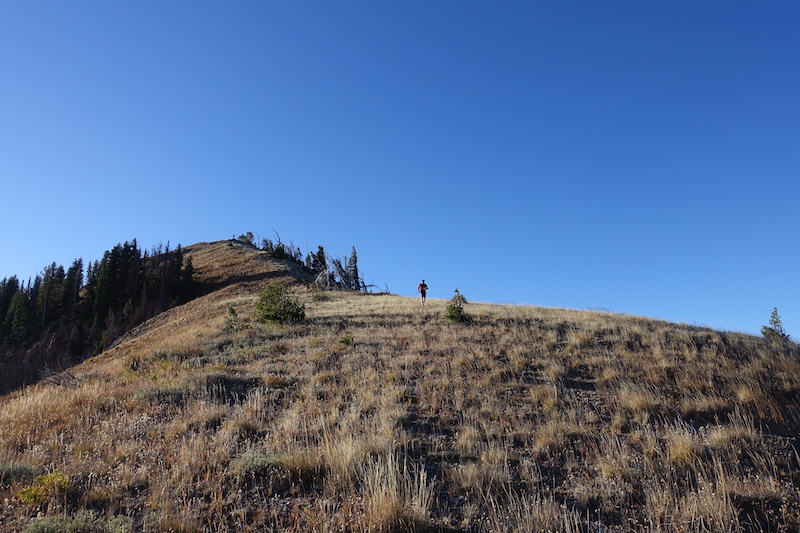 That didn't last long.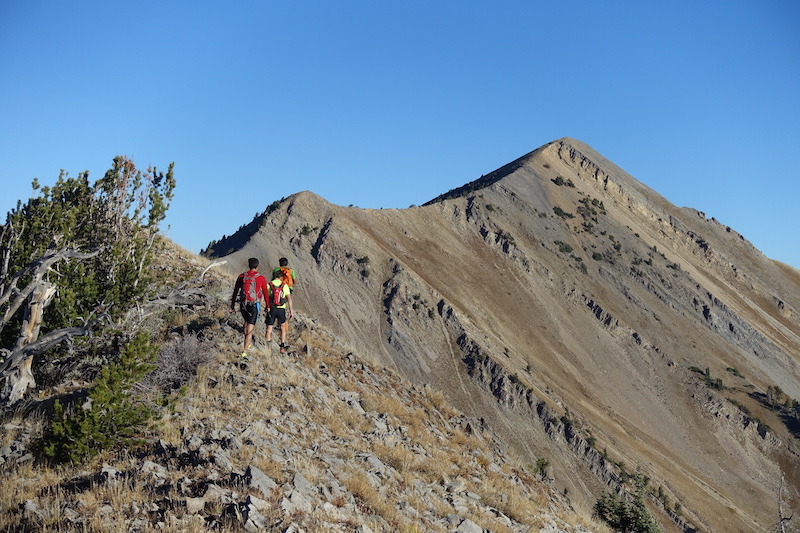 I'd driven Squaw Peak before and it's a beautiful road, but it was cool to get even higher and enjoy the vast views.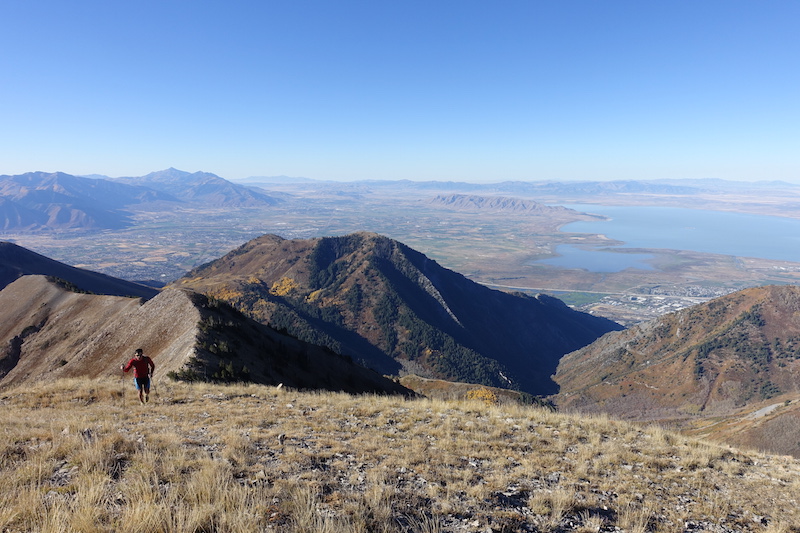 The pace was what I would call casual. I could tell Courtney wanted to go faster, but I was more interested in conserving. Jason and Andy were running all around snapping photos. We took a break on Provo Peak.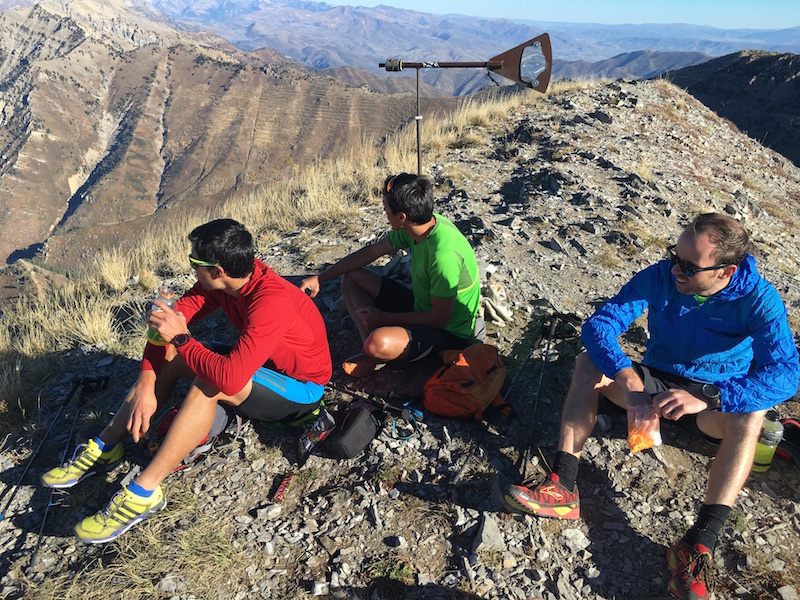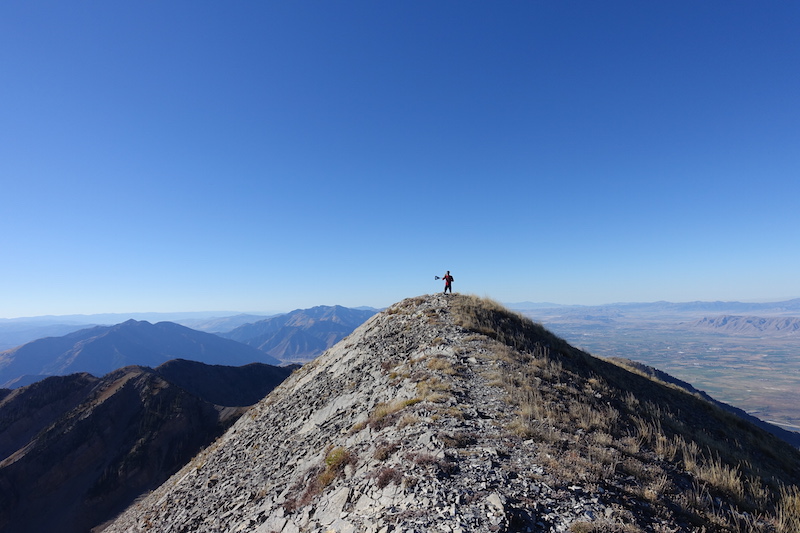 Then things really slowed down as the ridge became broken and rocky with lots of ups and downs. Only a few technical sections that required hands-on.
Or butts-on!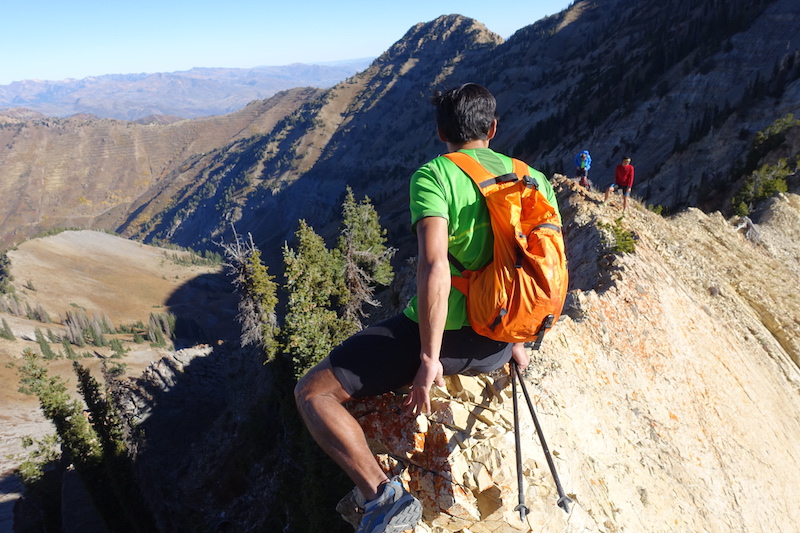 I really hate hiking ridges in the summertime.  Okay, maybe hate is too strong of a word. But I spent a lot of time thinking how much more fun we'd be having if the peaks were covered in snow. We all took turns looking down chutes, pointing at peaks and faces while discussing what they would ski like in winter.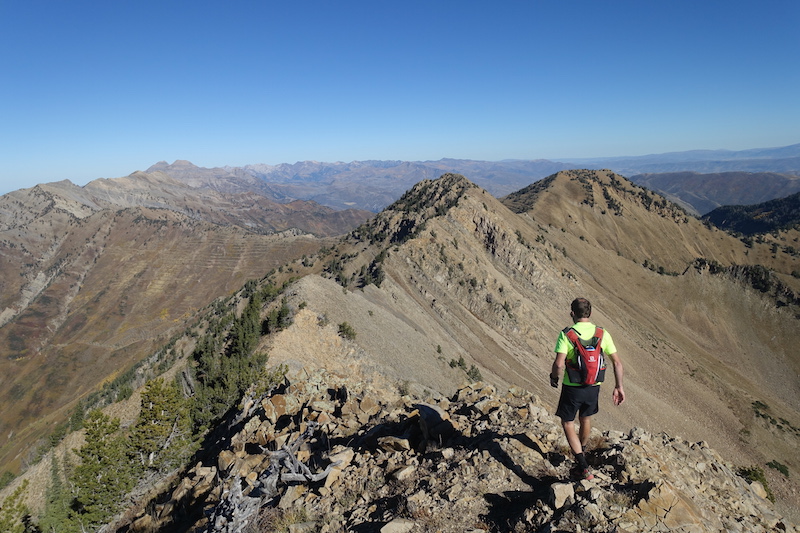 We weren't exactly sure which was Freedom Peak, so we did our best Bravehart impressions on several of them. Let Freedom ring.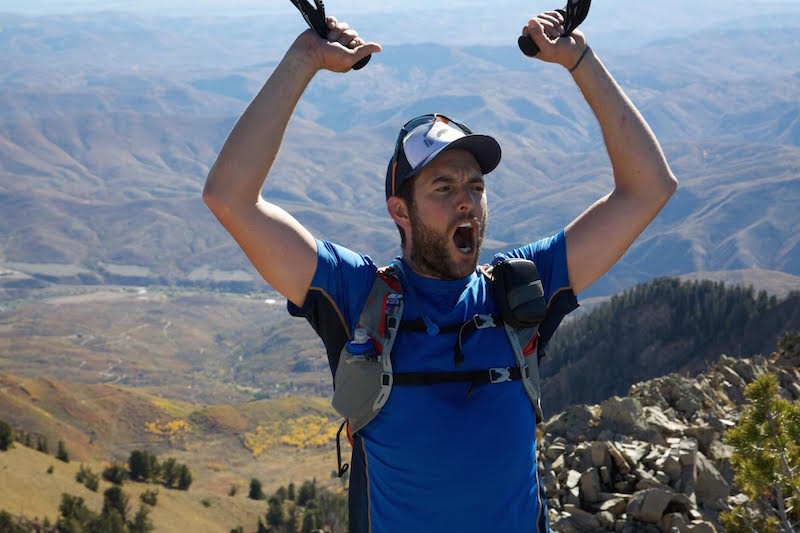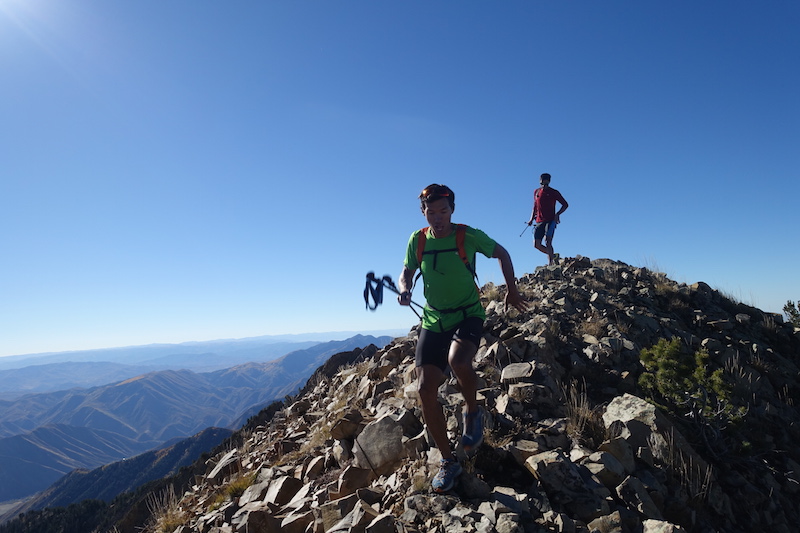 Good place to daydream! There was plenty to gawk at and "we should come back and ski this" was stated with enthusiasm much more often then "gee I sure like hiking".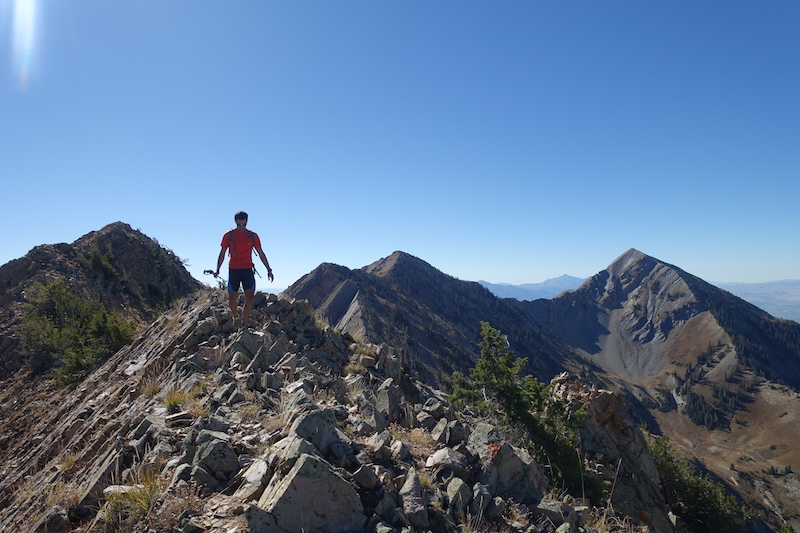 Looking north from somewhere near Freedom Peak. So much terrain ahead! We had hoped the first leg would take somewhere around 6 hours. I think we hit Freedom after about 4hrs in.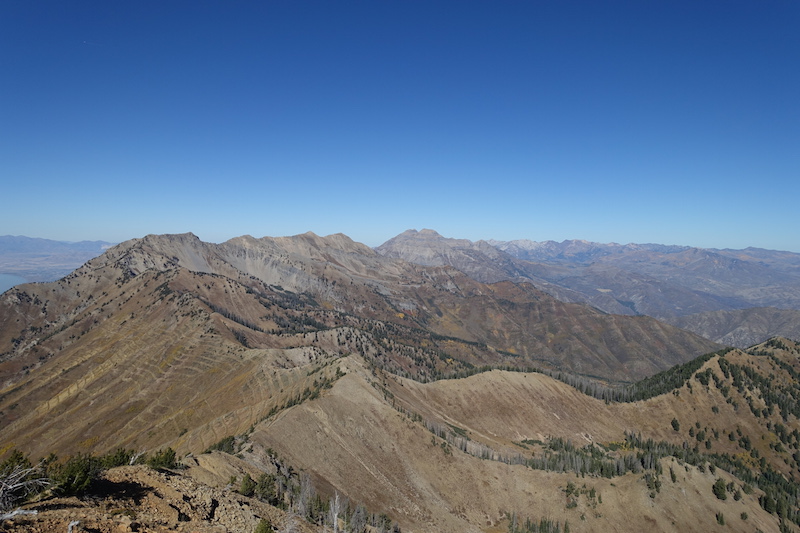 The least daunted? Fuck no.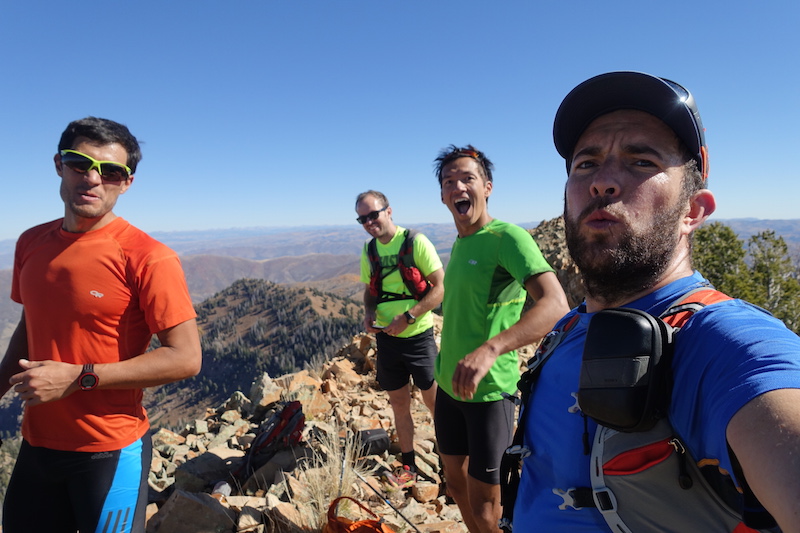 The pace didn't really increase, but we talked less, shot less, pushed on through to Cascade.  Finally we came to the 6K foot descent into Bridalveil Falls. Andy has been biking all season, but was moving well for his 5th run of the summer.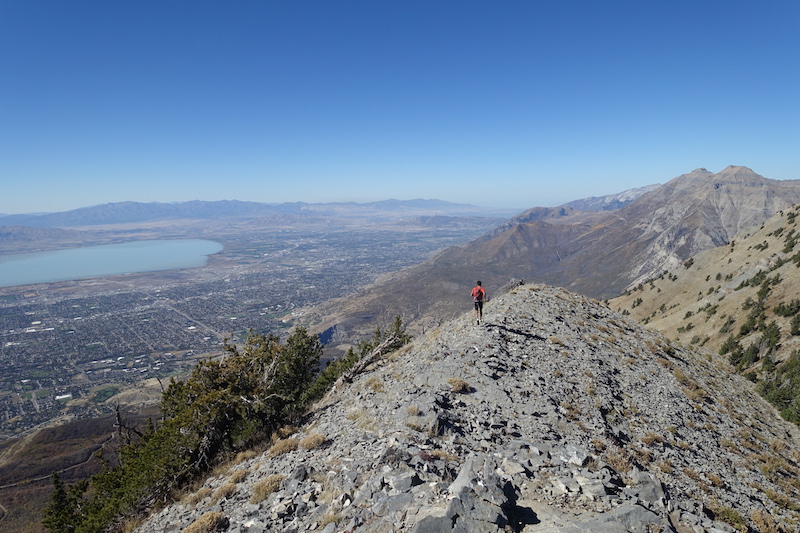 Timp wasn't exactly hiding from us. She was flirting with us from across the canyon. It was too hard not to stop, look, wonder, and trace routes up ridges and over peaks. No real easy way to ascend from the south.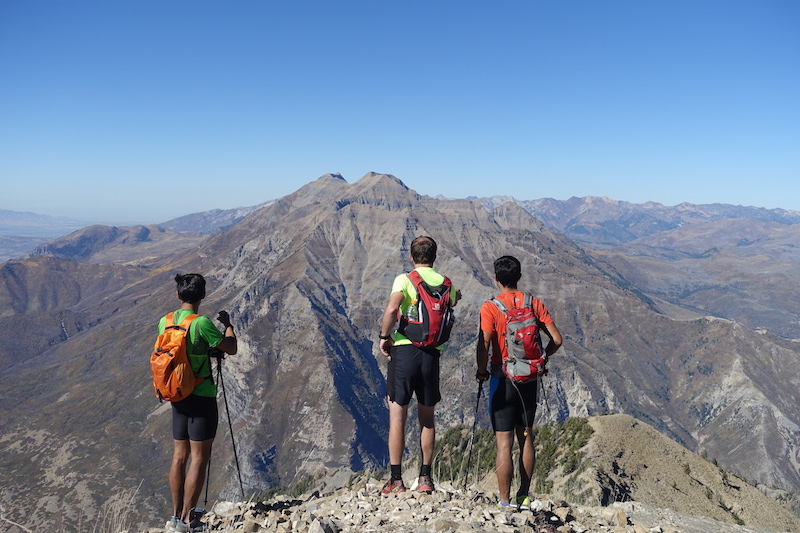 Still plenty to focus on as we made our way cross country.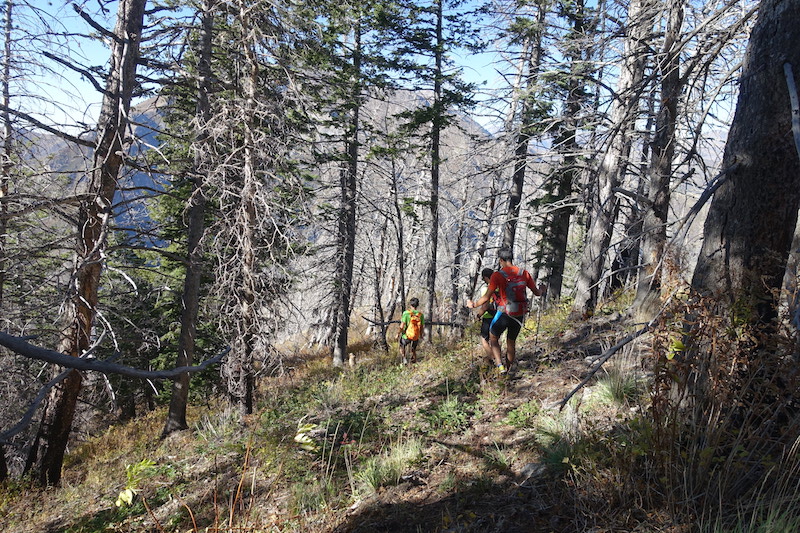 There were some stand out moments on the way down. I'm not sure what it is about a good burn, but these torched trees were a highlight.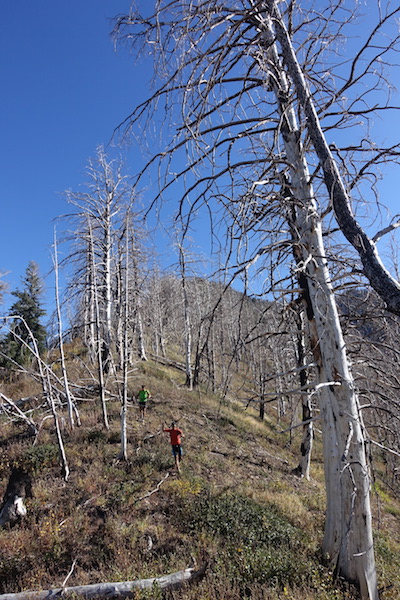 When the going gets tough, put your pants on. The thickets weren't thin, so we panted up and continued on. Two key items I would call critical for this outing are trekking poles and long pants.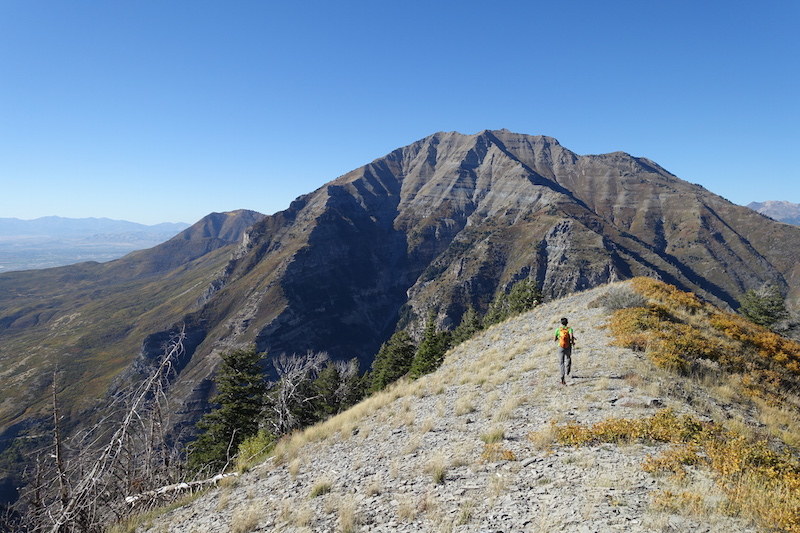 Some patches of scree made for a quick and enjoyable boot ski for a thousand feet or so. And I'm going to add another essential item, work gloves. Courtney accidentally left his poles in his trunk, but he did pack some work gloves that he made good use of on the upcoming bushwhack and this descent.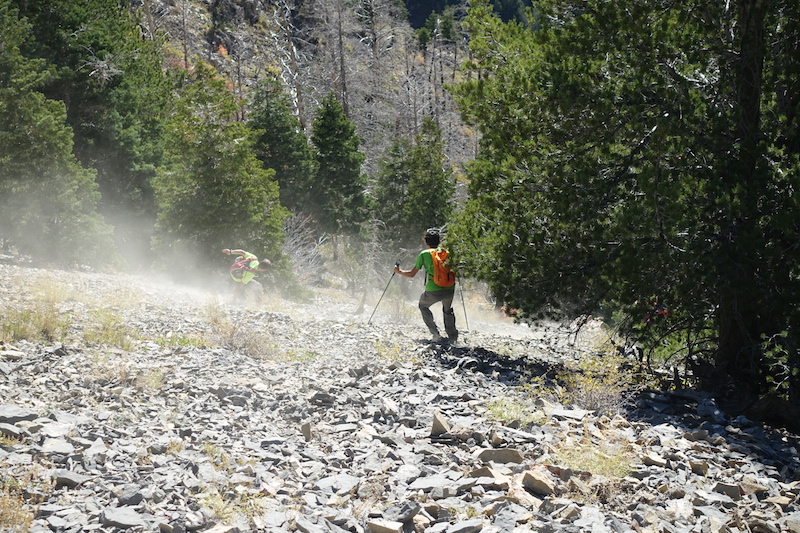 Speaking of gear, I do want to take a minute and mention how much I love my Summit Rocket Pack!  The vest style packs are really growing on me. I like not having a waist belt that gouges into your gut and cuts off air. This style carries really snug to the body unlike many lightweight packs that just flop all over, especially if they aren't packed to the brim. Great to have access to phone, water and some snacks with all the front pockets as well. Now back to our program.
Shit was getting real.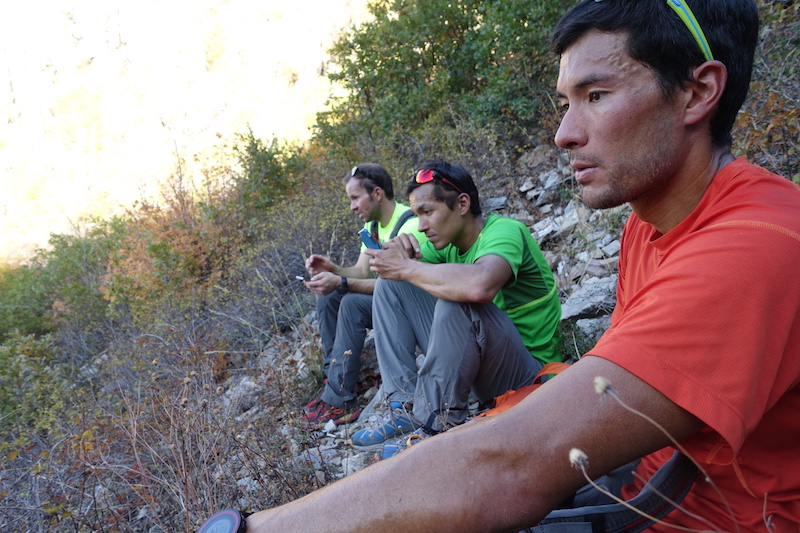 Real bushy!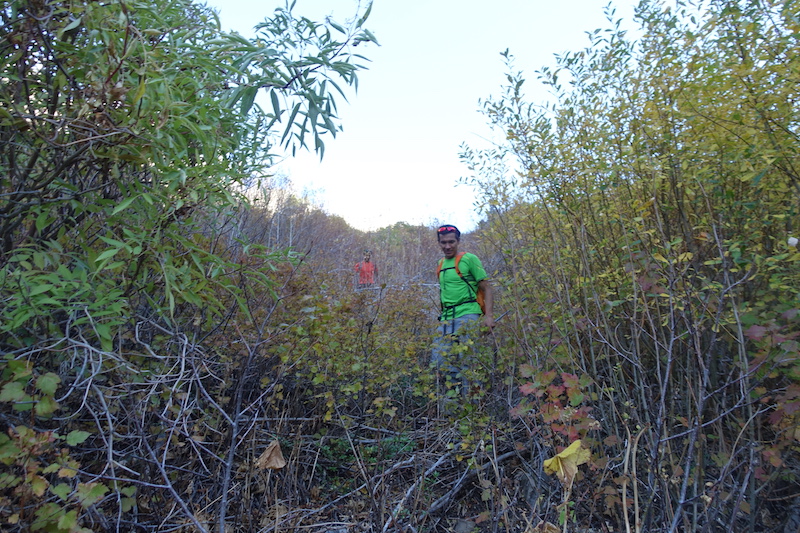 Aaron Smith had given Andy some good descent beta and we had his Strava tracks to follow. Once you get down in the gully there's only one way to go and that's to follow the stream.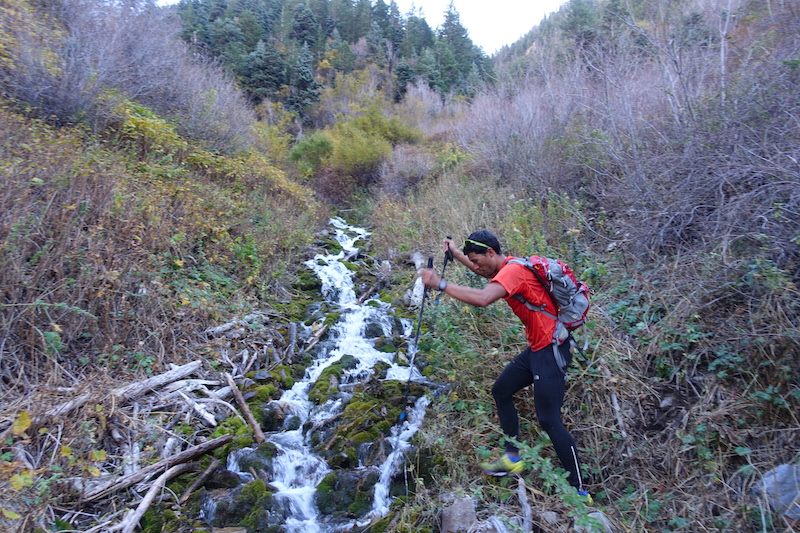 It got a bit complicated after that. We followed some paths, descended hand lines, down-climbed rocks and finally got to the falls.
Refreshing!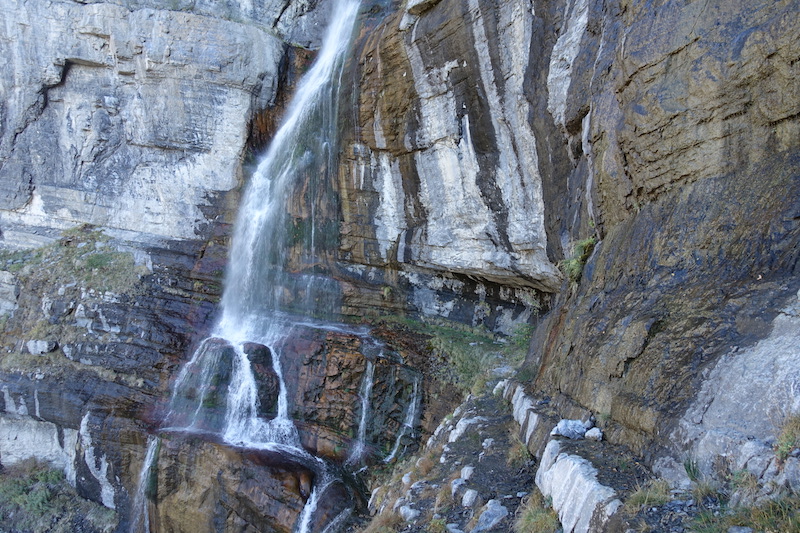 On the way down I wasn't even considering Timp. I was done. The first leg had taken us way too long, and it was much harder than we'd expected. Our initial hope was to be up on the Timp ridge by sunset. It was 5:30pm. We had only gone about 15 miles or so, and roughly 7K, but it had taken 9hrs. Andy was worked and was going to pull out. Jason had some quality time planned with his lady. Courtney was up ahead, but I assumed he was on the same page. My feet were a little raw as well and it was just too late in the day to head off for an even longer and steeper leg, that would be all in the dark.
Andy and Jason saved the day with a cooler full of Gatorade, Coke, and pickles at the car. Yes, pickles! They were salty and delicious. I took my shoes off, ate some food, and got very comfortable on the pavement. That was a fun day. That was enough. I'll be able to walk, even run tomorrow, so that's good. My mind was sifting these thoughts and my body was decompressing when Courtney said, "Well, we better get packing so we can be out of here by 6".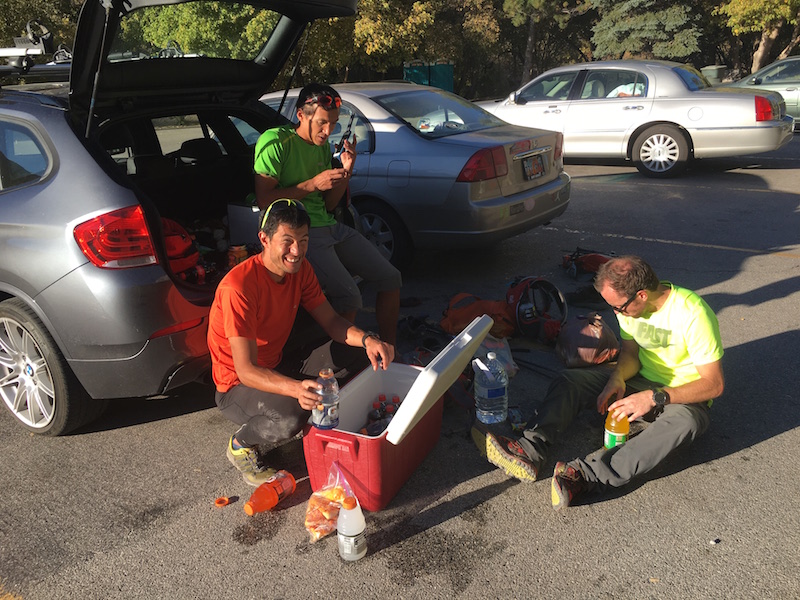 We loaded up our packs with calories, fluids, and headlamps. By 6pm we were walking up the highway towards Slide Canyon. Not sure if it was the fresh socks, or the caffeine boost, but there I was on my way for round two. I didn't have any other plans that night anyway.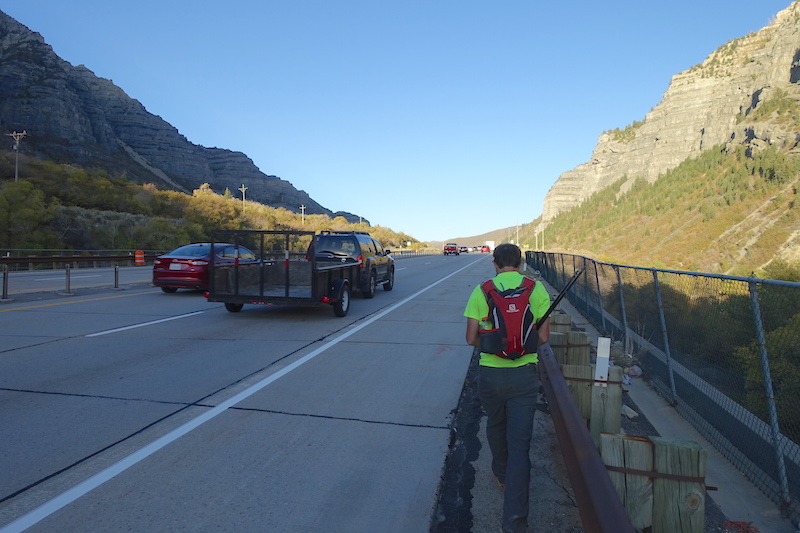 Slide Canyon started off with a well defined trail and the slope angle was mellow. We were cruising and feeling good. The light was getting low and we knew getting as high as possible before it went black was key.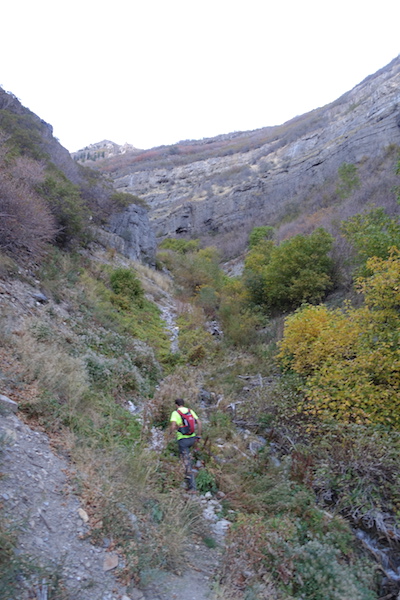 The trail ended after a few miles, but we had gained some good vertical. We climbed pretty easy ground smack dab in the middle of the canyon. A few waterfalls and cliffs were by-passed and then we hit a dead end cliff. This seemed like the right time to cut out to the right and gain the ridge. We ended up on a steep runnel full of deer bones and hoof prints. Using poles, bushes, and swear words we battled up the loose sand for what seemed like a really long time. I've gone out of my way to put myself in some ridiculous situations, and this was a memorable one. We hit the ridge and that was a relief. My legs felt great though and Courtney was crushing. We knew a bonk was coming, but we hoped we could get as high as possible before it happened.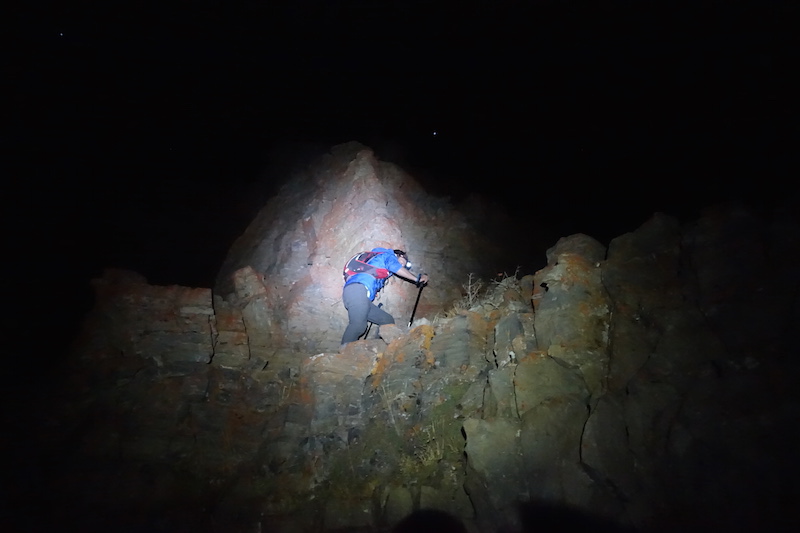 It's interesting at night when you can only really see a few steps in front of you. You're forced to stay present and not look too far ahead. We were up on the main ridge and this was a good thing, but we could still see huge looming black masses ahead. Best not to focus on them, but make steps instead. A true "bonk" never came, but a zombie like stupor took over and we moved ahead, not fast, but steady.
A few breaks here and there, good for the body, but bad for the mind. Just more time to think about how much further we had to go.
I call this image "man in the pain cave" lit by headlamp.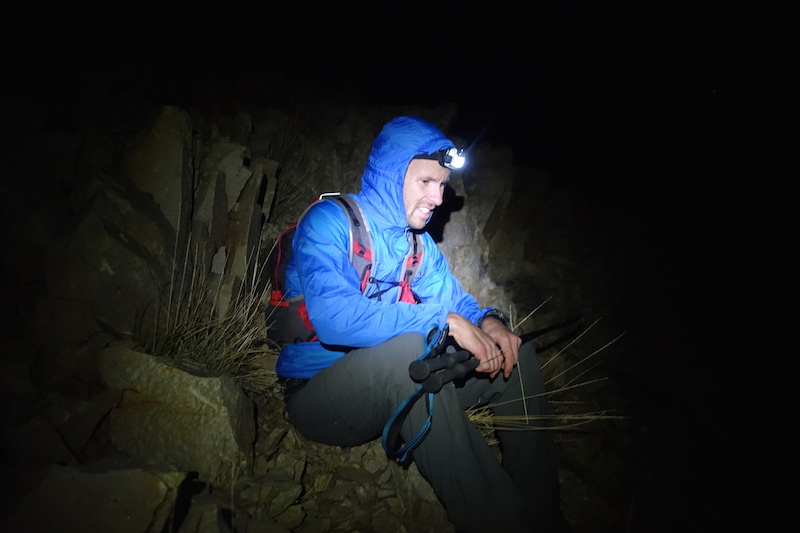 What was lacking in daylight, vistas, and panoramas was more than made up for by city lights, quiet, shooting stars, and solitude.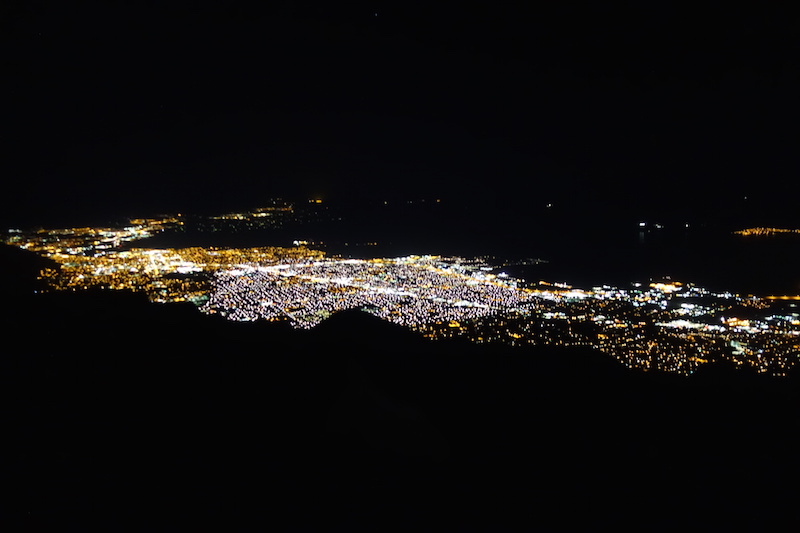 Around midnight we hit the well developed trail above the snowfield saddle. After 16hrs of rugged cross country travel, this was like jumping on one of those people movers at the airport. We were cruising!! This was a much needed boost in morale. We hit the main summit with smiles at 12:30.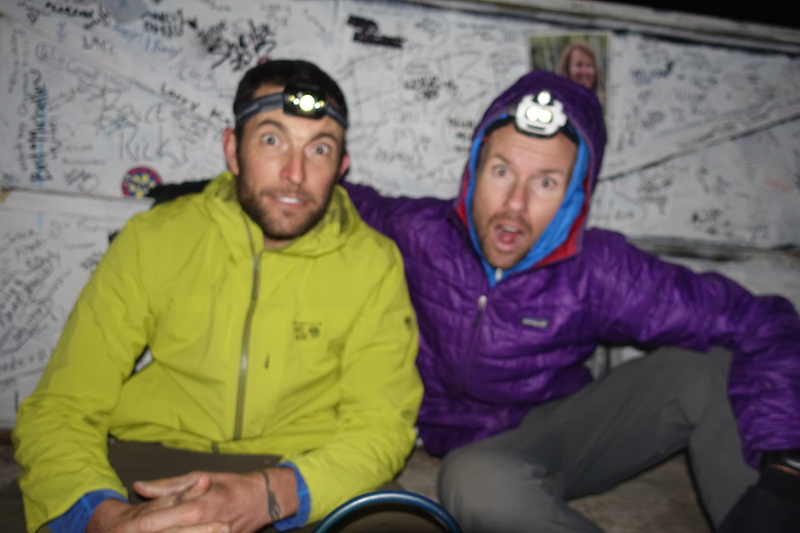 Neither of us felt like eating, but we forced down some fuel and marched on. The way ahead was unknown for both of us and we prayed the handicap ramp in the sky would continue. And it did for a long ways towards the north summit. Eventually it faded to faint trails, but it wasn't long before we were on our final peak.
The mandatory high-five and a laugh as the absurdity of the day was sinking in. The light at the end of the tunnel was visible at last. I felt like I had suffered well all day, but that was about to end.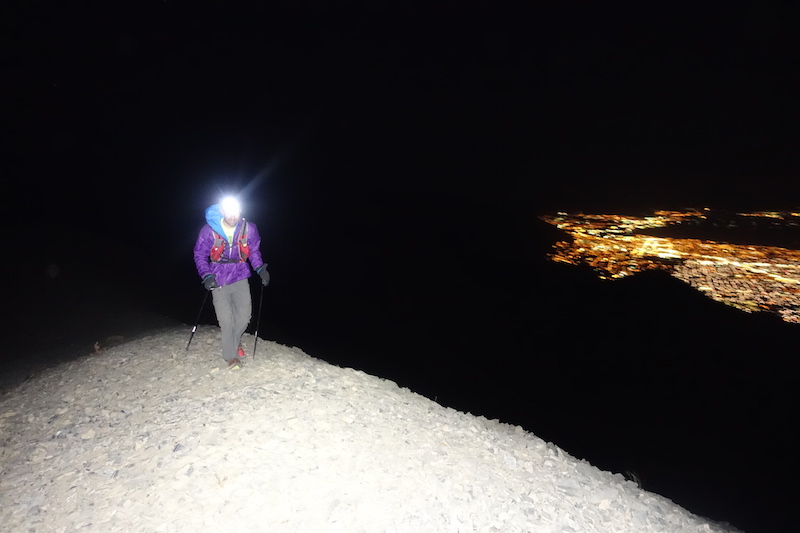 We dropped into the Cold Fusion colouir hoping to quickly bang out the final 3K feet. For anybody who contemplates this traverse, or any endevour that requires you descend Cold Fusion let me strongly suggest you reconsider. The more good ski lines I descend free of snow, the more I'm convinced they do not make good hike outs. Courtney flew down the scree and dirt like a fucking champ! I couldn't believe it and I couldn't keep up. He'd sit and wait and then tear off again. I've always sucked at going downhill fast, but this was laughable. We were too tired to laugh though. It was long, then it got thorny, then I got a blister, then my knees hurt. We hit the road that traverses the north side of Timp and the flat ground was much welcomed. Court waited for me until we hit the final trail to Mutual Dell then he ran off. I kept moving slowly.
Courtney was asleep in his car and had been for probably half an hour when I arrived. He said congrats, I said thanks and that it felt good to sit down. The sun was coming up, but it felt like I should be going to sleep. We didn't say much more on the drive home. Twenty one hours on the move over 35 miles while gaining over 15,000ft and descending around 11,00ft spoke loud enough. Well played Courtney!