Booo! That's right, I'm still here, still blogging, just haven't been doing much of it lately.
Wow, what a snowy and incredible winter it's been! I've been working on some video and photo projects, the OR show was in town, got a nasty cold, but mostly skiing deep snow here in the backyard.
We've had a week without snow, which may be a record for the season. Things have settled and cleared lately and it seemed like time to explore some "new" stuff. I moved into the Millcreek area a year and a half ago, the kitchen window stares right up at the mighty face of Mount Olympus. I've skied the standard routes (except for Great Chimney), but wondered over coffee and pot tarts if there were other lines that could go. It's a tricky face to read with so many cracks, rocks and wrinkles showing. This past summer while traversing the ridge I noticed a nice looking tree lined chute right off the ridge. It must fill in with snow and be good skiing I thought. At least for the upper half, then it looked like it became steeper and rocky and might require a rappel to drop into the lower portion of Apollo. Only one way to find out. With all the snow we've had it seemed like a good time to inspect further, before another burst of rain might ruin the lower elevation snowpack.
If anybody has skied this, Derek? Andrew? O,Keefe? Anybody else? I'd love to know. Haven't heard of anybody, but not everybody sprays on the internet every time they click into their bindings like I do. Hades (lord of the underworld, ruler of the dead) seemed like a fun name, in keeping with the Greek God theme.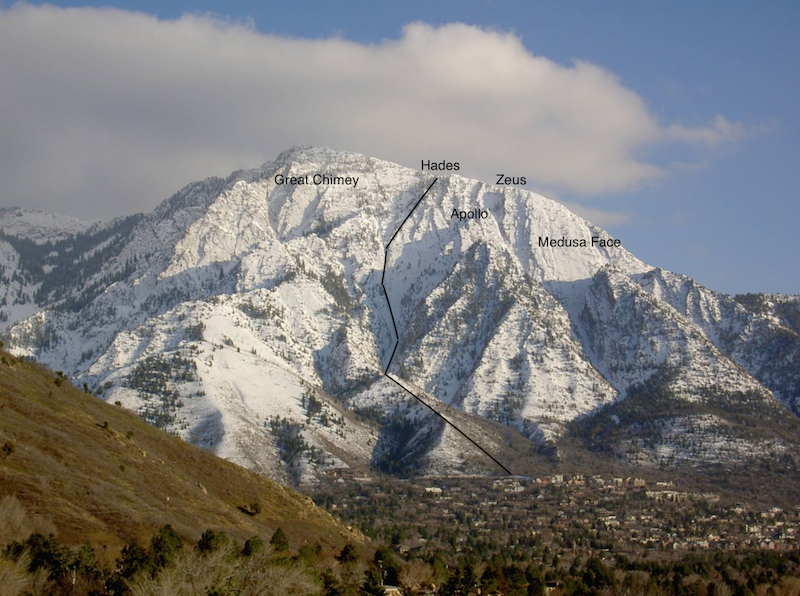 Tom Goth and Andy Dorais agreed to go check it out. I think they were just excited to try out their new toys. They borrowed my VERTS last week for some steep skiing missions and quickly fell in love and went and bought some. They really are an incredible tool for steep and deep snow, they even handle firm snow and rock pretty well!
We decided to try and gain the ridge via the Zeus Couloir, then traverse over to the entry.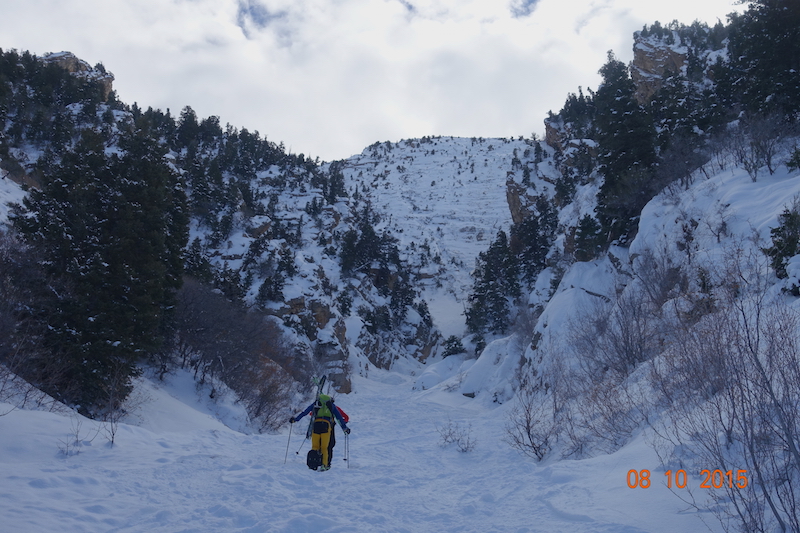 We skinned up through the brush and then strapped on the Verts once we hit the gully. They feel a bit like clown shoes at first, but well worth their weight. We guesstimated that trail breaking was 50% easier and following the leader is as easy as climbing up stairs.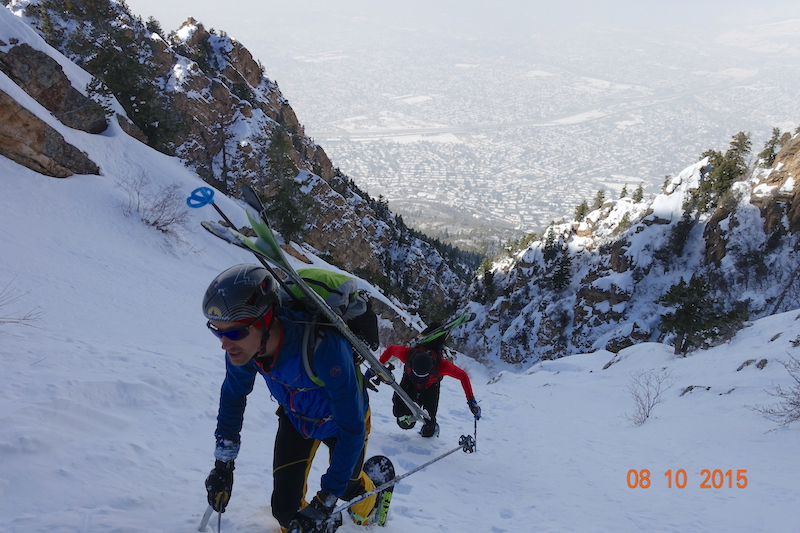 Zeus was pretty damn thin and narrow and even icy in spots. We had to veer out of the gut in a few spots to stay on snow.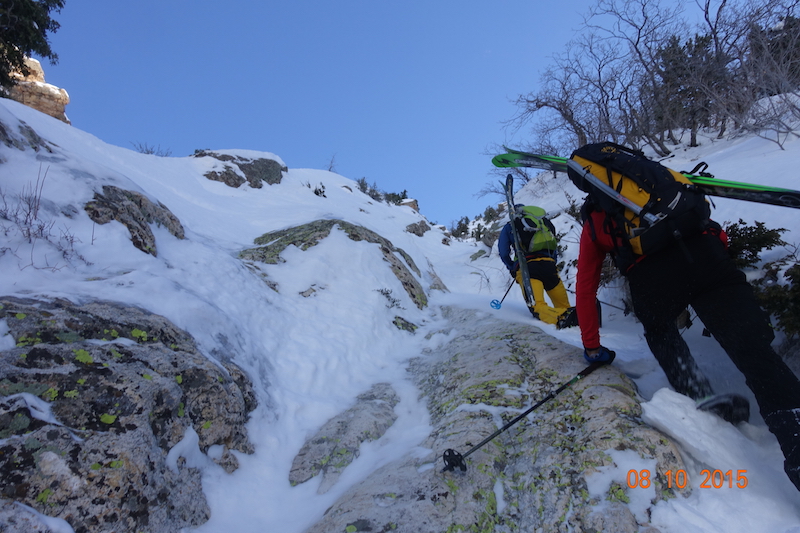 Andy and Tom broke most of the trail as usual while I provided the perfectly groomed mustache.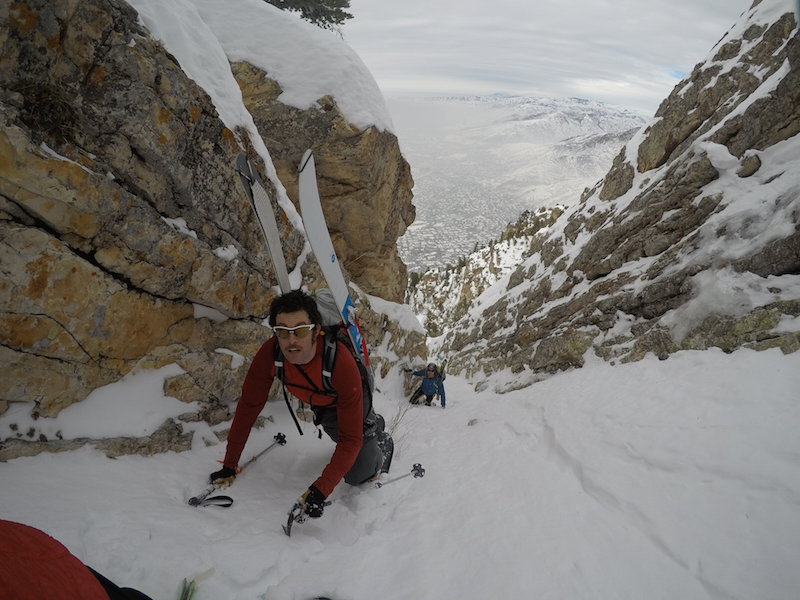 The conditions we found in Zeus weren't very promising, but I still had hope Hades would be better since it's not as steep, so it might not sluff and run as frequently.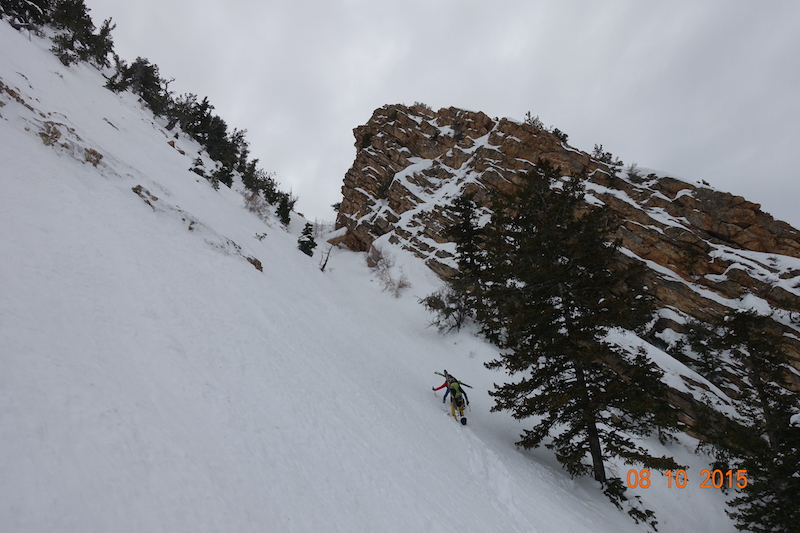 The Oquirrh's were beaming above the smog. Sorry about the date stamp, not sure why that turned on, but no, you're good, it's not August 2015.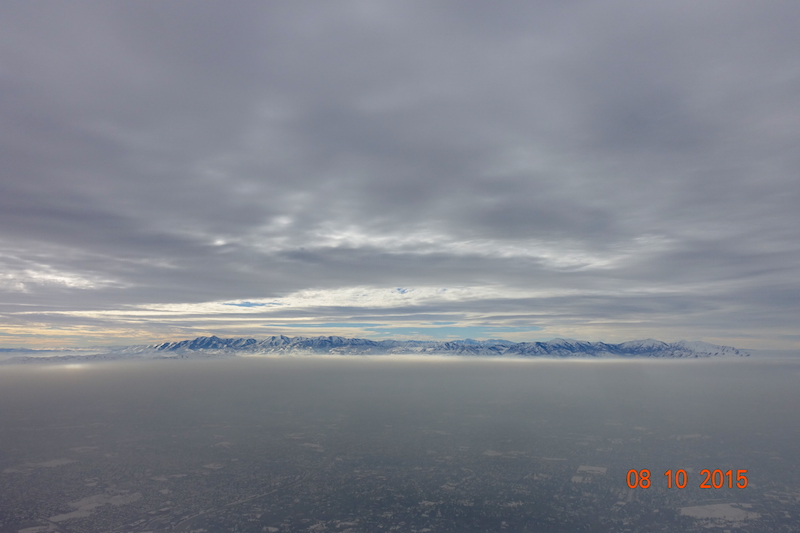 The ridge was not easy travel, they booted and I used verts. Snow and rock alternated making it suck for both modes of travel. Tom and Andy were loosing faith in the project and started acting like kids in the backseat on a long car ride. I heard an "Are we there yet". Morale was low.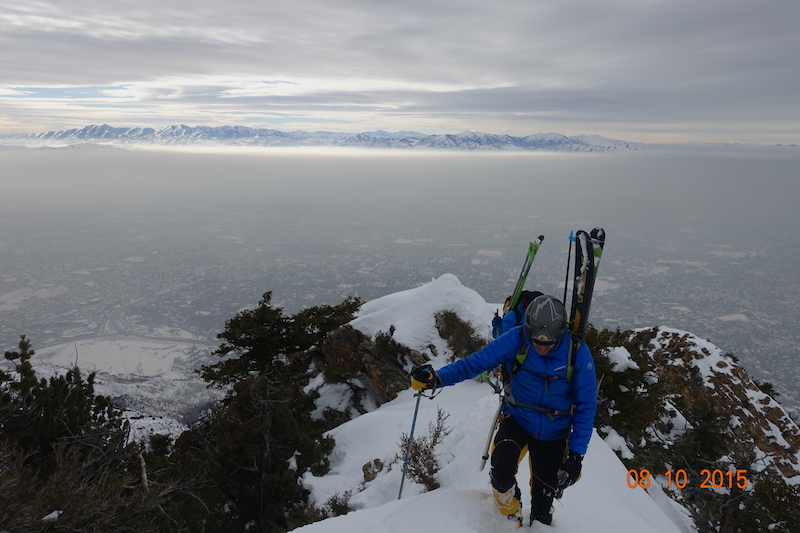 We arrived just before certain mutiny! The chute angles to the skiers right with some large trees on the left and open rock slabs on the right. For future skiers, it really can't be missed once you see it you'll know. Excitement was high!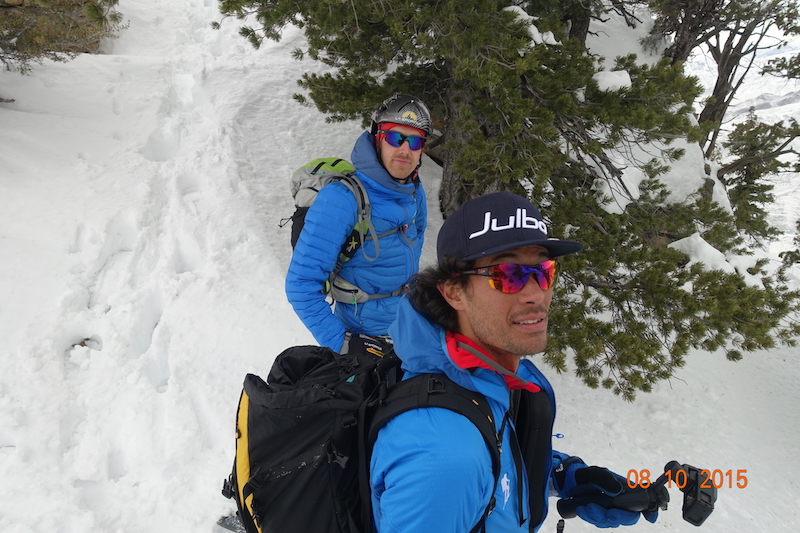 They let me go first and the snow was good, for at least a few hundred feet. (photo Andy Dorais)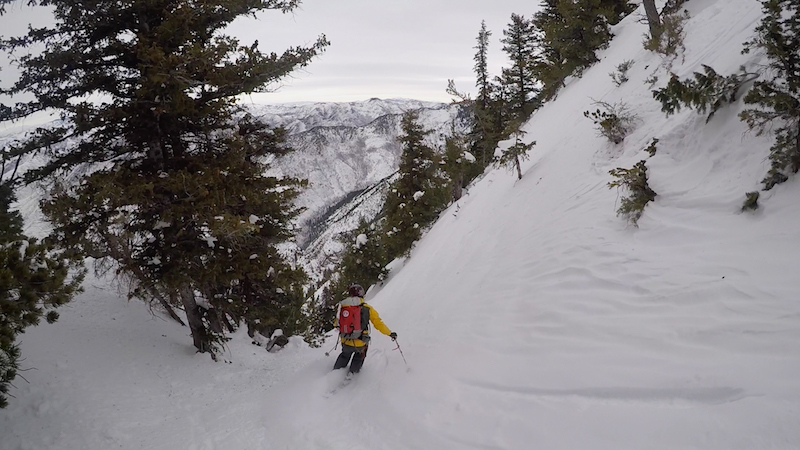 The top section is in the upper 30's with plenty of room for tuns. Tom dropping in.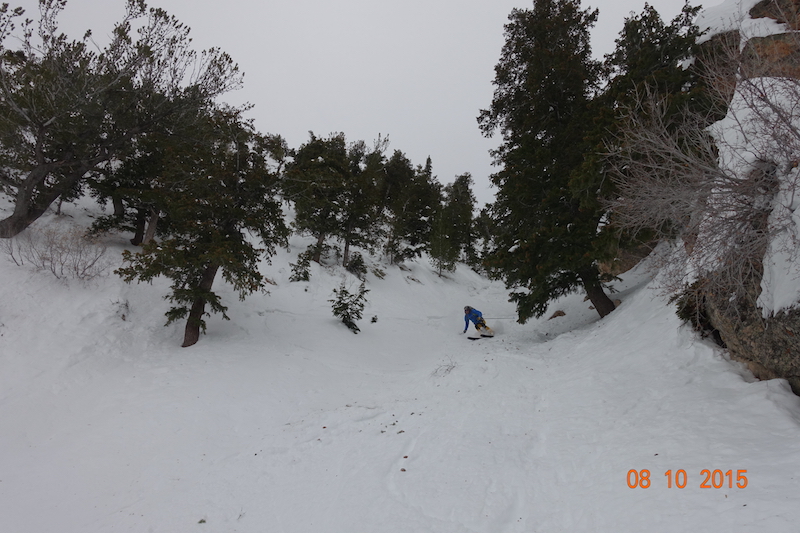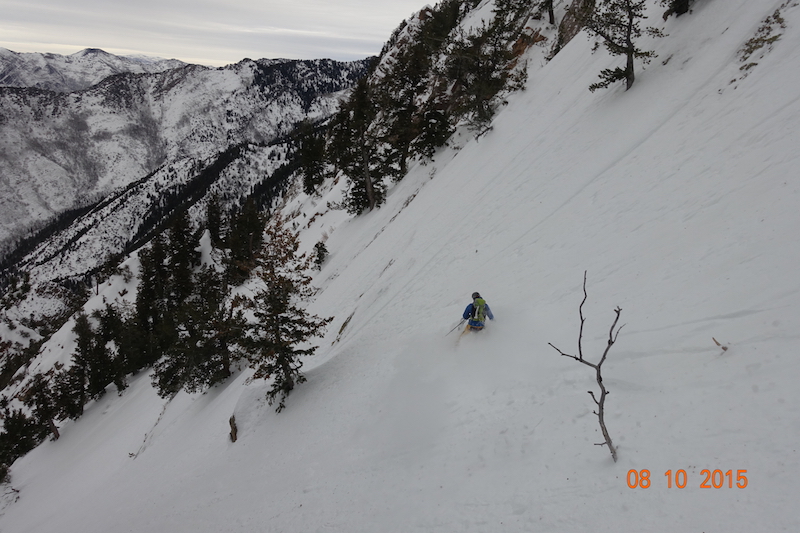 Andy approaching the crux.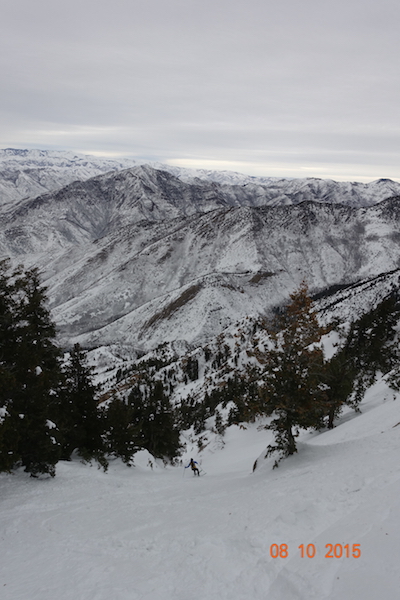 The angling gully ended in a mix of rocky slabs, trees and just enough pockets of powder to work our way through.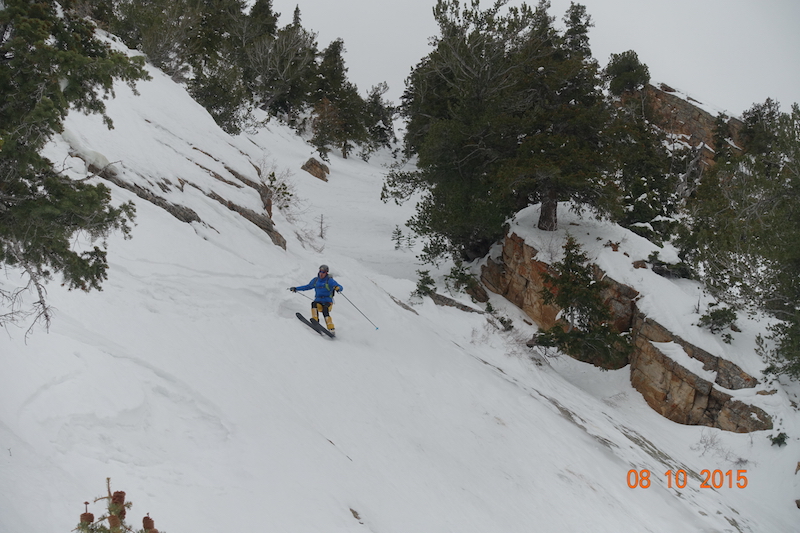 Always cool skiing right above this great big city.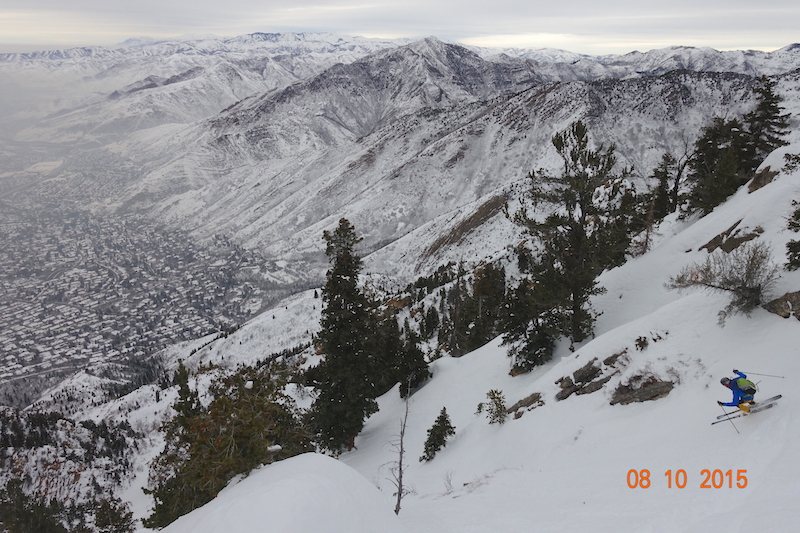 This is the area where it appeared we might need to rappel. We had all the gear, but after searching around Andy found a sneak through some 40 degree trees. (photo Tom Goth)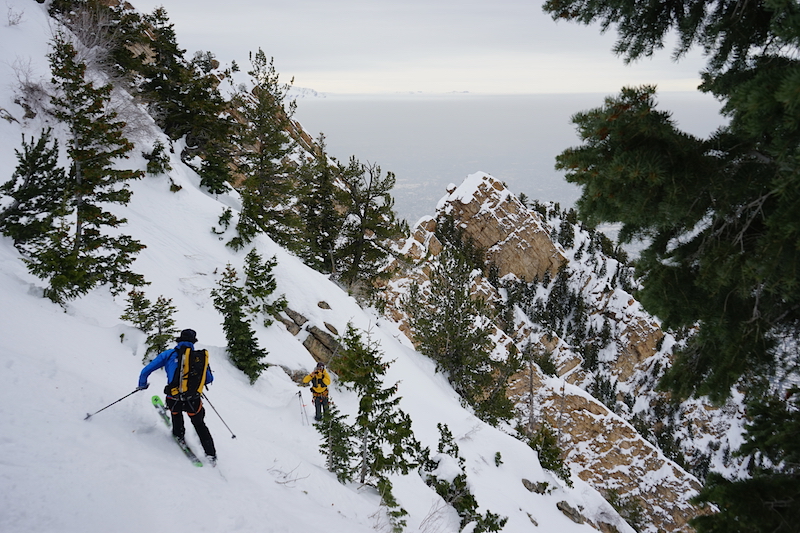 Sometimes it pays to go first, since you get fresh snow and the uncovered rocks are left behind you for the following parties to enjoy, this was one of those times. Tom and I followed using our steep tree skiing techniques.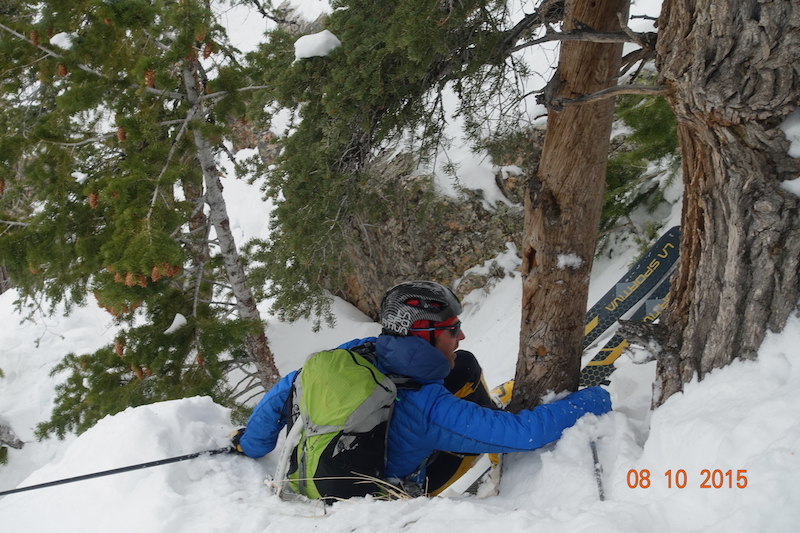 We were dumped out onto a steep slab, but luckily it had enough snow to work our way into the opposing chute from Apollo. (photo Andy Dorais)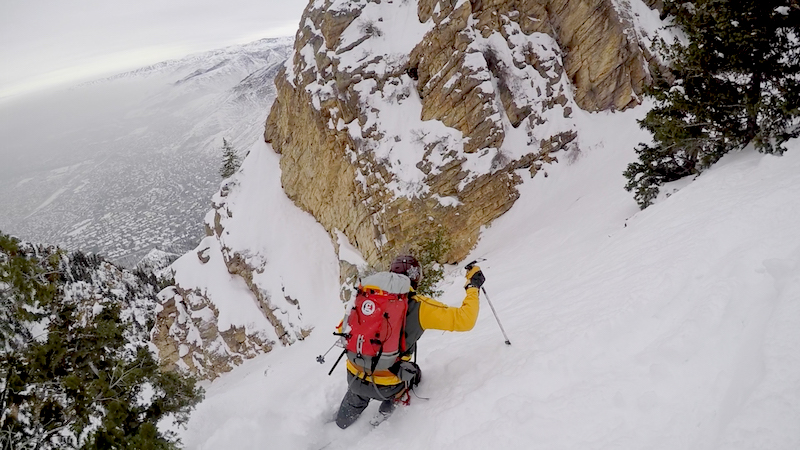 I was surprised how thin it was with all the snow we've had. All our bases got dinged up a little.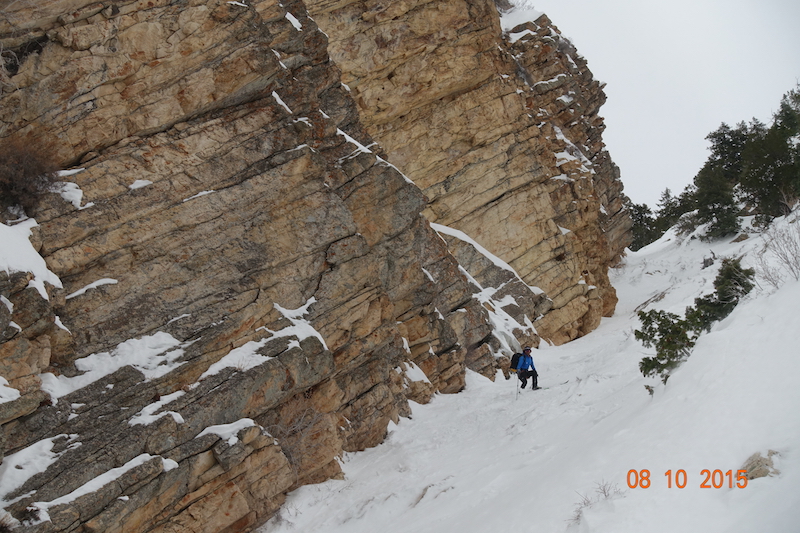 Andy staying light on his feet.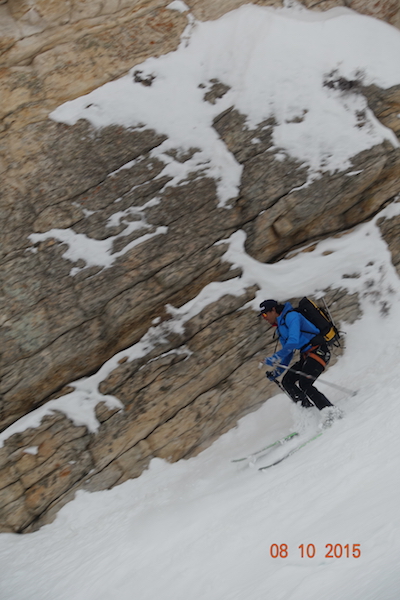 Tom making sure to hit any rocks Andy and I missed. Dry skiing at it's finest.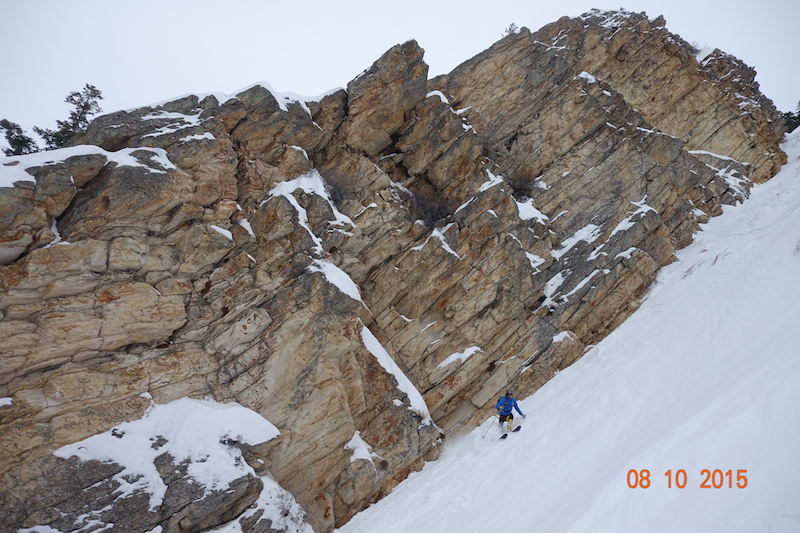 It connected pretty easily and all the sudden we were connected with the lower Apollo gully.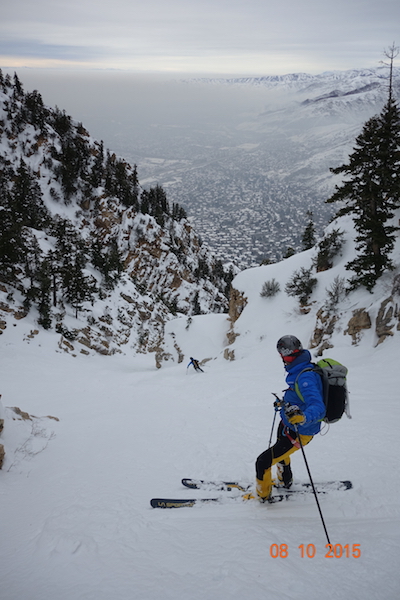 A quick bit of thicketeering and we cut out onto the scrub oak covered ridge above the mega mansions. It wasn't the deep pow we've come accustomed to chocking on all winter, in fact it was probably the worst run of my season, but that wasn't really the point. We were looking for a taste of Hades and we found it.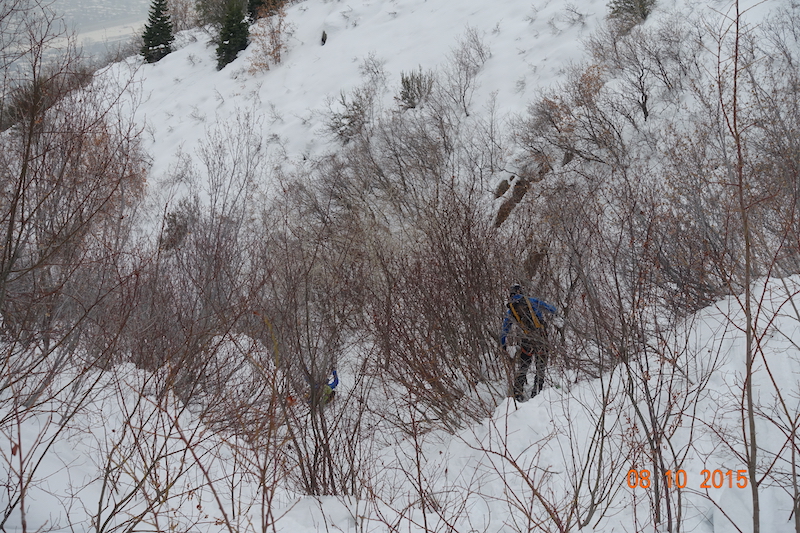 In all our excitement and gear parsing we had forgotten to run a car shuttle. We walked through the neighborhood back to the trailhead. Doing our small part to save this smog coated hell hole I guess.