It's been over a year since Beau Fredlund, Adam Fabrikant and Billy Haas and I went on a complete skiing rampage in New Zealand. Beau and I did a series of brief trip reports for Wildsnow.com, but I wanted to post up a full length version here since it was one of the most successful trips I've ever been on. Plus, it's been raining on our snowpack lately which makes for better writing than skiing conditions. I'll roll this out in four parts; Mount Cook, Mount Dixon, Kelman Hut and Mount Aspiring.
Sometimes things just fall into place perfectly, like the timing and partners on this one. I had skied with Beau on a few occasions and he mentioned a fall trip to New Zealand. I had attempted to ski with Adam and Billy the previous two springs and they said they were going to NZ. It made sense to me that we should all team up. Adam and Billy have done a lot in the big mountains together and aren't quick to open up to new partners. I vouched for Beau and coaxed them into trusting me and teaming up.
The trip came together through a loose chain of emails containing pics and maps. Our main hope was to push into the vertical world, we wanted to ski steeps. We were brining all the sharp and pointy things that allow you to get into and out of all sorts of trouble. We would come prepared to shoot for the moon and then dial back objectives as conditions dictated.
The mighty Mount Cook!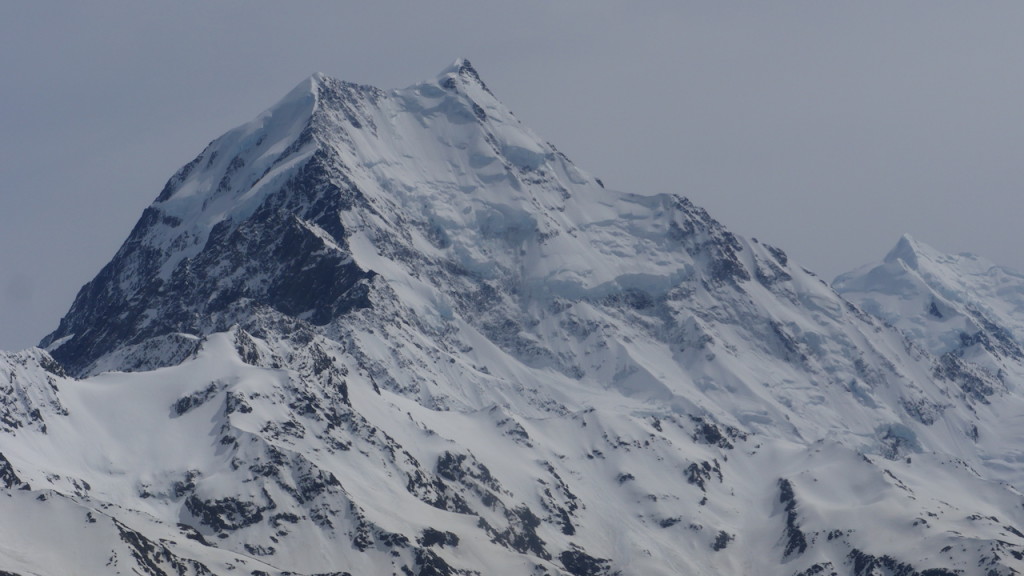 The "moon" we were shooting for, or our primary area of interest, was Mount Cook and the Tasman Glacier area. Mount Cook is the tallest peak on the island (3724m) and offers up some of the longest and spiciest technical routes in the Southern Alps. Specifically, we wanted a shot at the un-skied and now almost mythical Caroline Face.
It goes, I swear!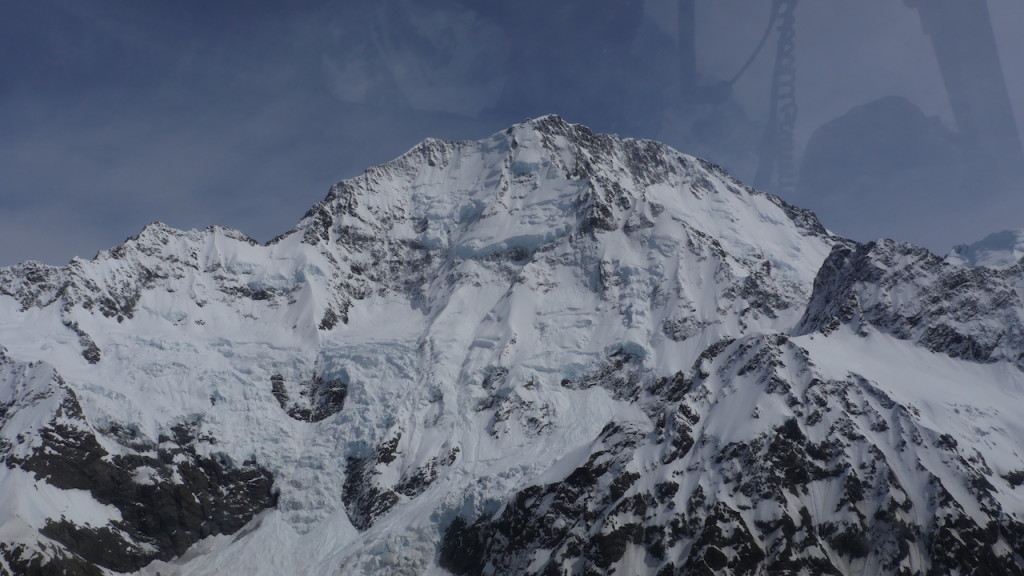 Beau had gone ahead by a week or so and was dialed with weather and conditions. In less than 24 hours after landing we had done a good deal of shopping and met up with Beau.
We could walk in to the hut, but that would take time and energy and the weather window for the next few days looked small, so we chartered a chopper right into the Plateau Hut at the base of Mount Cook. Pretty reasonable at about $80 per person as I recall.
The mountains are all about risk/reward. We decided it was worth the risk of 40 eggs exploding in the heli in order that we might have omelettes to eat. I double bagged em and flew with them in my lap.
(photo: Beau Fredlund)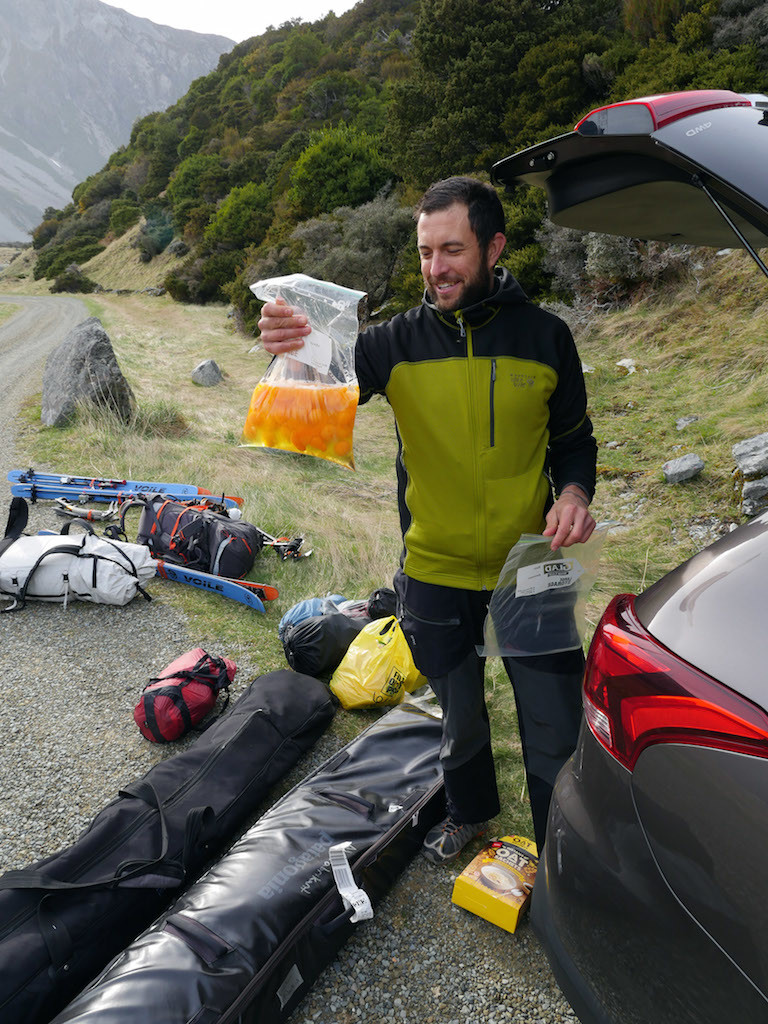 Nope, not excited at all.
(photo: Beau Fredlund)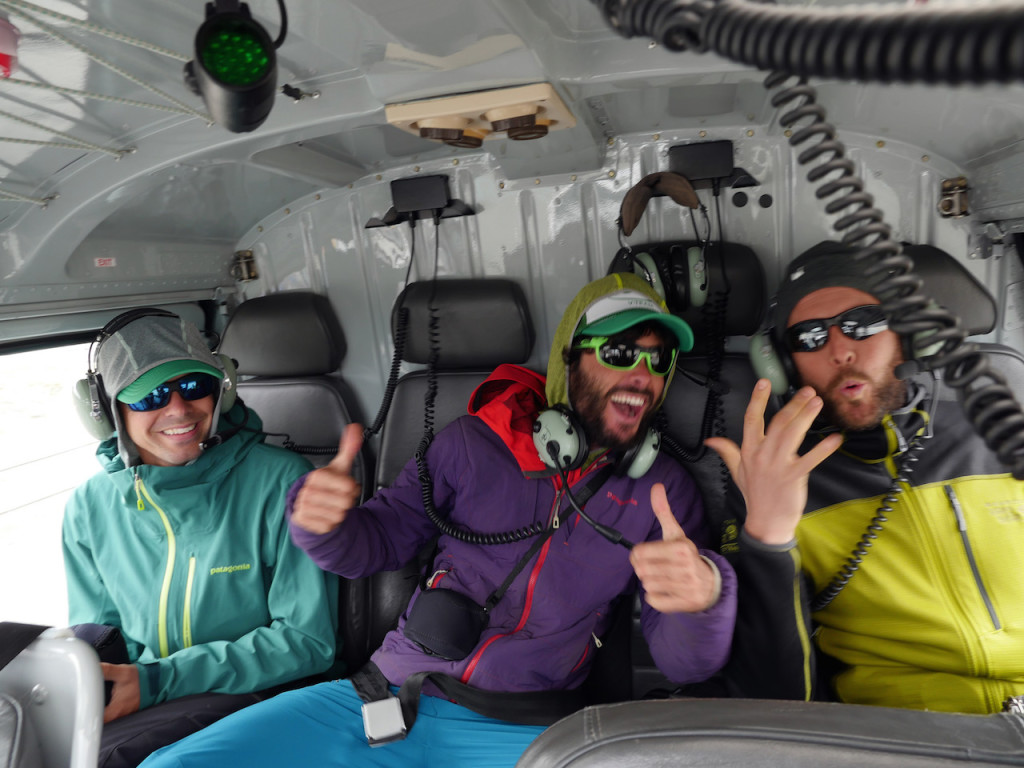 The flight in was incredible. We flew right past the Caroline Face and snapped off plenty of recon pics.
We came in well stocked and highly stoked with 5-7 days of food and lots of ideas. As we landed, we were immediately face to face with the east face. We stared long and hard out the thick glass windows, She just stared right back at us like "what are you looking at".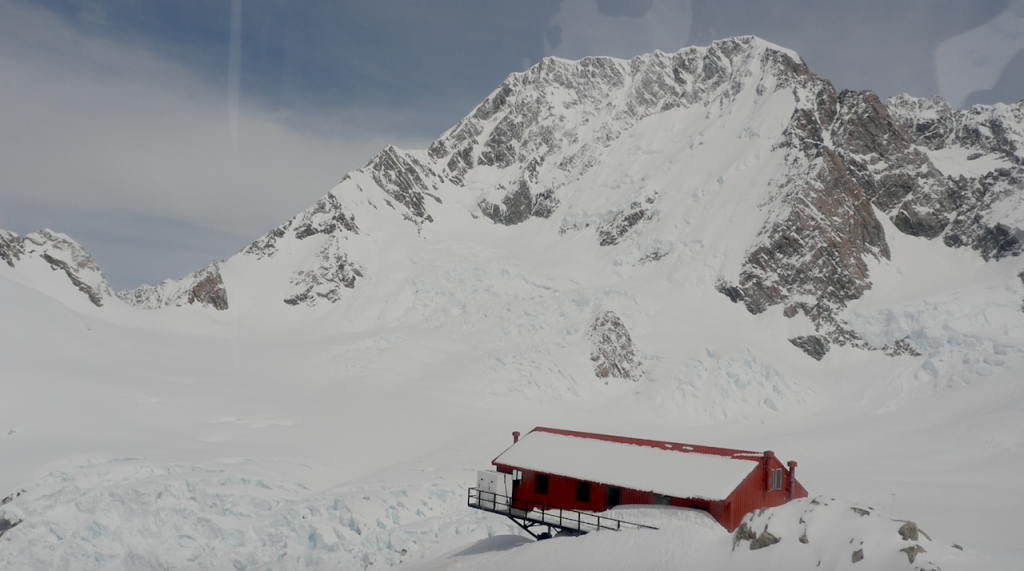 We unpacked at the spacious and empty hut then quickly set out for a recon tour. The weather was perfect. Poking around on lower east facing aspects we found stable settled snow. The east face was the obvious route of choice (looker's right side). It connected to the summit, was free of ice, and the snow looked soft. When all the lights are flashing green, you go.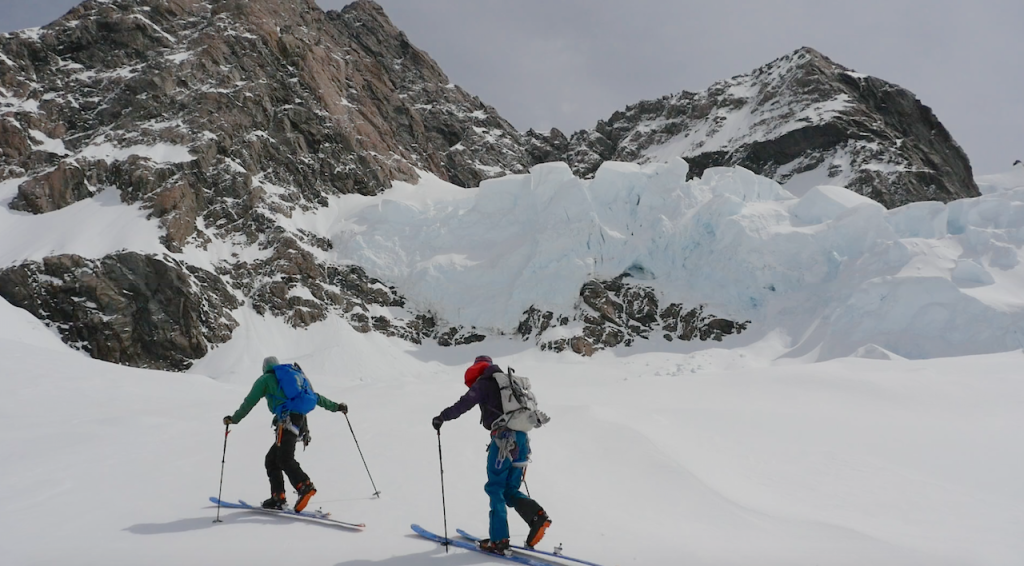 Chamonix based skiers Tom Grant and Ross Hewitt just happened to have arrived in NZ at the same time. They flew in with us. We were all looking at the same objective, so we decided to team up and give the east face a go the next morning. An early rise seemed like a good idea so we could get up and down the 5,000ft face before the sun cooked it.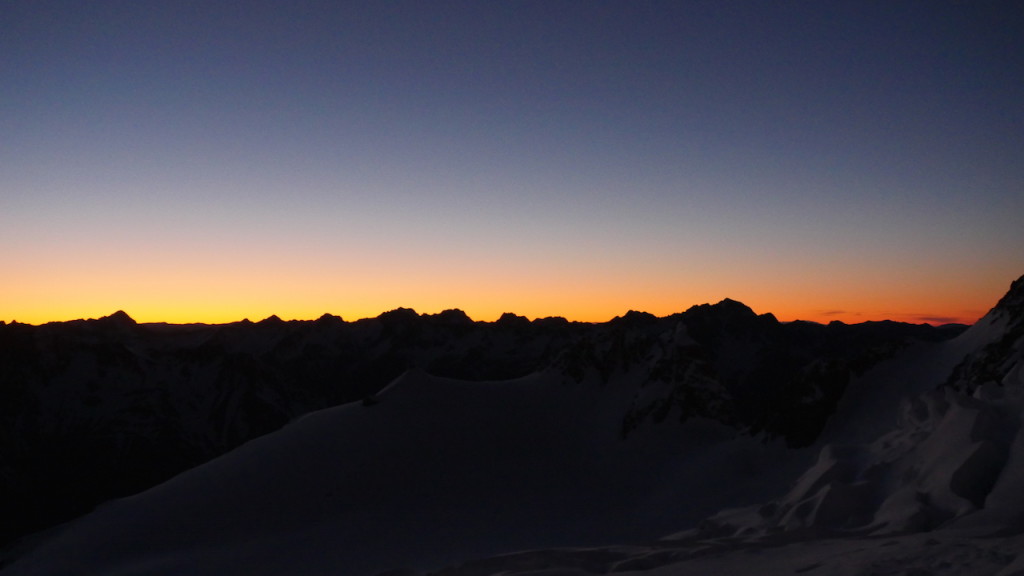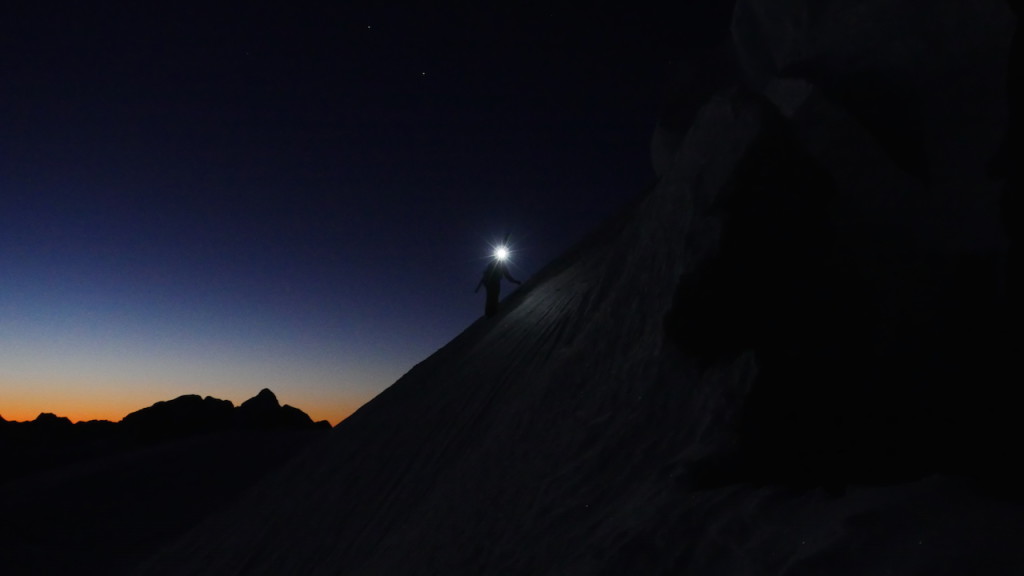 The alpine start put us across the bergschrund, on the lower slopes at dawn.
(photo: Beau Fredlund)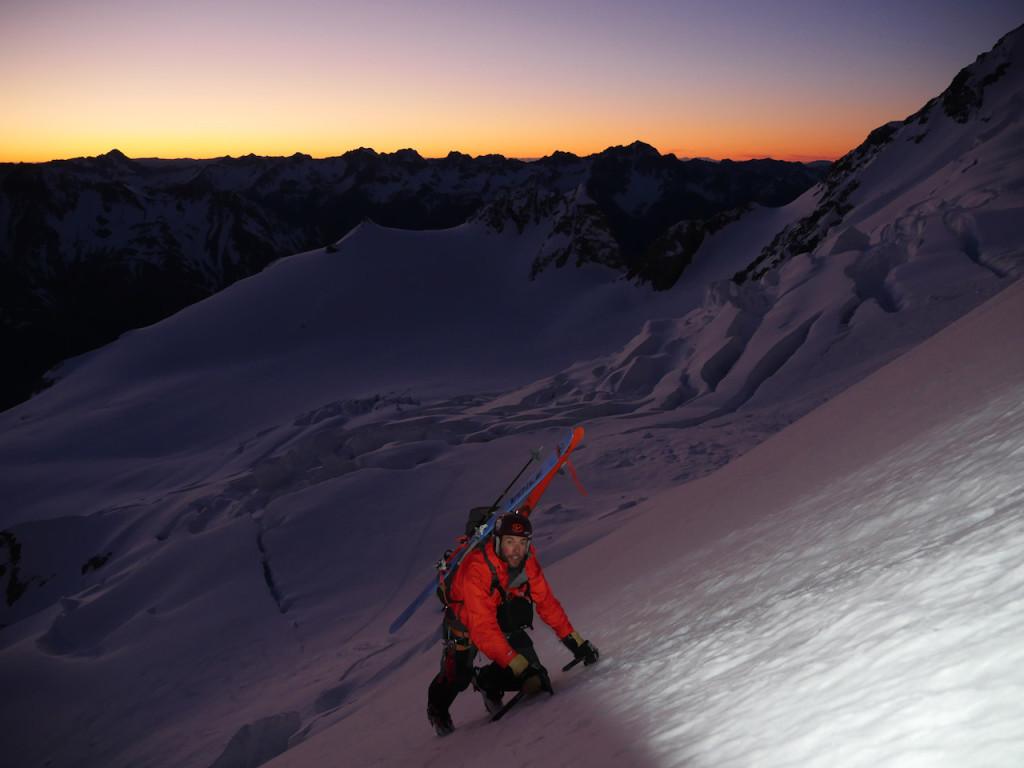 Enthusiasm quickly carried us up high. A little too high in fact.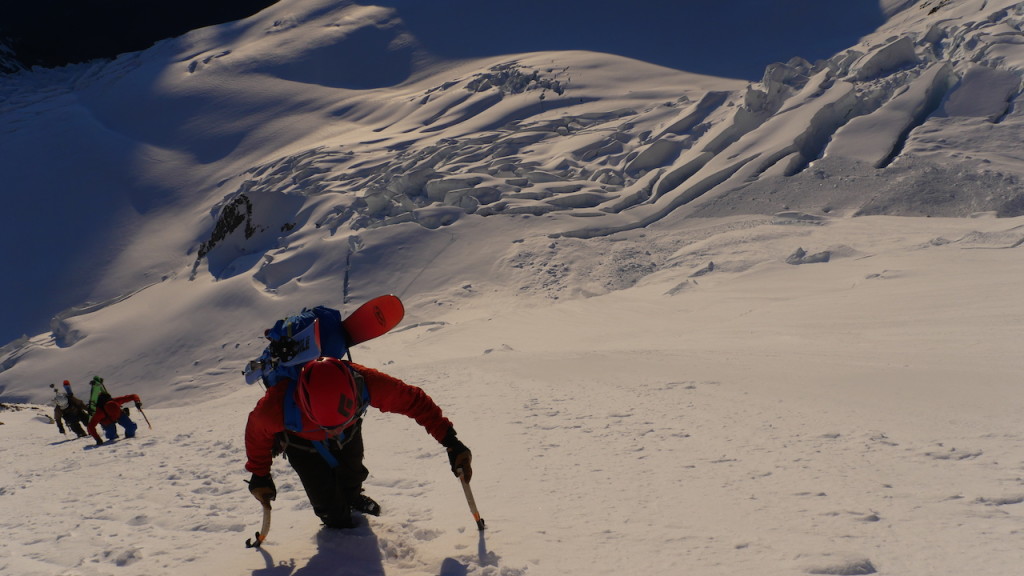 Billy Haas it dialed.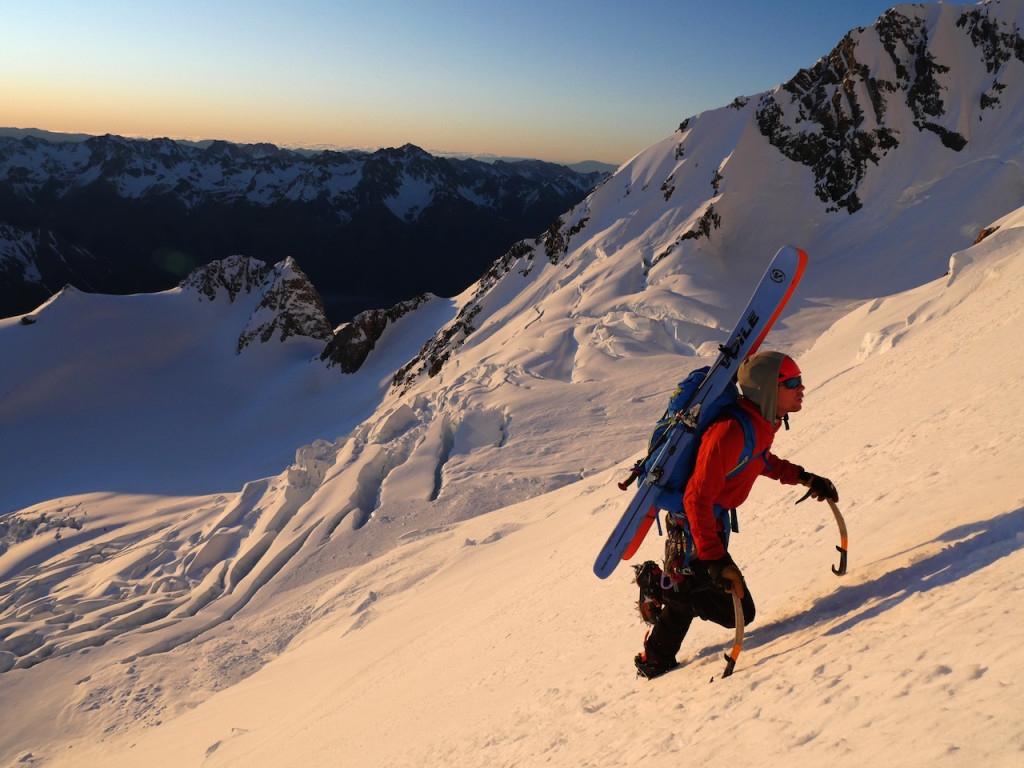 We missed our left turn to take us under a large serac, we could have doubled back, but we opted for a long and sketchy traverse on white ice. Fortunately the ice was good and we had carried all this sharp shit half way around the world, we might as well use it.
The ever sending Adam Fabrikant on lead.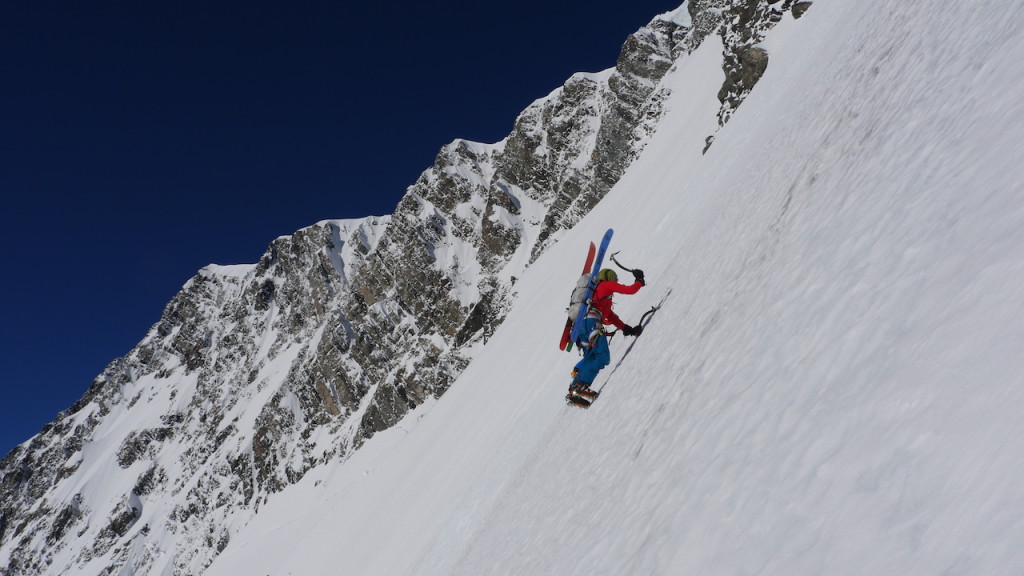 At least it was exposed.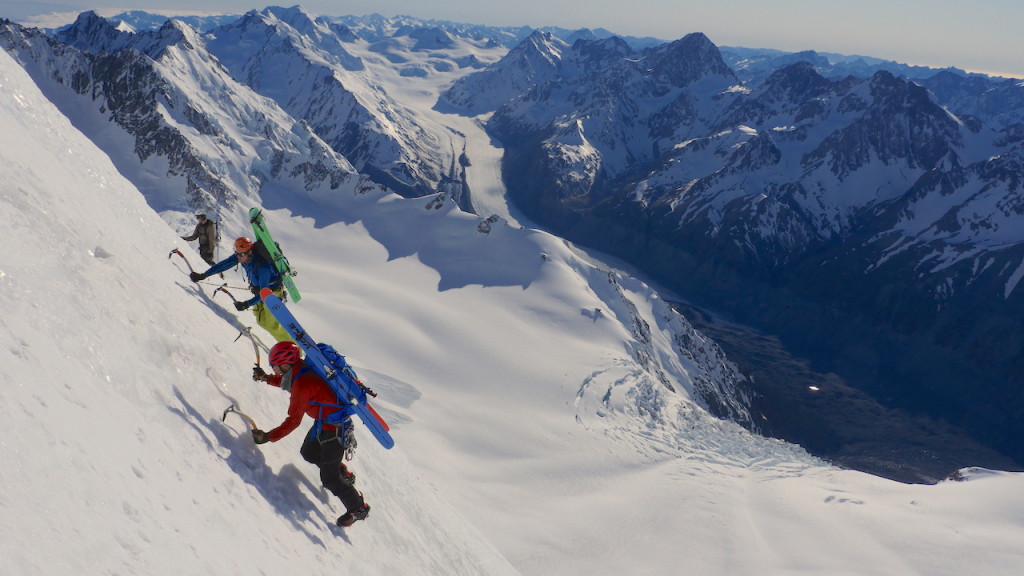 Ross was giving it all he had, but a bad cold forced him to turn back at this point. Tom continued on with us.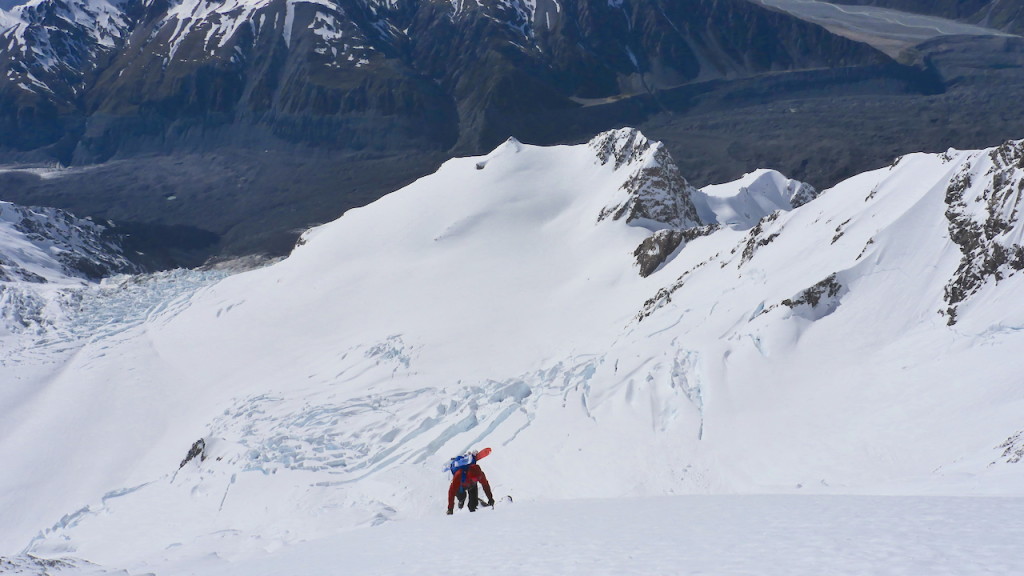 The slope narrowed and pinched forcing us out onto a steep rib. The snow became firm in places and a bit thin before it met up with the summit ridge. The transition into this white snowy world was unreal. We went from flip flops to front points after having only been in the country for a day and a half. Billy hanging onto the face with just a few inches of metal over thousands of feet of exposure.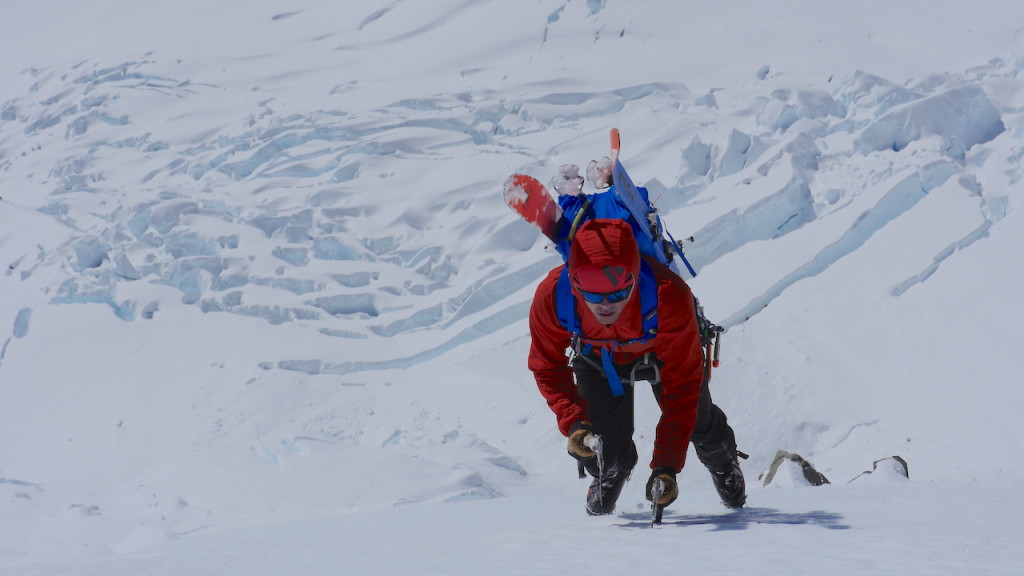 The ridge was much more mellow in pitch, but the snow wasn't snow at all, but ice. And not smooth ice, but more like frozen golf balls.
Some of us carried skis to the summit. (photo: Beau Fredlund)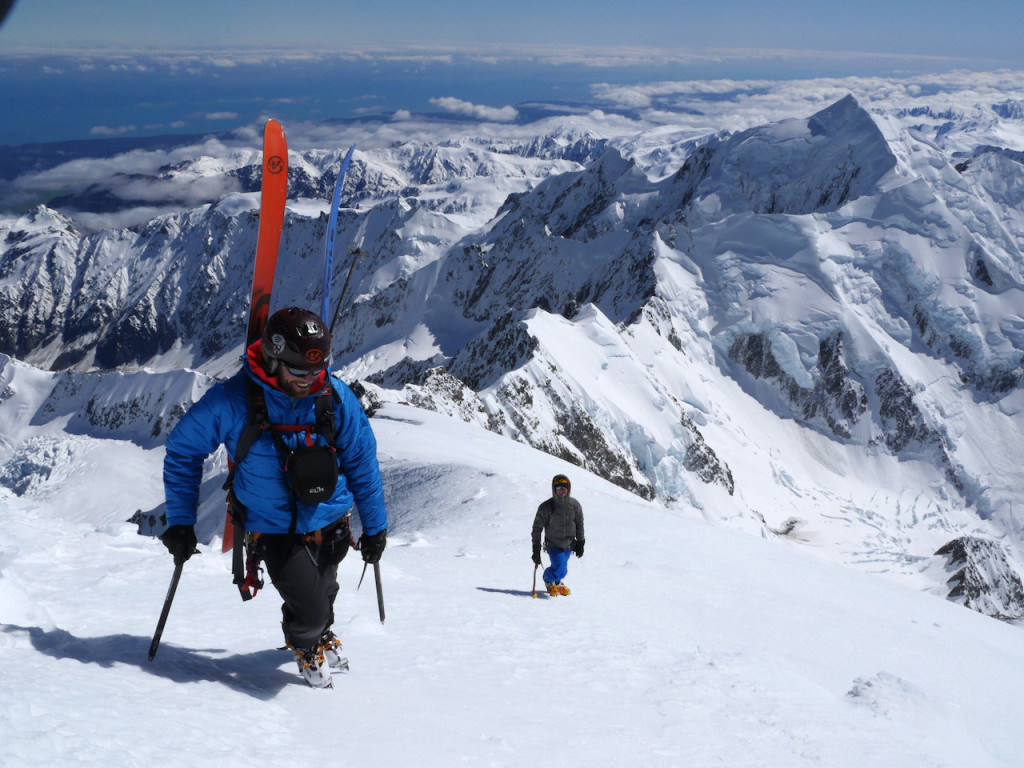 Now we were on top of Mount Cook about to drop in on one of the largest and consistently steep faces any of us has ever touched, having made zero ski maneuvers in many months.
Billy and Adam in their element with their ever exuberant madness.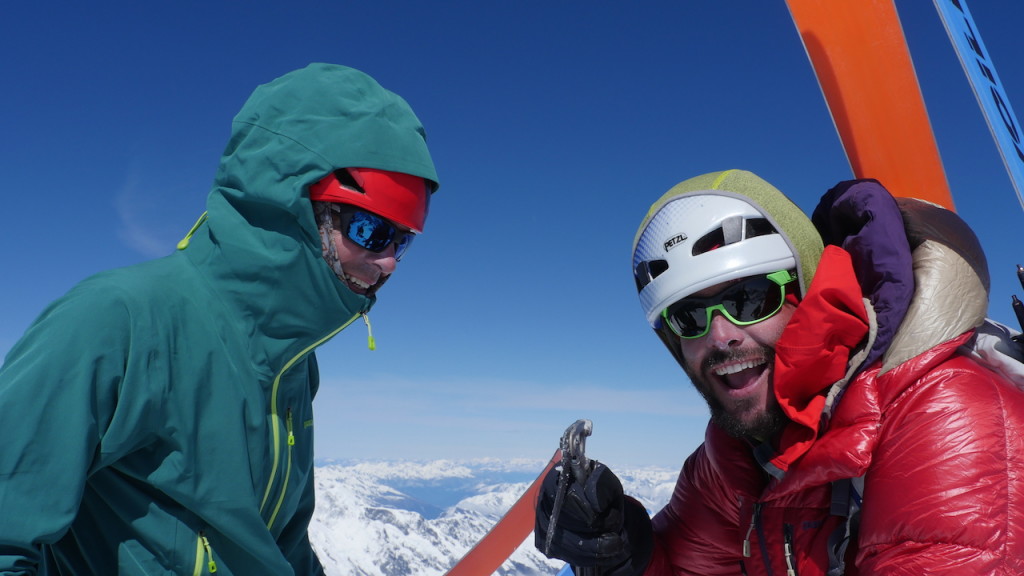 Without ego's driving us to ski from the summit, we listened to the conditions and down-climbed till we hit snow. We absolutely could have skied from the summit, but it would have sucked balls, icy balls and everybody seemed cool with this. I was proud of the group decision and with how easily it was made.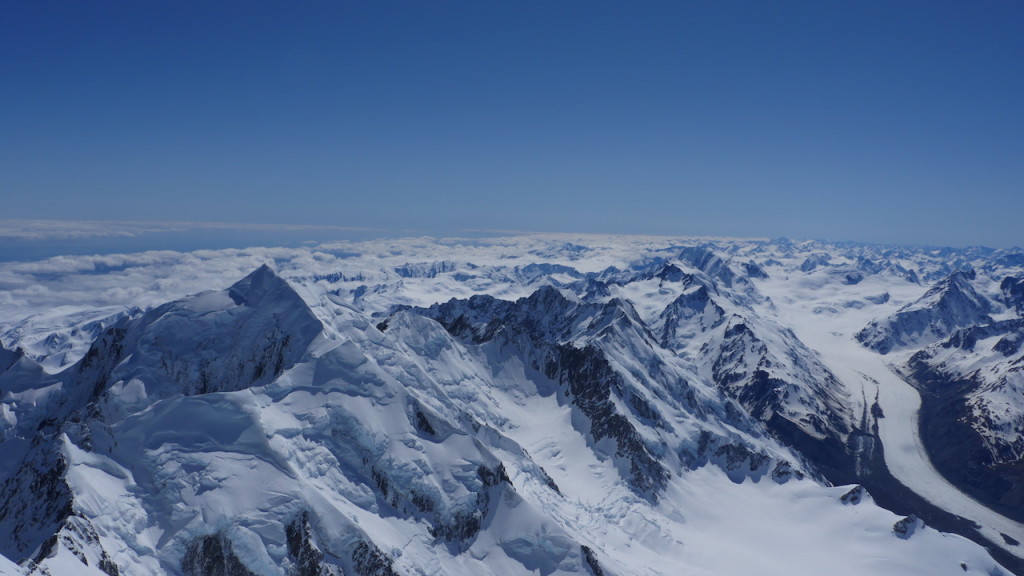 Six folks are a lot to manage on a slope, so we took our time and spaced out our turns. The snow was consistent and good.
A few upper turns from the GoPro.
Adam Fabrikant high up on the face.
The snow conditions were perfect. We skied one at a time on the steeper parts and cut out to hide behind rocks where we could.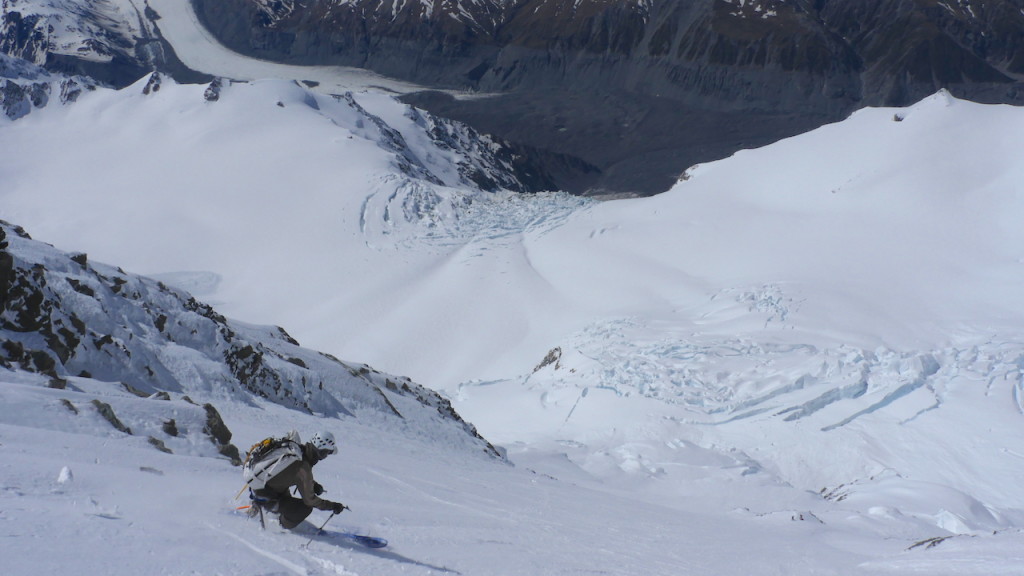 The further down we got, the more we opened it up.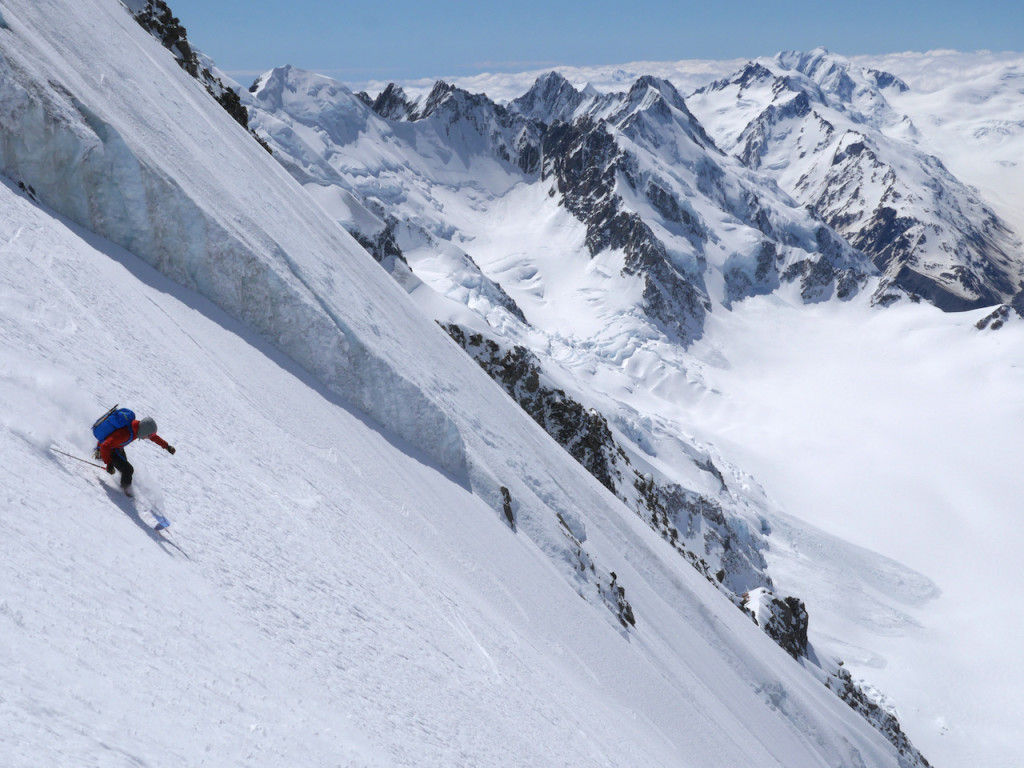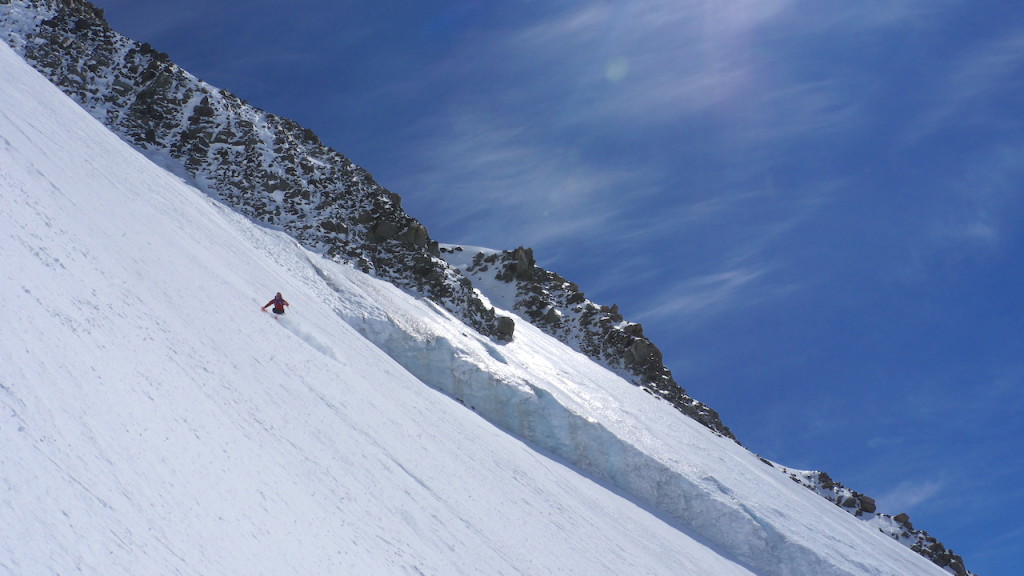 This steep skiing thing is a dream when everything lines up. It's just really rare that everything lines up this well.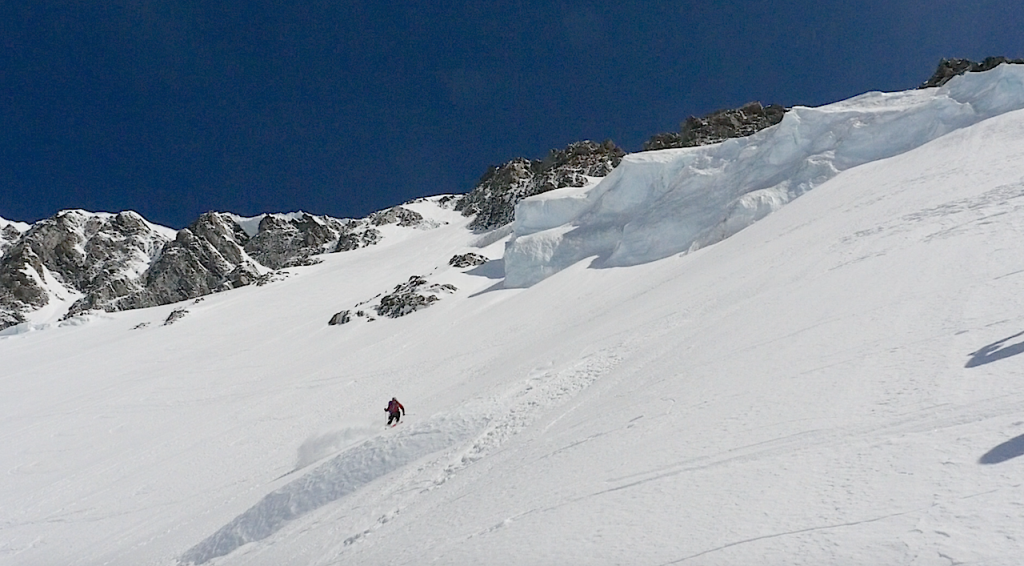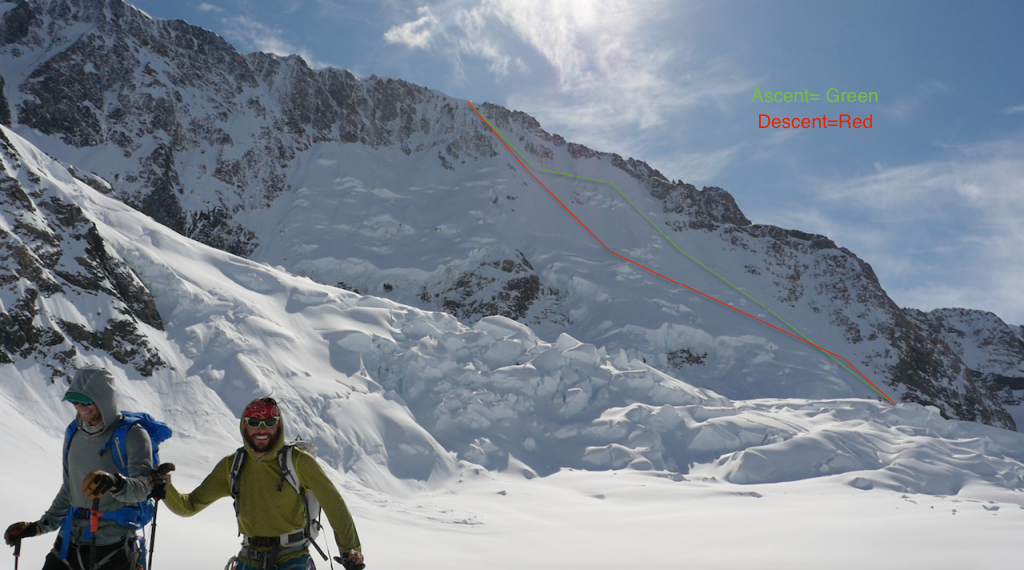 Back down safe and sound we cooked up a fine meal and shook our heads at how fortunate our start to the trip had been. Honestly, the trip was already a huge success and anything else would be gravy. Little did I know we would go on to swim in gravy while putting together one of the most successful two weeks of steep skiing this island ski mountaineering paradise has ever seen.
I had neglected to cover up properly on the day and a half of sunny exposure and paid the price. Small price to pay.
Mount COOKED!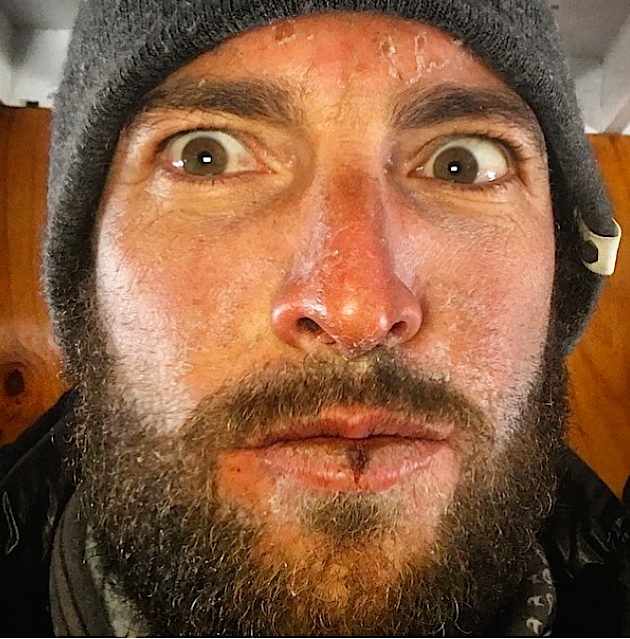 The ice up high on the ridge and summit made us doubt that the Caroline face would be a good call since it starts off the same ridge and is much steeper. We bailed on that idea and looked for lower elevation lines that would more likely hold snow,not ice.
Adam takes in the views while releasing unwanted bodily fluids in one of the more scenic WC's.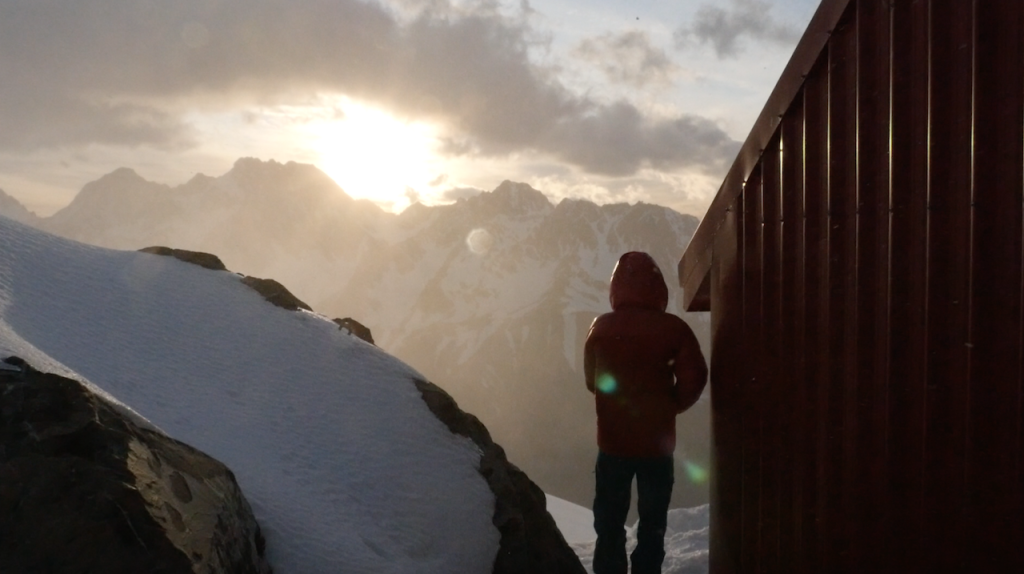 Part 2- Mount Dixon coming soon.