Each year I sign on for another slideshow or two. I enjoy going to them, more than I like presenting them. I do enjoy drinking a little too much and trying to tell entertaining tales with what is usually family and friends and the backcountry community. Last year was on of the most successful seasons of skiing in my 17 years of dedication. I wanted to share a couple of those projects. I'm tying it together with the gear, because really without it much of the things going on in the backcountry wouldn't be possible.
This is the golden age of backcountry skiing with the incredible variety of touring gear available. Last season I used a wide range of backcountry ski tools on a variety of projects.

I'll be sharing three unique mountain adventures, each on specialized gear for the occasion. Come along for the first winter traverse of the classic Hardrock 100 route on skimo race gear in the San Juan Mountains of Colorado. Enjoy deep powder turns on fat skis from a blower day in the Wasatch Mountains. And finally join Ben Peters and I on the first ski descent of the iconic Moose's Tooth during a ski mountaineering expedition to the Ruth Gorge of Alaska.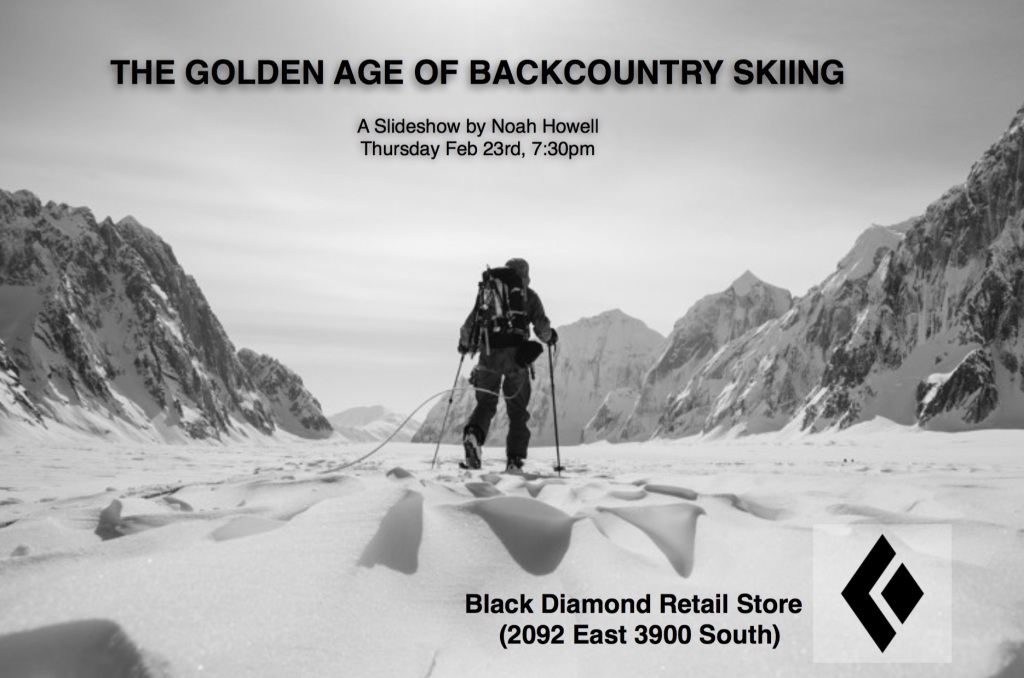 The show is free at the BD RETAIL STORE, open to all ages. There will be a great raffle with gear from my friends at Flylow, Jaybird, Black Diamond, Julbo, Skimo.co, Gnarly, Scarpa and Kind Bars! BYOB.
I'll also be presenting again on March 2nd, 6pm at Snowbird for the Utah Adventure Journal Speaker Series.  Andrew McLean and I traded dates, so don't be confused. It is 3/2, like the beer we'll be drinking! See you there.