There are still places where people meet up in real life to connect and enjoy curated imagery on the big screen in a dark theatre with their friends and community. They are called slide shows (Google it millennials). Perhaps they are old fashioned now with the endless images at the touch of your finger on the instagram and Fassbook. But, sometimes it's nice to slow down and dive deeper into things, savor some quality amidst the highly filtered quantity.
I'm a fan of the live storytelling medium and I try to attend whenever I can. It was in the dark side room at REI that Andrew McLean opened my eyes to steep skiing and the retail space at Black Diamond has hosted many speakers and avalanche discussions that have inspired and sharpened my awareness. The last few years I've also been on the presenter end and I love sharing in this manner.
I'm proud to be working with Ascent Backcountry Snow Journal to present the first annual SLIDE SHOW. This Fall I'll be teaming up with some friends and fellow trail breakers for an evening of sharing short videos, slides and tall tales from the snowy mountains. Please come join us at Brewvies on Oct 18th, from 7-9 p.m. to celebrate surviving another hot summer and the coming of winter.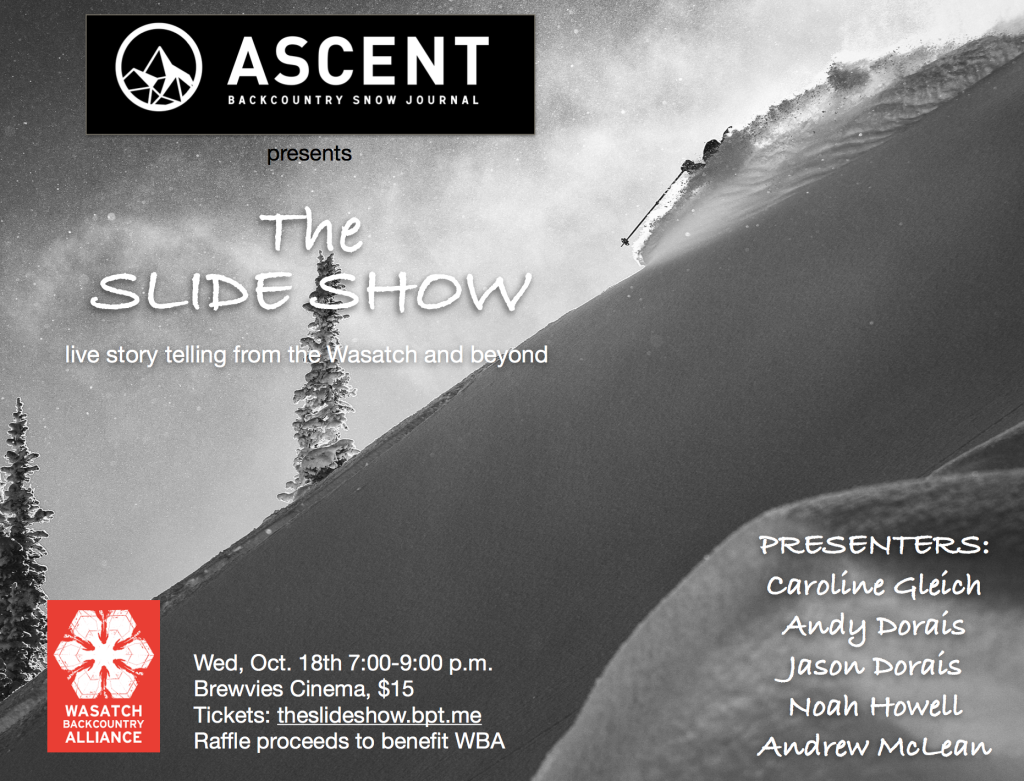 Purchase tickets online HERE
Presenters include, the legendary steep skier himself, Andrew McLean; the speedy skimo brothers Jason and Andy Dorais; the first female to ski all the lines in the Chuting Gallery, Caroline Gleich; and myself.
No ski event would be complete without a huge gear raffle and the Slide Show is no exception!  Win products from the top backcountry brands including Black Diamond, Flylow, Scarpa, Julbo, Jaybird, Goal Zero, Leki, Outdoor Research, Kind Bar, Skimo.co, Voile, Voketab, Mountain Ready and more. All raffle proceeds will benefit the Wasatch Backcountry Alliance, the non-profit organization representing you and the backcountry community.