Much of my spewing and spraying is about the glorious turns and fantastic days that went well in the mountains. Skiing big peaks, linking up traverses and bottomless pow are the happy and proud moments on snow. On the darker shadowy side of the less often experienced backcountry coin is the avalanche. It's real, it's dangerous and until you've been bitten, the power and speed at which they happen is hard to grasp. Last year I fucked up. I made several compounding mistakes with a group of friends and mountain partners in the mountains. This led to one of our party getting caught in an avalanche on Red Slate in the Sierra Mountains of California. He went for a long and nasty ride down a steep couloir, over a 30 foot cliff and ended up well over 1,500 feet down the mountain in a large pile of debris. He lost all his gear and tore his ACL, but wasn't buried and was mobile enough to limp/ski his way 8 miles out with the help of the group. We were very lucky!
The stout Red Slate, our line of descent angles lookers left to right off the summit across the ribbed face and into the shaded chute.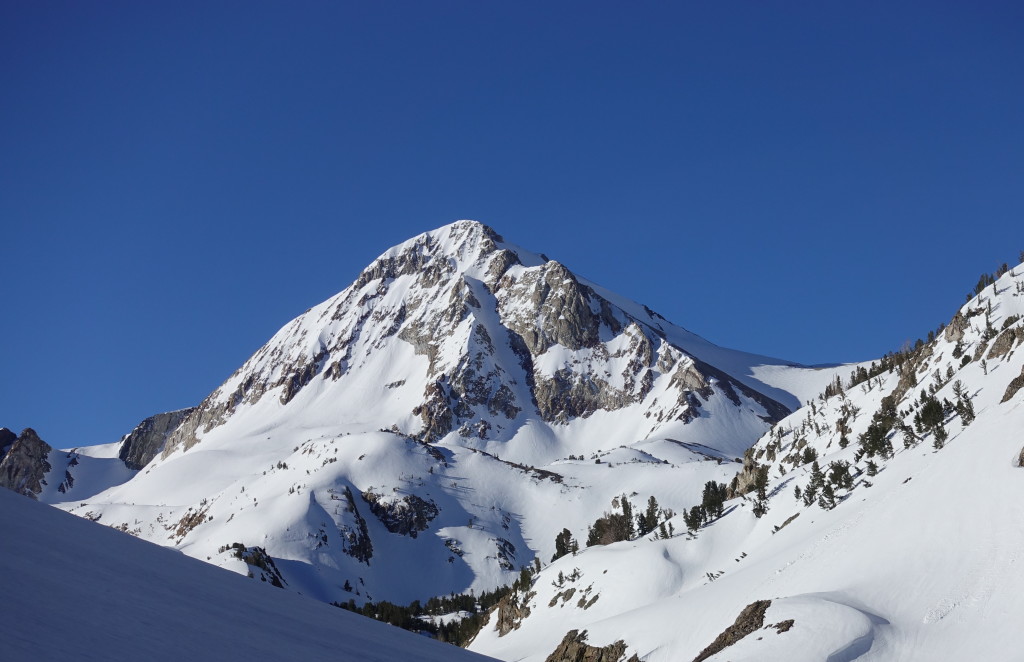 We made so many bad calls and errors that it's quite embarrassing to even write about this. Despite being seasoned and experienced backcountry veterans, we ran right into and through almost every one of the heuristic traps. We've all spent a lot of time looking back and trying to process this incident. How the hell did we make so many mistakes!? Not sure I have the answers, but I believe it's important to share the failures with brutal honesty in order to see ourselves and our weaknesses as clearly as possible. And though it would be easy to just shelf this experience, I do think it's a disservice and dishonest to only write and spray about the "wins" and positive experiences.  
Last spring I was schedule to do a slideshow in Mammoth Lakes, CA and wanted to link it up with some ski days, make a trip out of it. The Sierra was having a monster season last year and things that hadn't been skied in a decade were finally back in play. I headed down from the Wasatch with some of the fastest and most motivated guys around. We started off with a bang! Our first day we skied the classic Giant Steps line on Mount Williamson in firm wind buffed conditions. We encountered no avalanche instabilities and in our minds we had the green light to continue teeing off on whatever we wanted. Looking back, this was our first mistake, or at least a big factor in what later went down. We gained huge momentum from this first line and it propelled us forward into trouble.
The next day was a forced rest due to crazy high winds that were so strong they even shut down the roads in and out of Bishop. However, there wasn't any new or loose snow to blow around so we still had the green light for go, in our minds. We rested up and one member left the party and another member joined the group. This new member was frothing at the bit to go big, since he missed out on the epic day before. I would say this bumped up the group momentum even higher to another notch.
The night before the incident we randomly linked up via social media with a local legend and made plans to ski together the next day. I don't recall who suggested we ski Red Slate, one of the more exposed and rowdy lines around. But, we had seen some great arial photos of the steep and exposed face and we were all fired up for it! A small weather disturbance was set to move through and we might get a couple of inches of snow overnight. This was perhaps another mistake, that we made a plan the night before instead of making the decision in the morning after seeing what the avalanche forecast had to say. But, a few inches shouldn't make a big change, or derail us from the send train.
(Start of the day wrapping around Convict Lake)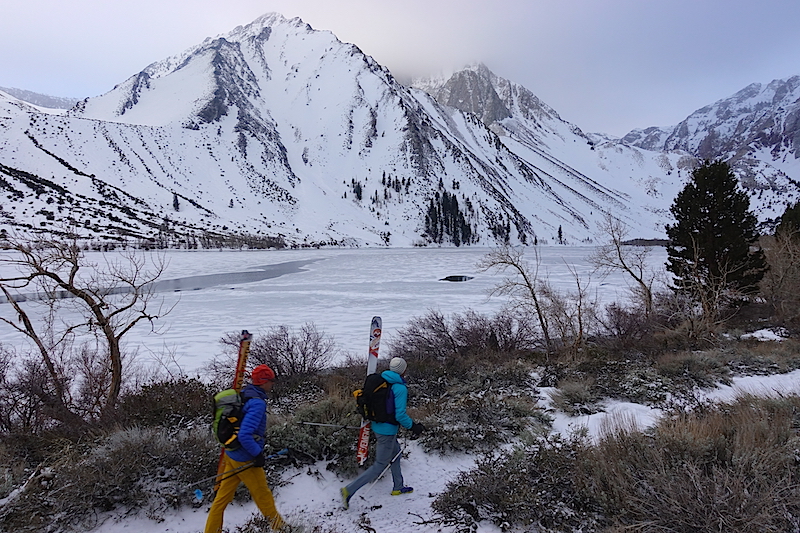 On the morning of, we drove from the warm and dry town of Bishop many miles to the south of Mammoth and were not sure of what had happened in the mountains the night before. The plan was to meet at the trailhead at 7 a.m. Unfortunately, (and this was perhaps our biggest misstep) we were out of cell reception once we got to the trailhead and though we tried to check the avy report, we couldn't access it. It's not released until after 7 a.m. Sometimes it doesn't pay to be so punctual. What the report called for was CONSIDERABLE DANGER OF ISOLATED WIND POCKETS IN THE HIGHER ELEVATIONS. We saw this at the end of the day, after we had tested and confirmed it as highly accurate. Had we seen this in the morning we would have made a different choice in what to ski that day. At least that's what we all said afterwards in the debriefing and I believe it to be true.
(If I could pinpoint one attribute that i've seen get more people in trouble, it's being HIGHLY MOTIVATED)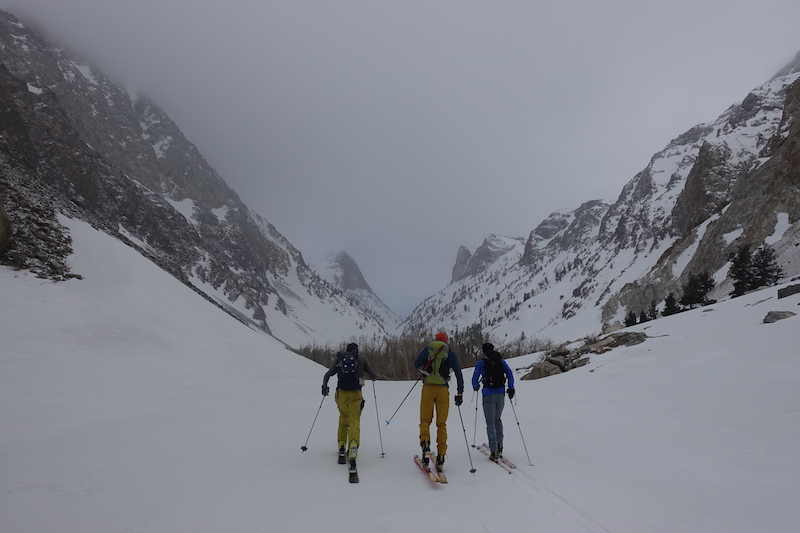 Moving on. We met our new social media friend that none of us had ever toured with and headed off into cloudy and lightly stormy conditions. We had checked the weather which called for a few inches, some high winds and clearing later in the day. The group consensus and discussion was that the little bit of new snow should be "manageable". That's an interesting word when it comes to avalanche mitigation, manageable. I think in many cases it would be safe to say it's a red flag. If we know there is a sleeping dragon in a room, is it "manageable" to sneak in anyway to tip-toe around it. I mean, it's sleeping soundly and we should be fine, unless somebody sneezes, or trips on it's tail?
We couldn't see much of the mountains as we approached and entered them. It wasn't really snowing and wasn't blowing down in the valley. No rush to get up into the white-out so we took it pretty casual and chatted it up with our new friend. The standard stuff, friends we had in common and lines we had skied. As we climbed up into the higher alpine the snow started to fall. We were right at the base of the face, but couldn't see it at all. We stopped to wait for the weather to break up. It just wasn't that much snow to be a concern, we just needed the visibility to clear.
(impatiently waiting)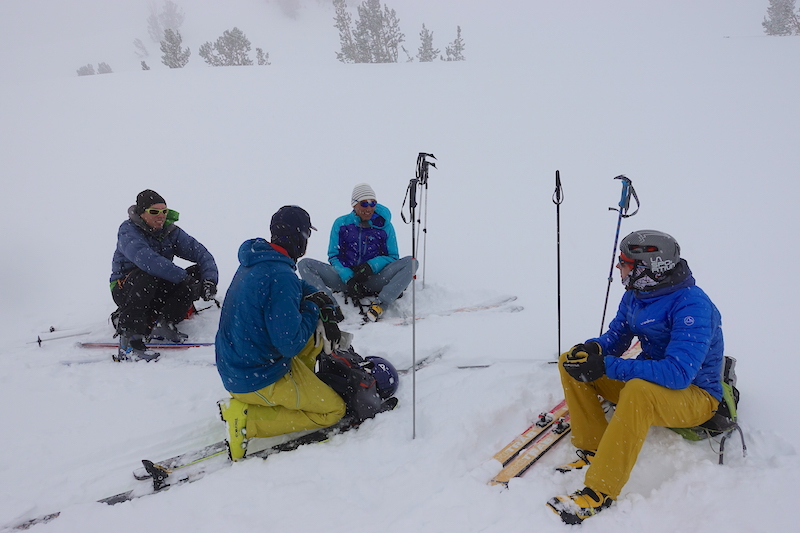 It doesn't take long to get cold while sitting around in the snow and we decided to move along. We wrapped around to saddle and gained the open ridge that led to the summit. The wind was ripping! It was a struggle to stay on my feet. Two poles were required to keep footing. I remember thinking to myself, if we were at home we would be turning around. But, we weren't. It wasn't the avalanche concern, just fucking windy and if this peak were in our backyard we'd just come back for it another day. But, we didn't have another day. We were on a mission in the Sierra, with limited time and almost on top of an incredible looking line!
(yup, that's blowing snow)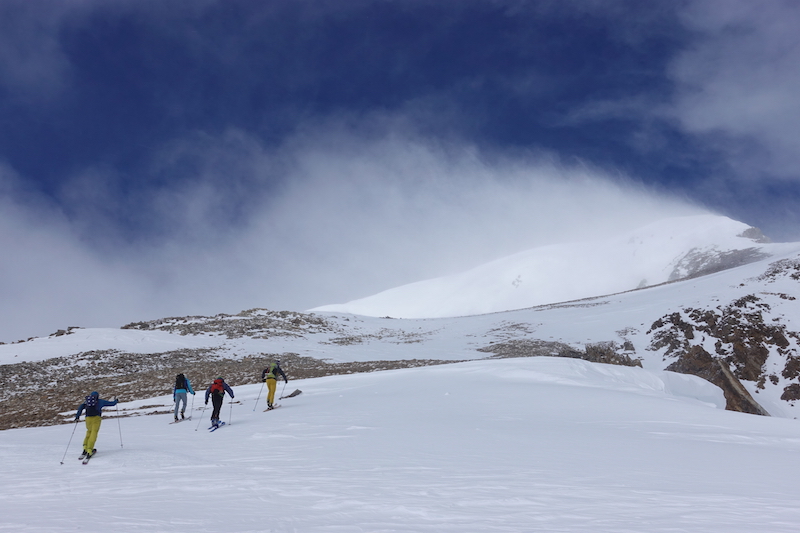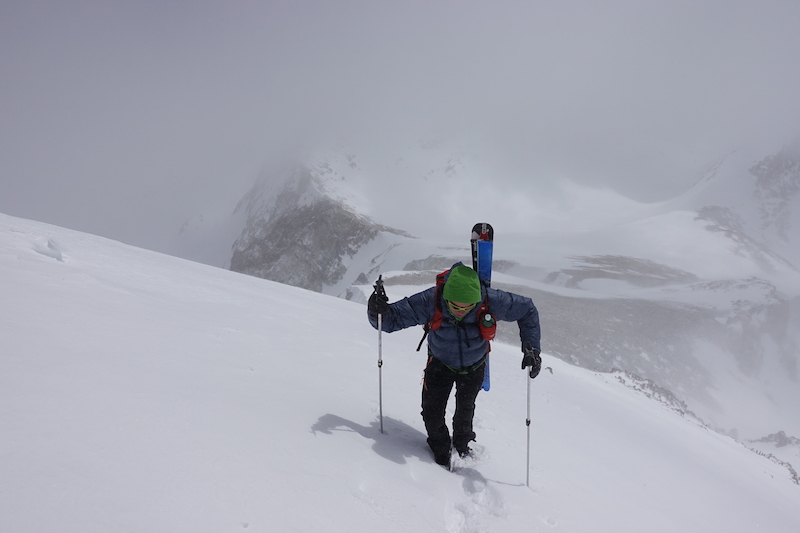 The group was all spread out making our way the last few hundred feet and any concerns about the wind, or turning back didn't come up. I was the slowest of the pack and just trying hard to keep up with these fiends. Taking in the surroundings and considering conditions is hard when you're just trying not to get left behind. We were able to get out of the wind on the summit and the sun started to pop out and all was well in the world. We didn't hang out long and we sure didn't discuss dropping out onto the 50 degree face. One by one we crept out over the lip and made a few turns over hundreds of feet of exposure before traversing skiers left over a rib. Onto another face for a few more turns and more traversing.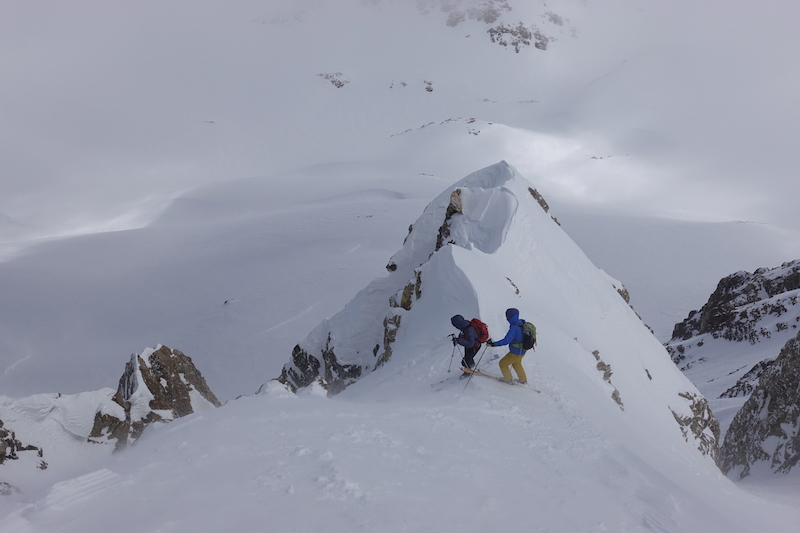 The snow was good and edgy without any wind drifts or signs of slabs. The crew all arrived safely at the top of the chute and we let our guard down since we had made it past the exposed section. I found a "safe" zone and waited. I was planning to take some photo's of whoever was going to ski first. There weren't a ton of great spots to hang out so the avalanche victim to be cut into the chute and was going to pull up below me and off to the side.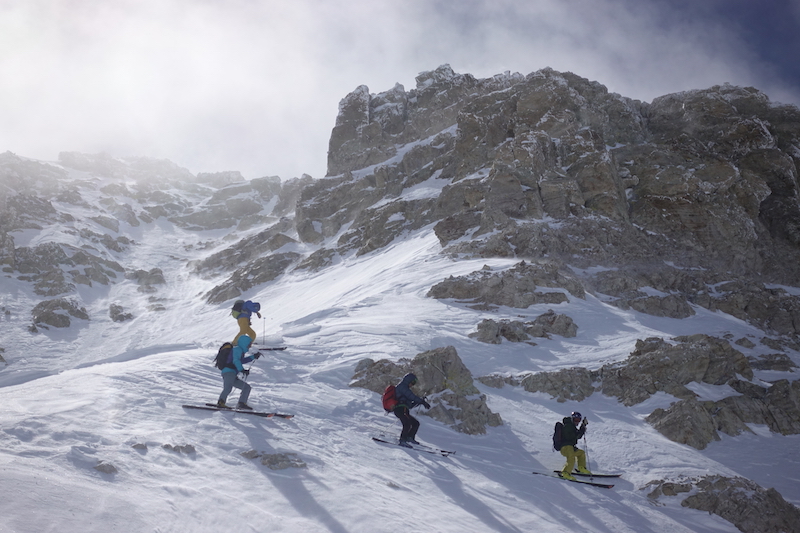 As he was traversing he triggered a good size pocket that cracked right at my feet. He was to far onto the slab to get off and he accelerated with the snow down the chute. We were all shocked and totally surprised with, but our local friend skied off quickly after the victim while we gathered our gear we had removed and followed suit. The visibility was okay and halfway down we could see a body far down below on the apron. The avalanche had spit so far and powerfully out into the flats that it had spread out and thinned out. The debris was still deep in places, but luckily our buddy was safely on top.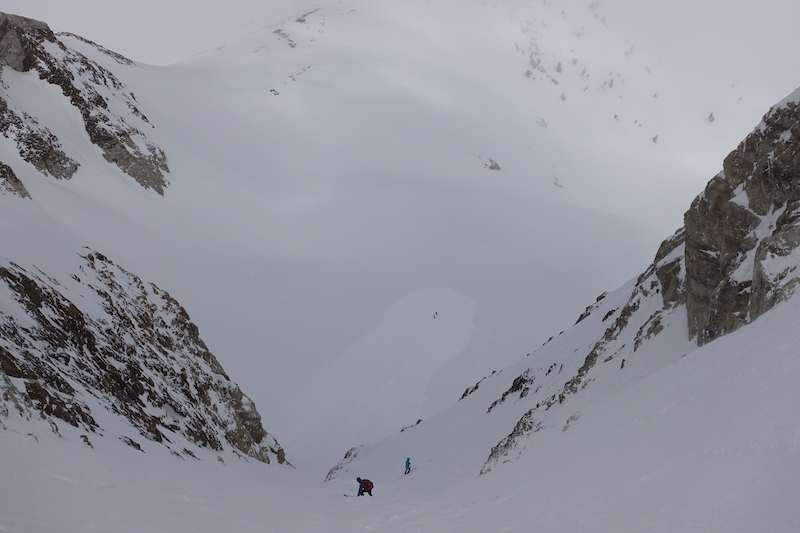 He was in shock and beaten up, with some knee pain, but he was mobile. We searched around for his gear and some of our ski poles that had gone for the ride as well. We found a pole, but no skis and formed a plan to get him out. The exit was mostly downhill and aside from the few short uphill sections that he had to boot up he was able to coast out on two skis that we lent him.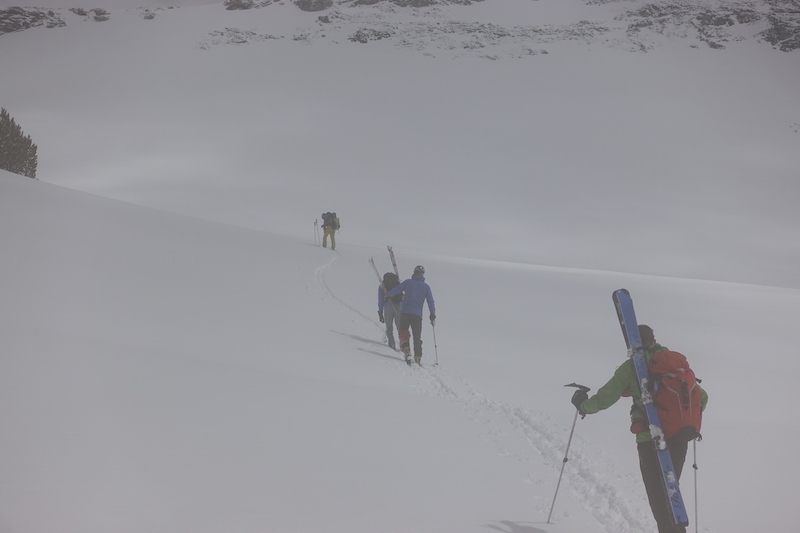 While we took turns with two of us skiing out on one ski. Our epic trip to the Sierra was cut short and we drove back to Salt Lake City shaking our heads with our tails between our legs.
It all makes sense now, the many layers of things we did wrong and the obvious high winds and new snow creating wind slabs. Strange group dynamics with new folks in new terrain that we thought was "manageable". All the mistakes we made are things we "knew" to watch out for and avoid. It all seems so preventable now. A combination of speed and big mountain greed pushed us out into places we shouldn't have been on that day. An entry level skier probably wouldn't have made any of these mistakes. A novice wouldn't have picked such a big objective and wouldn't have headed out into bad weather? 
This was a big slap in the face to wake up and keep close to the ways I've learned to move in the mountains. And maybe the biggest thing I see, or have learned is that I've changed after all these years in the mountains. And as that change in risk tolerance, respect for the mountains, desires and partners occurs, the pitfalls, heuristics and traps encountered will also grow and change.