The first time I ever saw the Skillet Glacier route on Mount Moran it was printed on the front packaging of a camping cook set. I was figuring out the ski-bum life while stocking shelves and mounting skis at Kirkham's Outdoor Products in Salt Lake City and living in my 1978 Toyota Dolphin camper
I sat and stared at the photo. Surely nobody had skied this radical thing I thought. (Yes, I was young, dumb and very impressionable and that hasn't changed) I vowed that no matter where this line was, no matter how remote, I would find it and try to ski it. My fantasy was short lived, a co-worker burst my bubble by telling me it was just a few hours north of here in the Tetons and that people skied it all the time. I got back to work refilling racks of Jansport backpacks and Croakies. I've overlooked the Skillet in the past many years with an appetite for spicier cuisine in the Tetons. But, recently the pursuit of the "50 Classics" forced me to turn my attention back towards it's mighty east face.
No big deal, just a 6,000 foot monster of a line!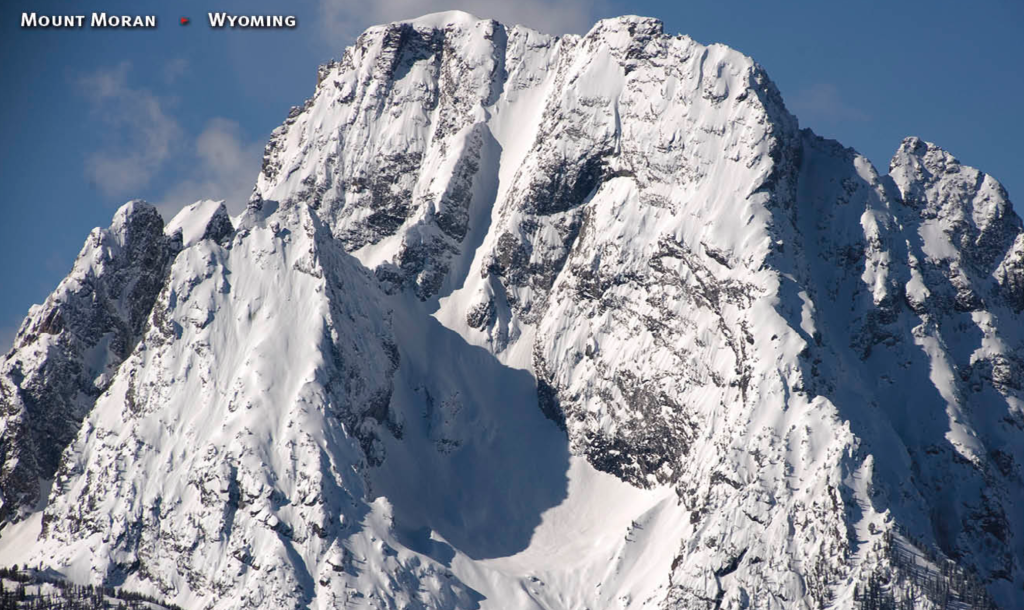 On April 23rd of last spring I drove up from SLC with the plan to meet Wasatch local Ray Huntzinger and give it a go. I'd never really skied with Ray before, but I kept running into him in the Wasatch and we talked about spring turns. He was up working on a new condo in Jackson Hole and wanted an excuse to get out and play so we decided to team up. We chose light-weight gear and thought we could climb and ski Moran pretty easily in a day and avoid camping out for the night. The local beta wasn't promising with a questionable 5.5 mile lake crossing and large amounts of avalanche debris in the chute. The big issue was going to be crossing Jackson Lake if it didn't freeze solid. The predicted low was only going to dip down to near 32 degrees. We met up around 11:30 p.m. in the parking lot of Colter Bay Village and decided to proceed even though expectations were really low.
The lake was NOT fully frozen and we kept punching through into slush and water over boot deep, but the plus side about warm temps is warm temps and our feet weren't cold. Neither of us do a lot of lake crossings and it was hard to tell if we should be worried about what we were doing, but yeah we were a little concerned since we didn't have any water wings. After we plunged in a few times, we poked around underneath and found there was a solid frozen layer deeper down and we were just dealing with surface melt.
Backcountry skiing may be the best way to quickly get to know somebody. Especially when it get's challenging, or weird. What I now about Ray is he's a very competent quick moving hombre that has retired from fighting fires, but has a fully stoked flame for mountains and adventure. The soupy lake didn't make for easy going in places, but we kept laughing and splashing along while trying to avoid the obvious deeper holes.
We hit the shore and with some traversing and GPS navigation we found our way to the toe of giant avalanche path. A thick layer of clouds kept us from being able to see much even with headlamps. A short way up the lower apron my headlamp died and it made it even harder to see. I stayed close to Ray to borrow light. Somehow I ended up a few steps ahead of Ray, I stepped forward and all of the sudden there was no ground. I stepped off into the air and then started falling and sliding on snow into the dark. The slide was just 30 feet or so, but it was a real pant-shitter (no pants were shit). We had unknowingly topped out on a little wind feature and I had found the quick way down the other side of it. A scary moment that should have been avoided. I stepped back in line and followed Ray and his ray of light after that. We were on the far climbers right side and kept bumping into the base of cliffs and having to traverse out left.
Things started to lighten up and brighten up as we got our feet into the handle of the skillet.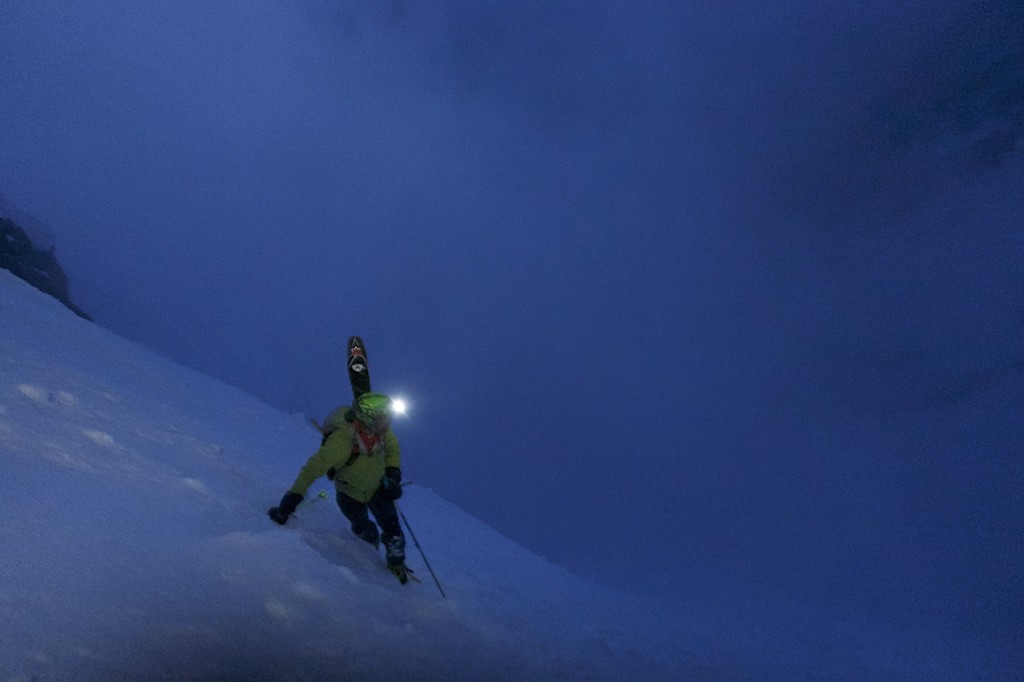 I was bonking pretty good and Ray kept breaking the booter. We sifted through the clouds and quickly realized we were about to partake in one beautiful fucking sunrise!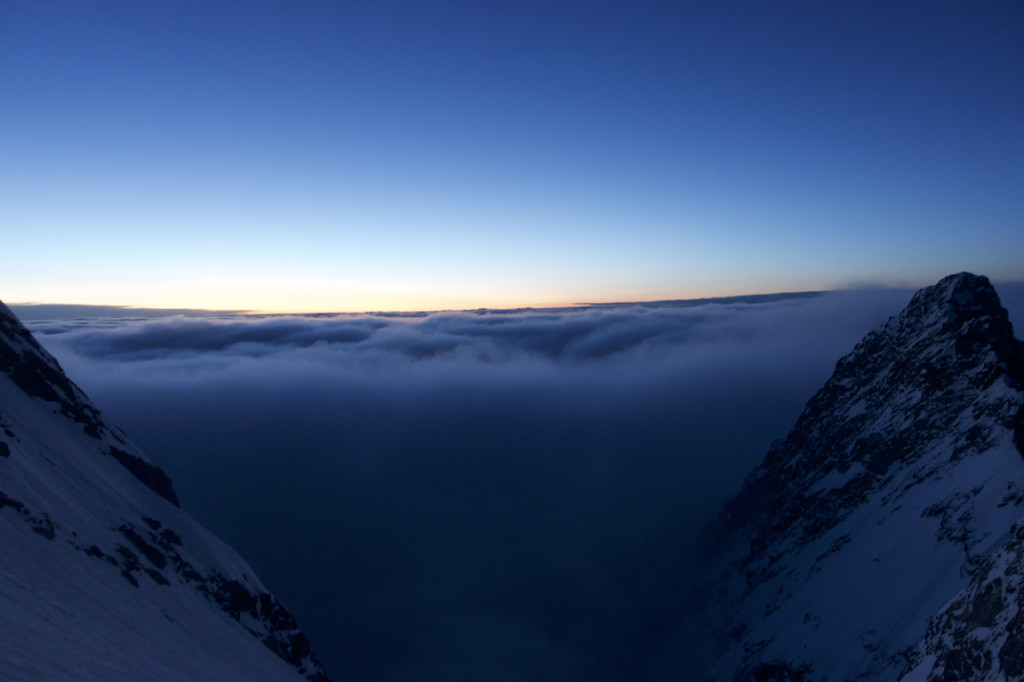 The cloud deck hid most of our mountain and most of the other surrounding mountains and pretty much all of Wyoming and Idaho. The visuals made it hard to focus on moving onward and upward.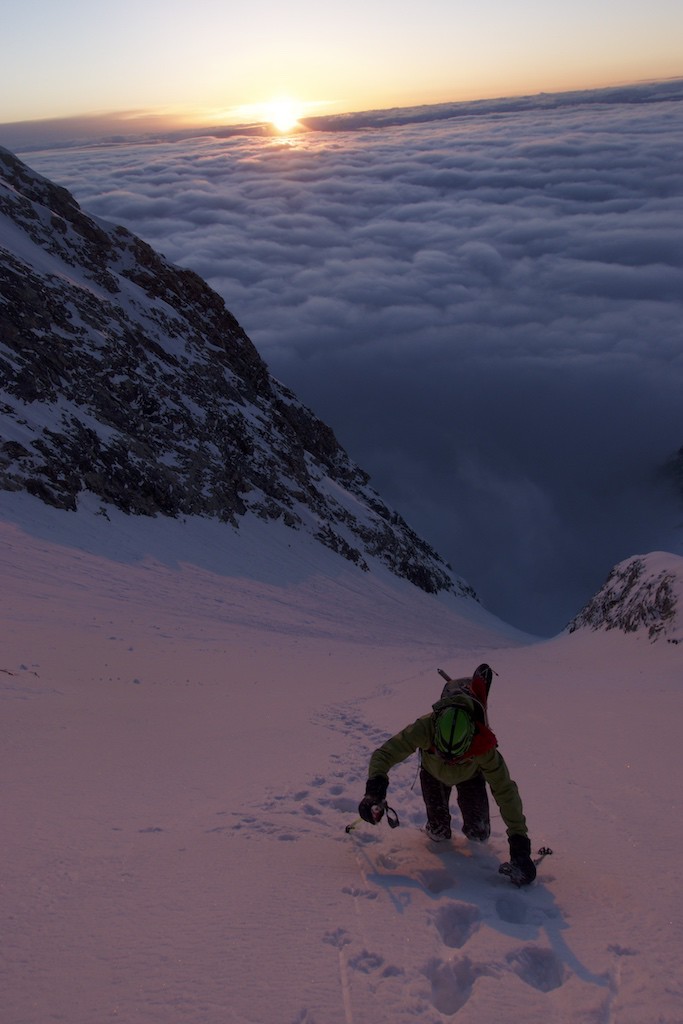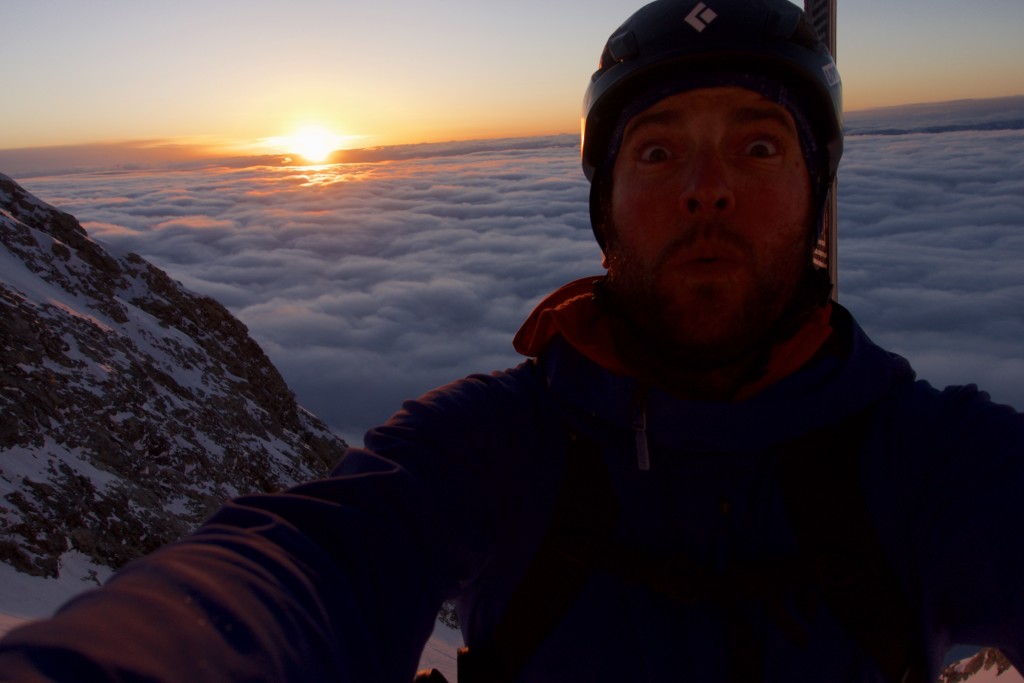 Then BAM, pink light and warmth, but still not to the top yet.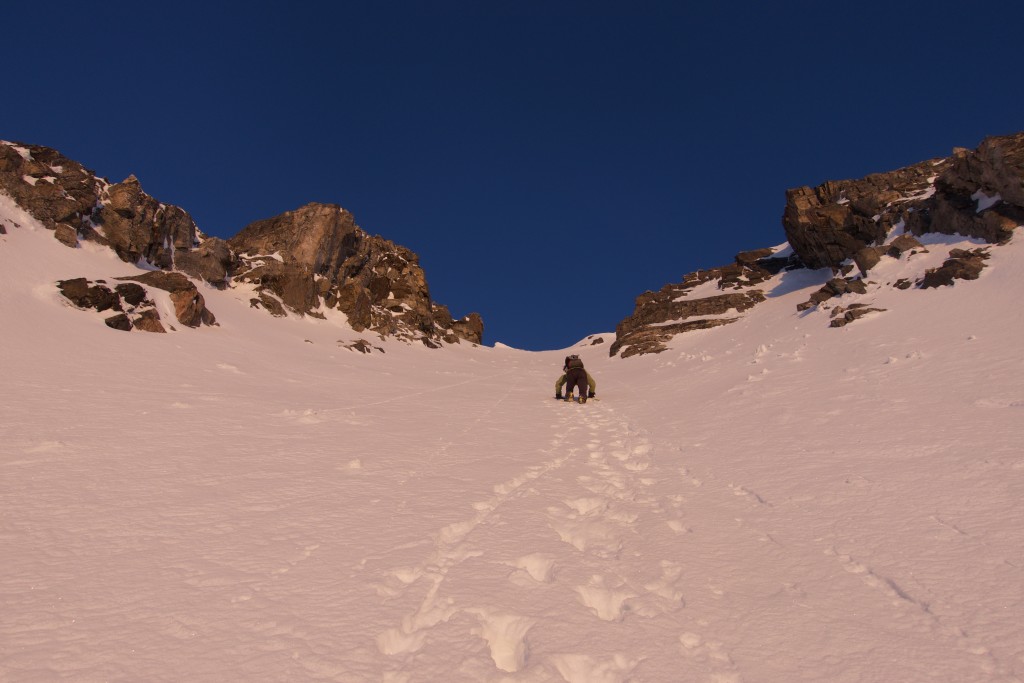 We summited right around 7 a.m. in full sun after skinning and climbing for 7 hrs in the dark.
Enjoy the Grand Teton and some of her the other nearby appendages poking up through the sea. This is one of my favorite photos I've ever taken. I think I might blow it up and print it out. Truth is it looked even better in real life.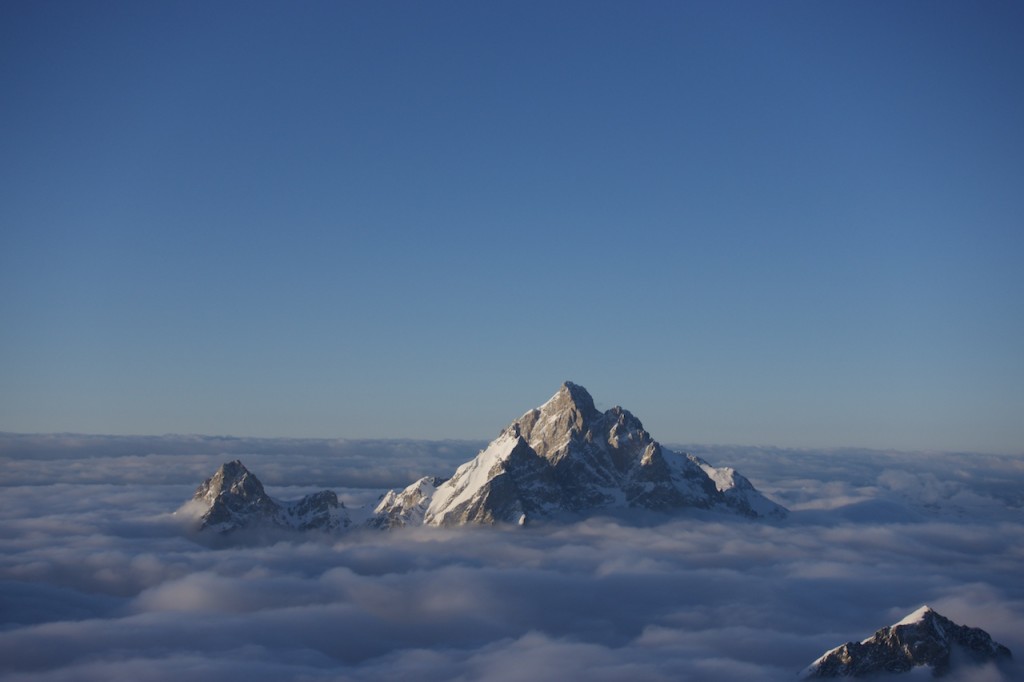 The new snow from the night before was about boot deep and still fresh, but we wanted out of there before it started heating up and flushing.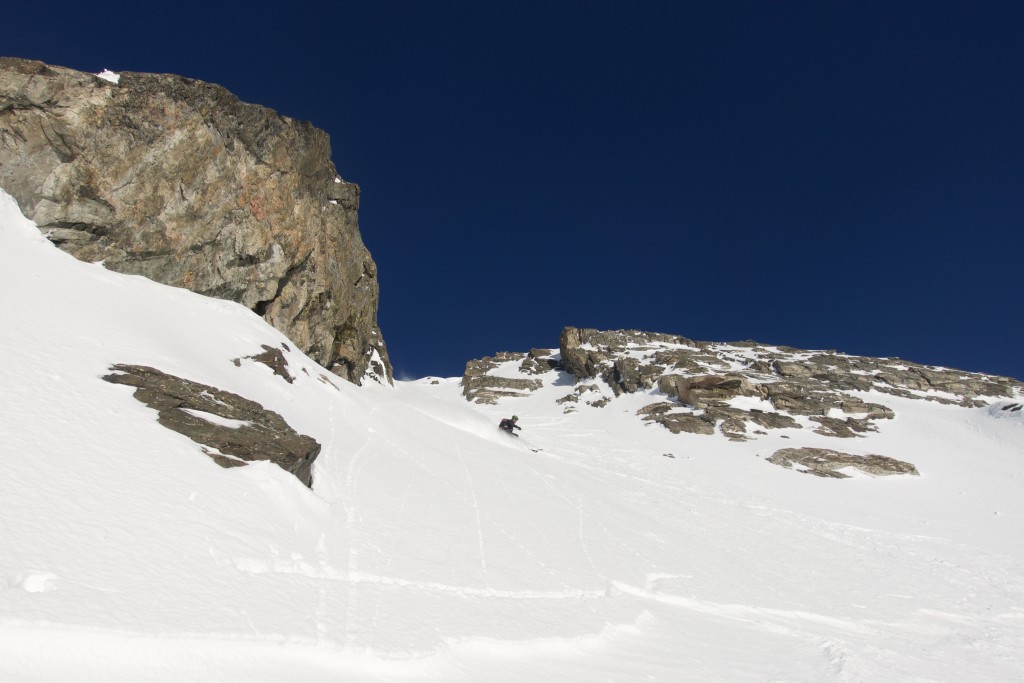 It's pretty easy to write about snow conditions and planning and mountains, but I don't know what to say about the actual act of skiing. It's just better experienced than poorly described. I'll just shut up for few minutes and let the photos do the talking.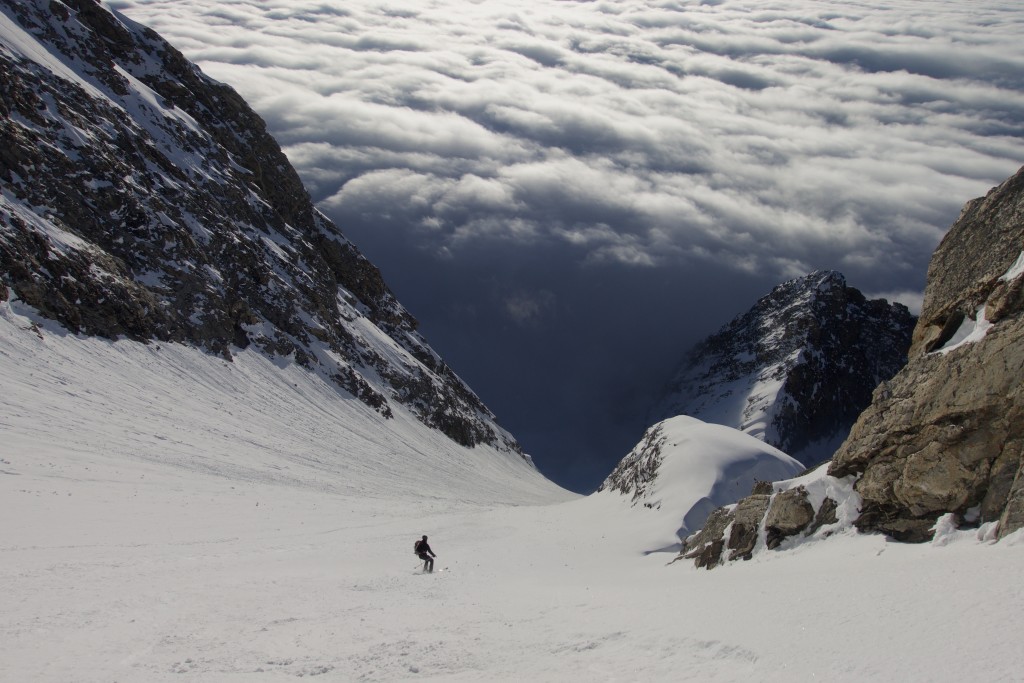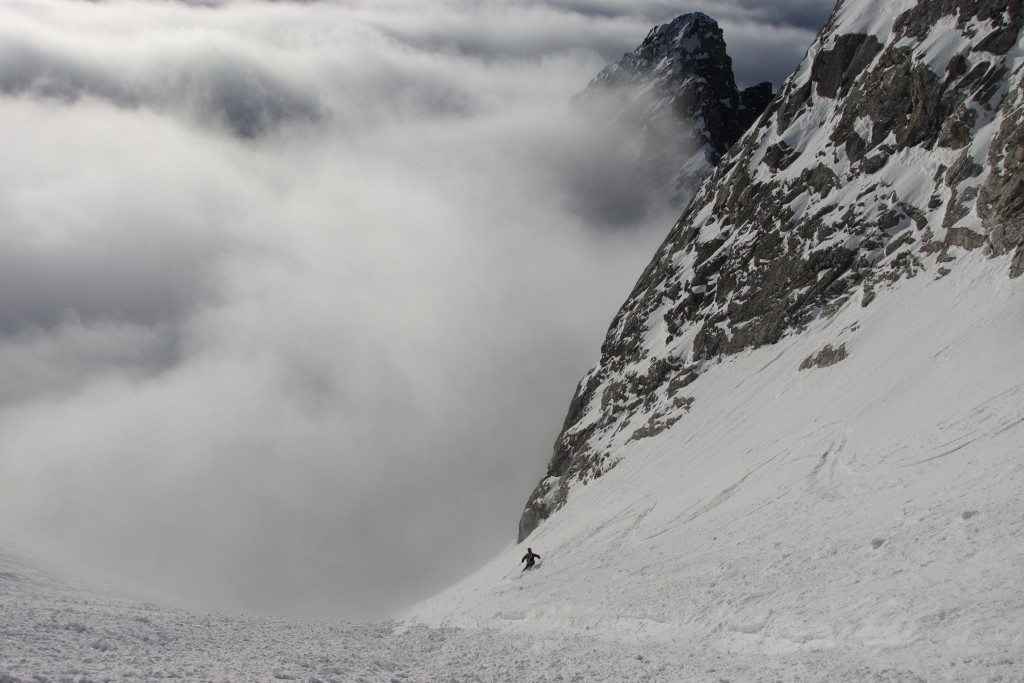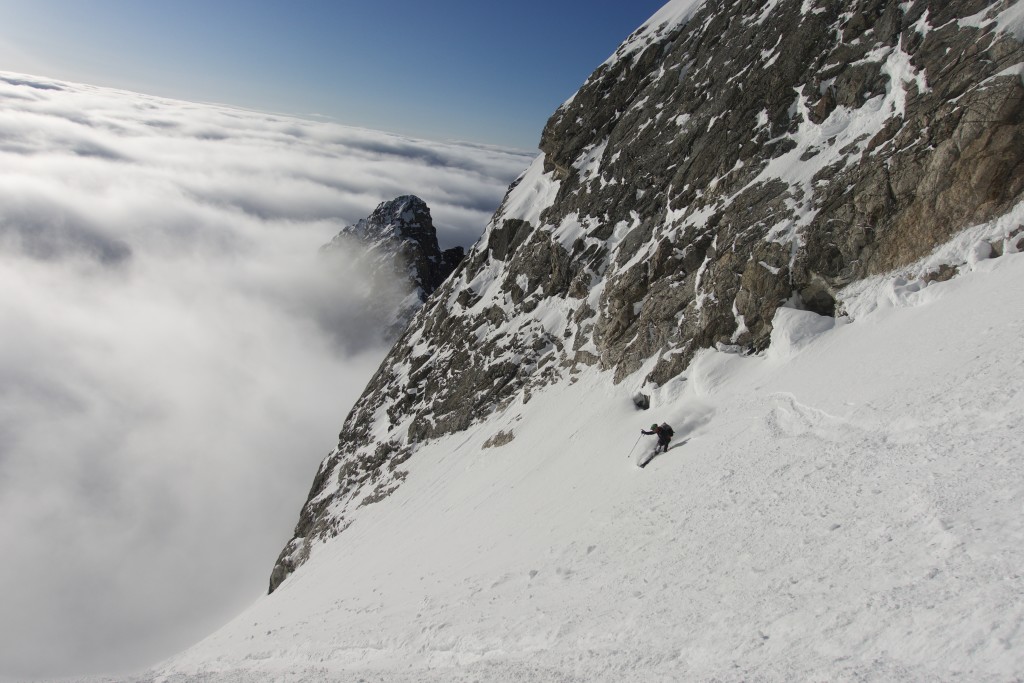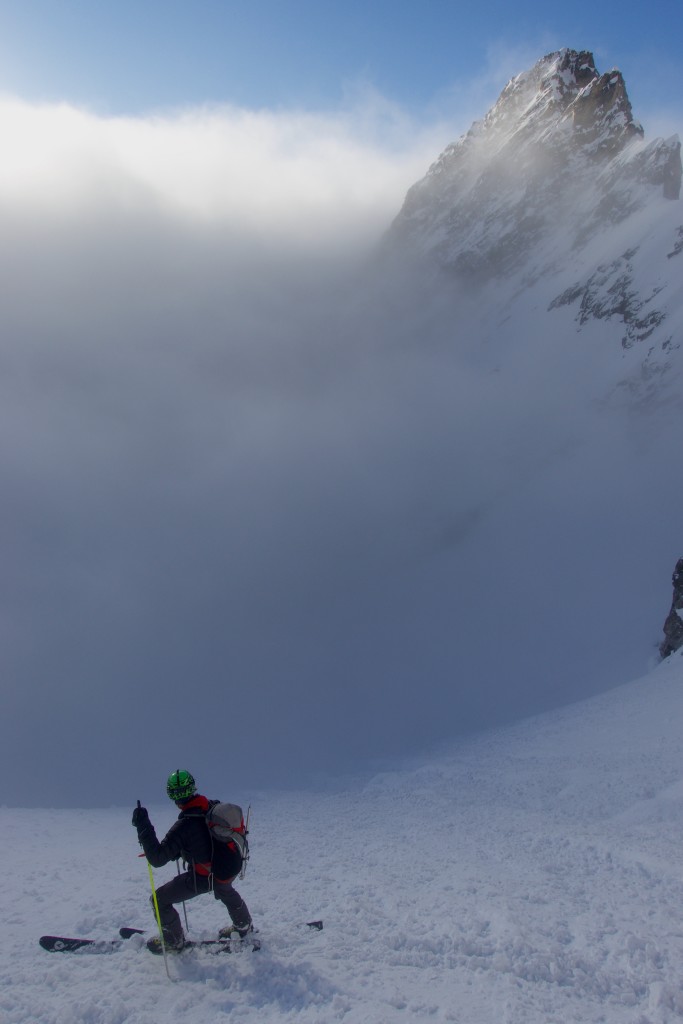 It was dark again back under the clouds and the skiing changed from pow to un-thawed corn.  The south facing cliffs had indeed avalanched in a serious way as had been reported, but the Skillet is so huge there was ample room to avoid it altogether by staying out to the skiers right and working the ribs. Smooth sailing.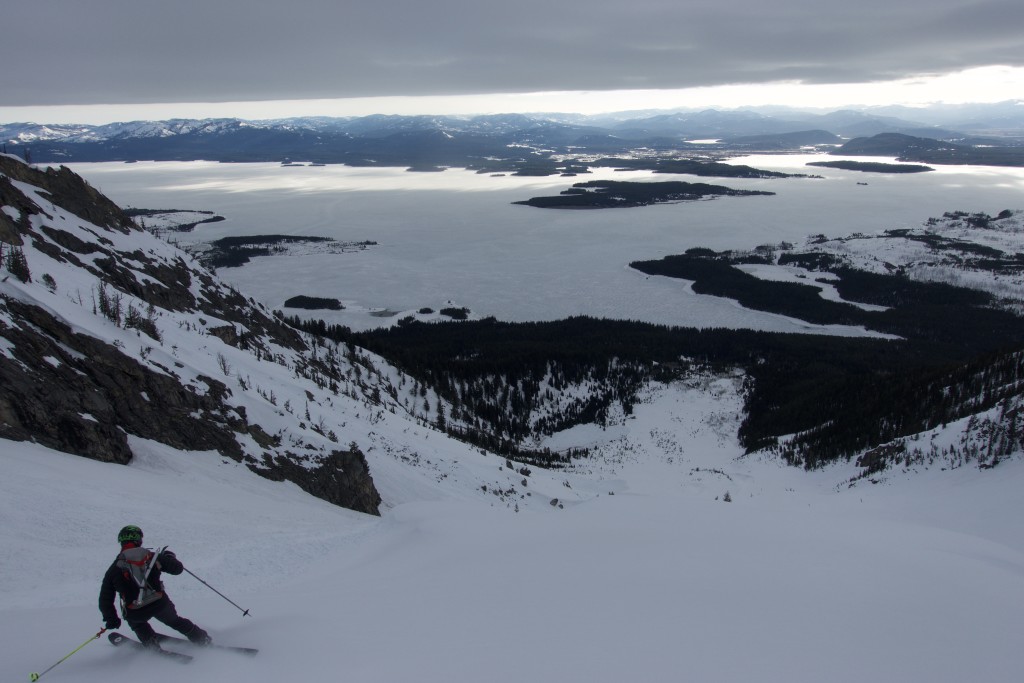 To our surprise, the lake was frozen good and solid when we returned to retrace our steps. This was a fine surprise! And the cloud cover was preserving it. We were able to skate and stride quickly back across. A friend of mine (Jason Dorais) had recently introduced me to the one skin on/one skin off mode of kick and glide and we utilized it here with good efficiency. It didn't seem any faster per se, but it was a nice way to break up the monotony of just doing a single motion for many miles.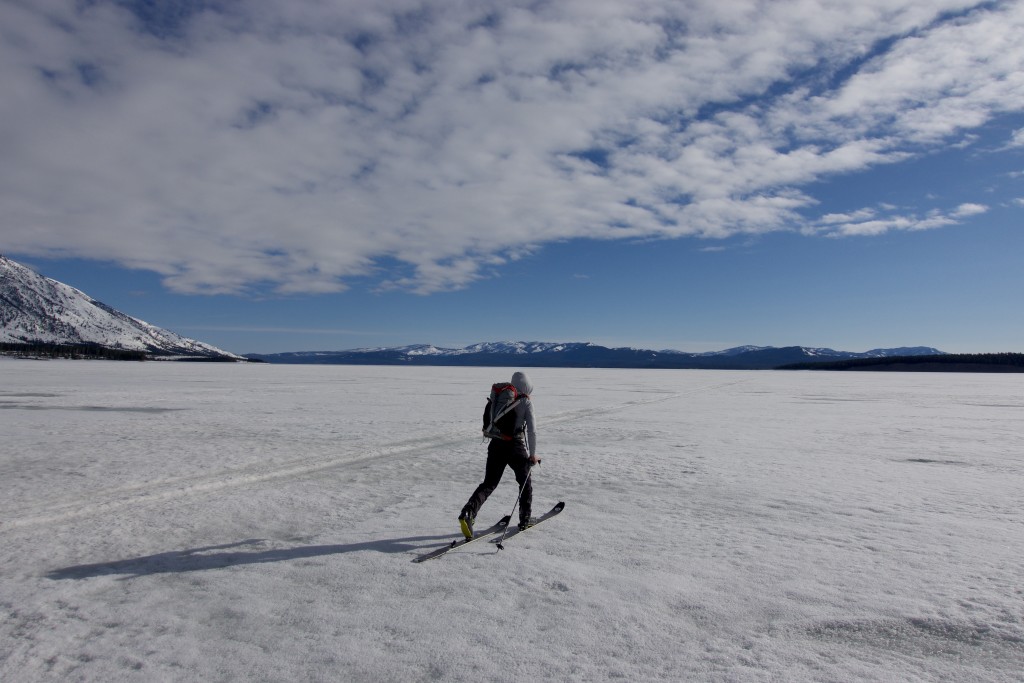 Looking back as the mountain finally started breaking out of the shroud. Ray and I clicked right into place (like a new pair of tech bindings) on this majestic mountain. It's nice to be pushed into new terrain and new partnerships, especially when they work out so damn well.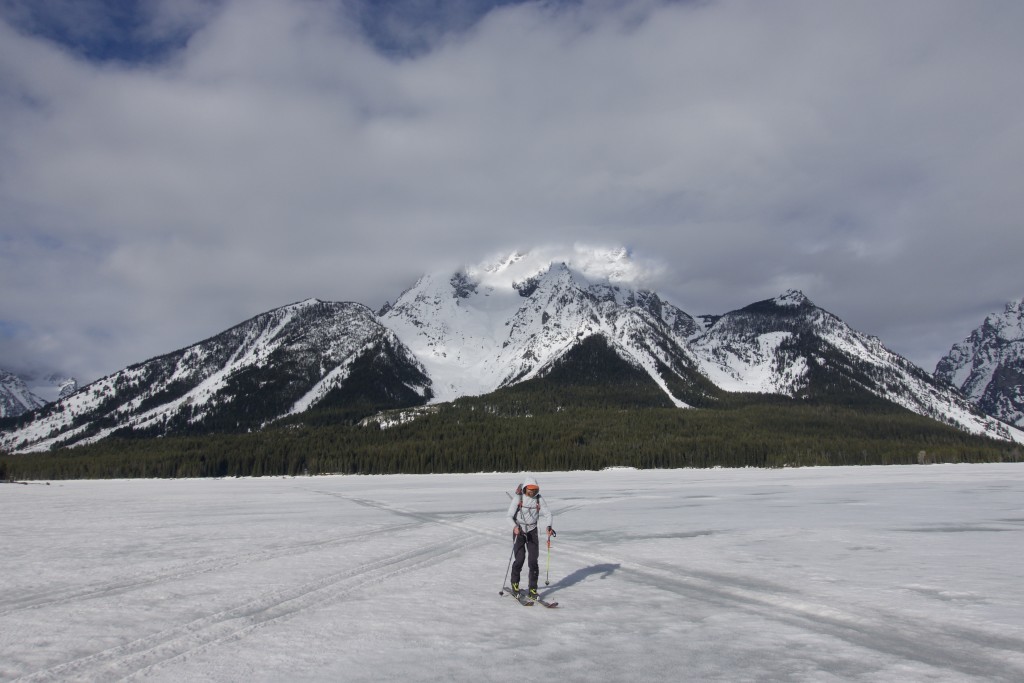 Not all the lines in the "50 Classics" fit my definition of what makes a classic ski line. However, "The Skillet" on Moran could be the poster child (it literally is the artwork on a box of skillets) for classics in my mind. It's a great line, on an incredible mountain that's challenging, but skiable for anyone with moderate skills and fitness.