Those who have compared our life to a dream are right… we are sleeping awake, and waking sleep.
-Michel de Montaigne-
I am living a dream. Few things in this life (dream) am I this certain of. I am living a dream and you cannot tell me otherwise. How do I know? Because, what you are about to see is too fantastical a journey to occur in the "real" world.
Only in a dream do 100 skiers from around the globe embark on a cruise ship to ski the Antarctic Peninsula.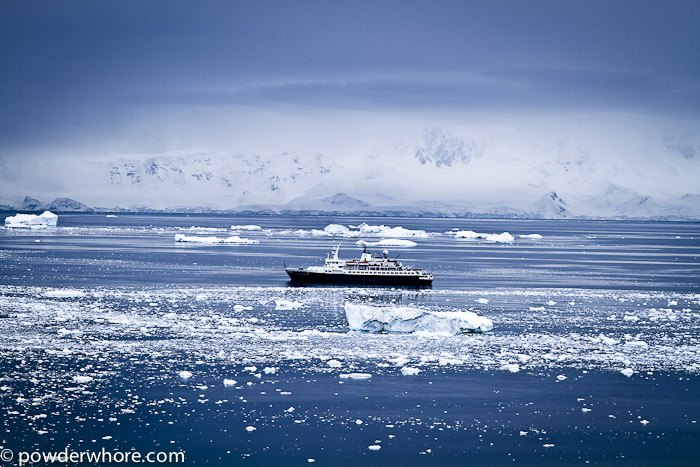 We all dream; we do not understand our dreams, yet we act as if nothing strange goes on in our sleep minds, strange at least by comparison with the logical, purposeful doings of our minds when we are awake.
-Erich Fromm-

We departed from Ushuaia, Argentina and spent two beautifully calm and clear days at sea crossing the Drake Passage.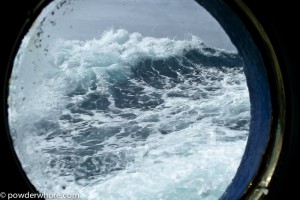 Here's what happens when a boatload of skiers pray for snow.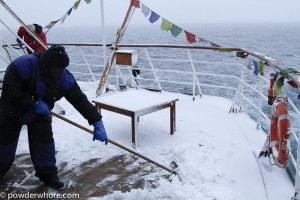 We arrived in a land of blue and white and every shade in between.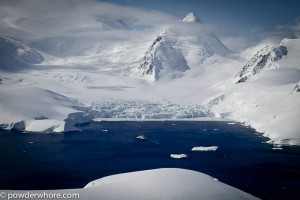 The boat was a mixed bag of guides, newbies, veterans, hippies, punters, bros, powder hos, yuppies and euros. Chris Davenport and Andrew McLean have been down there multiple times and they made great tour guides.
Our first stop on land was to visit these little buggers.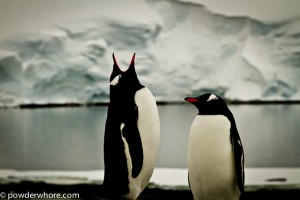 Several hours were spent watching mating rituals, dips in the pool and rocks being gathered for nests.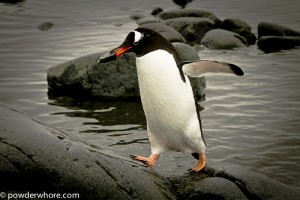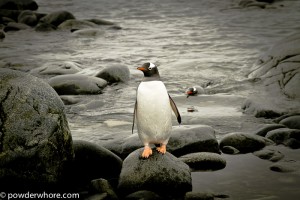 I do enjoy what it sounds like when doves cry, but not when penguins mate.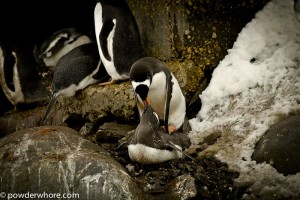 And finally, after days and days of travel, we went to shore to draw edges through snow. I was there shooting video and snagged these photos on the side. Filming conditions were very difficult due to howling wind, blowing wind and some gusty breezes. I almost wore a hole through my lens cloth. We skied every day possible and had 1.5 sunny days with mixed skiing conditions. Somehow, though, I still managed to come home with over 32 gigs worth of footage to play with!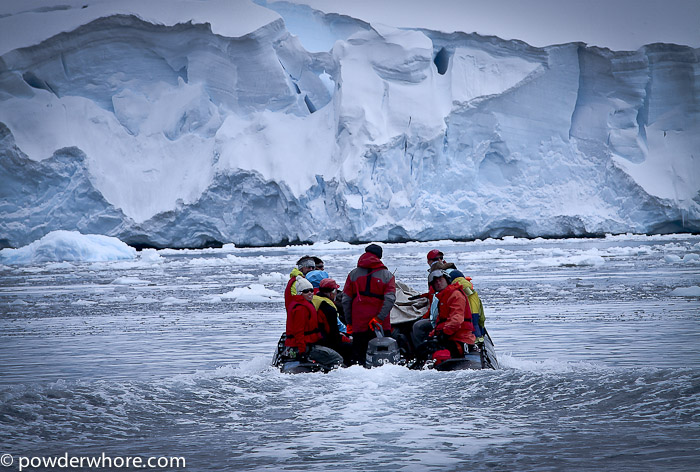 The best way to make your dreams come true is to wake up.
-Paul Valery-
Each morning was like being beamed off the Starship Enterprise. We were quickly launched from extreme comfort into the extreme. Phazers were not set to stun.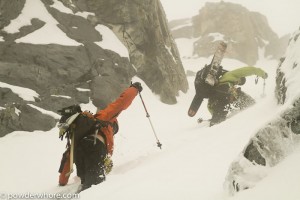 I was lucky to be with a great crew! Chris Davenport was in the leader roll and doubled as a stunt double for himself. Jim Harris put in the boot pack and took still photography. Matt Reardon was back from a broken leg last Spring, he rallied hard and kept us laughing. And Seth Wescott was the token split boarder and 2X Olympic Gold Medalist. We got along well, and why wouldn't we? We were sliding on snow at the end of the earth!
Seth Wescott is wide awake, slashing the bottom of a very steep first run of the season.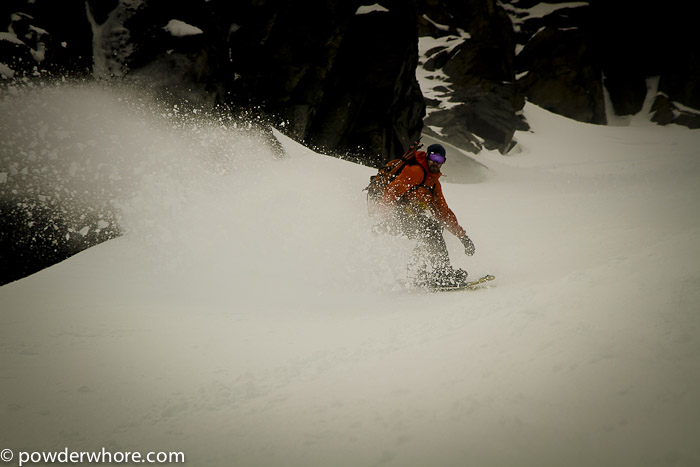 Perhaps life is just that… a dream and a fear.
-Joseph Conrad-
I've never met anybody as confident and competent on the uphill and downhill as The Chris Davenport.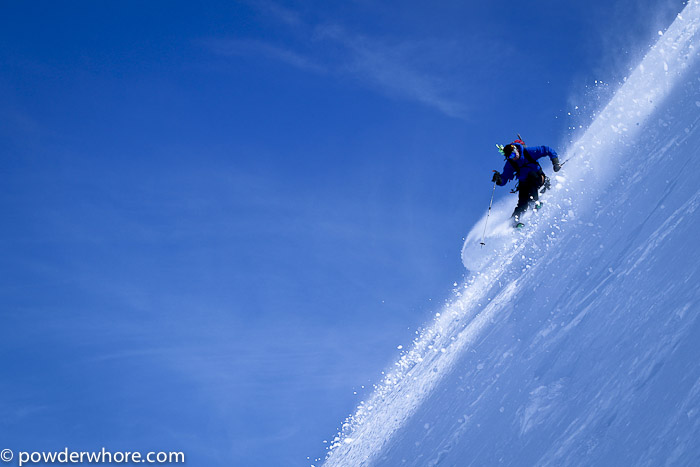 The classic skier with water and iceberg shot! Everything was steeper than it appeared from afar.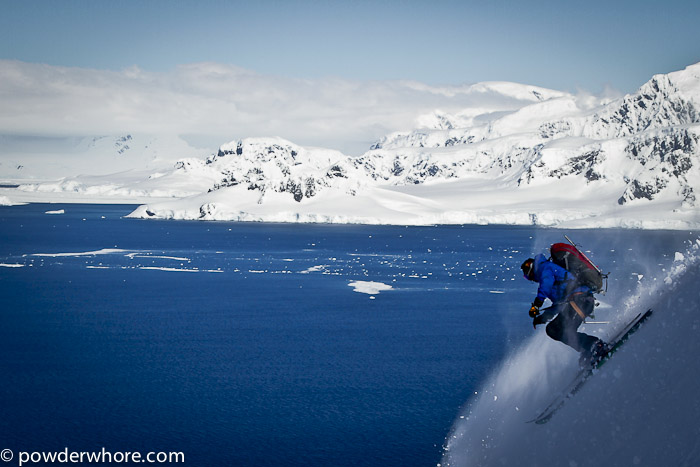 Some folks on the boat thought Seth and I were brothers. He is a very handsome man!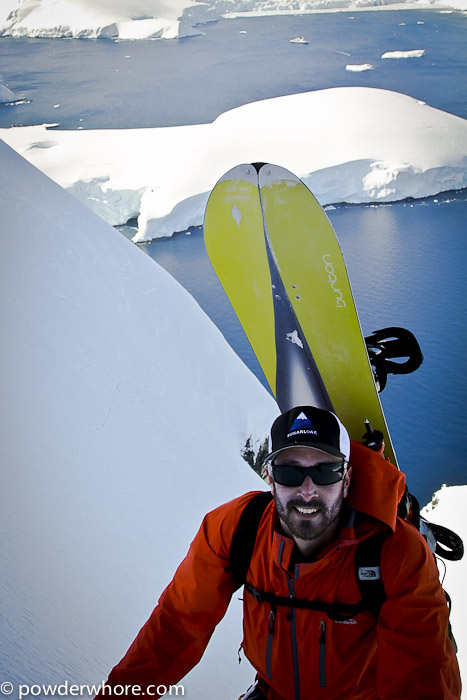 Without leaps of imagination, or dreaming, we lose the excitement of possibilities.
-Gloria Steinem-
Chris takes a leap of imagination.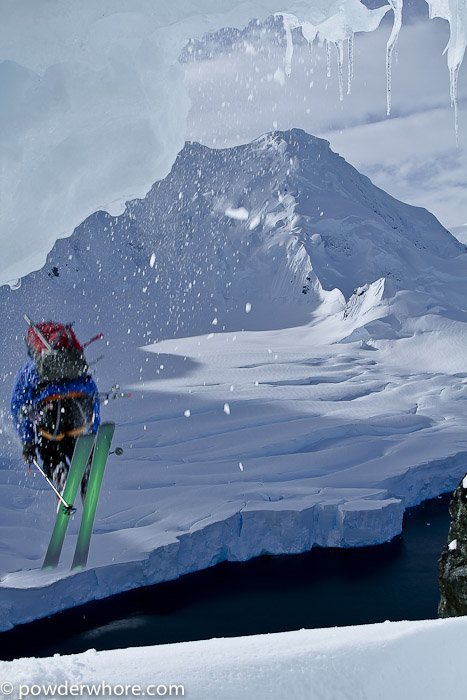 On our last day we found this incredible chute that dropped straight into a 500 foot pillar, then split in half and dumped onto the shore. Enjoy this sequence of Seth "gleaming the cube".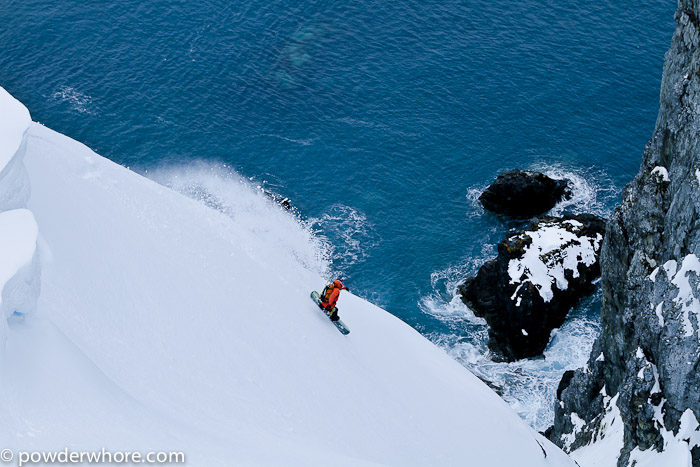 Maybe my favorite snap of the trip. The only thing cooler would have been if an Orca Whale had swam by in the frame. We waited for a while to see if it would happen, but it didn't. That was just being greedy.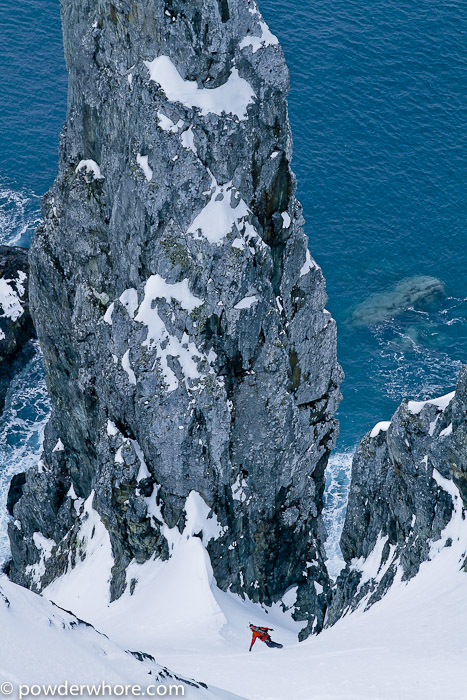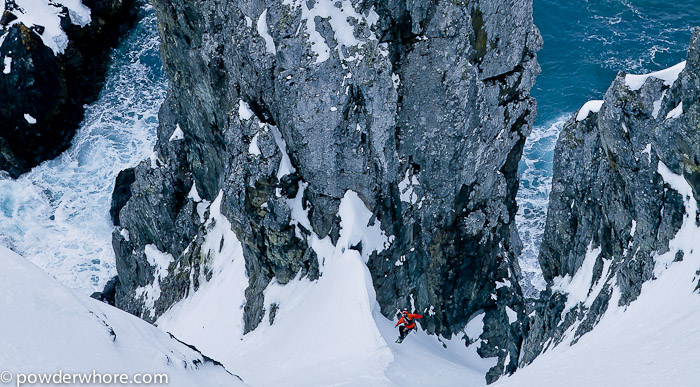 A raw cut of Chris Davenport skiing one of the most incredible shots I've ever filmed!! It's fun when you can get almost as excited about shooting something as you would from skiing it.
Who looks outside, dreams; who looks inside, awakes.
-Carl Jung-
To visit such remote and harsh terrain during the day while slumbering and dining abord a luxury liner redefined contrast.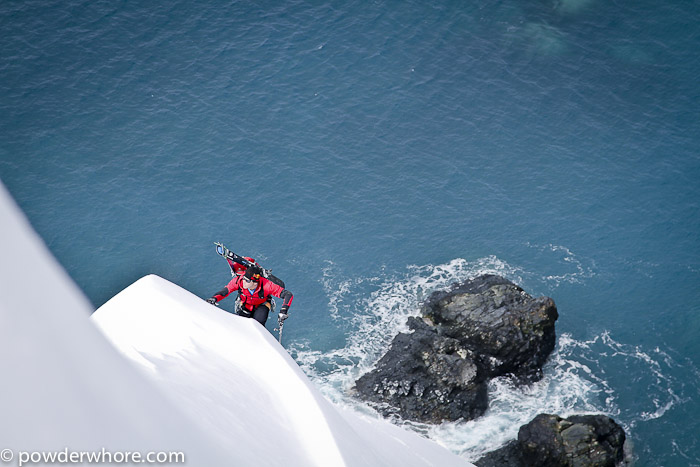 And here we find Jim Harris booting up from the watery abyss. I have done my best to do justice to the trip, but visit Jim's trip report at TGR to behold mastery of the lens.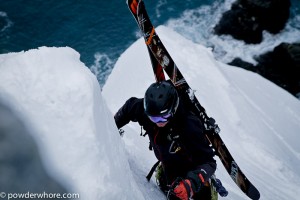 Reality is wrong. Dreams are for real.
-Tupac Shakur-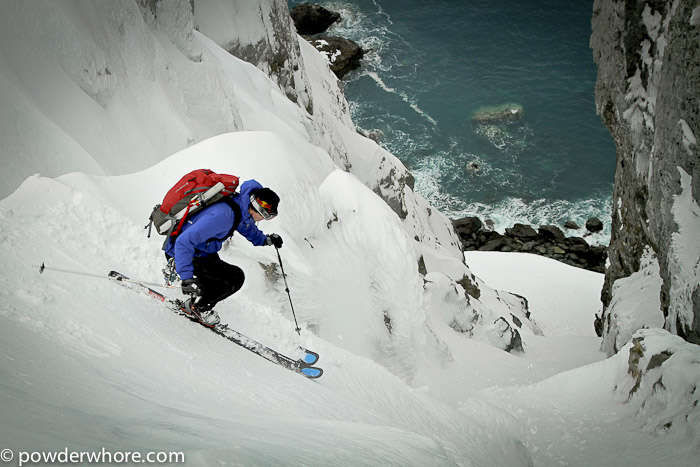 Sometimes it takes more than a pinch, but a plunge to try and wake oneself from the dream.

Nothing happens unless first a dream.
– Carl Sandburg-
After six days of skiing we headed for home. My only complaints about the trip were that it was too short. And that cold salt water isn't softer on the ass from 30ft. I've been many places to ski now and there are few areas with this insurmountable amount of steep skiable terrain within 'easy' (maybe not on the wallet) access. Plop this random unnamed mountain below in the lower 48 and it would be a national park and John Denver would have written a song about it. Here it's just part of the everyday scenery you give a slight pause to while you're loading up your burger on the back deck.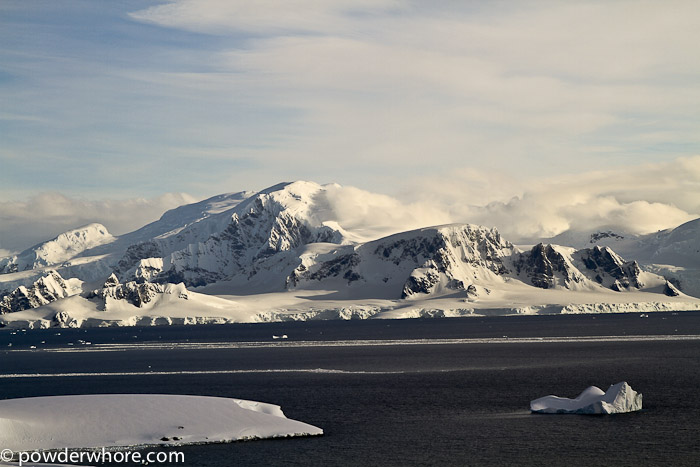 Our passage back was not nearly as gentle as the ride out! The boat rocked and rolled for two days as we battled through hurricane force winds at times. Thanks to Mike Sahlman for the great GoPro footage from the upper deck.

They made us go below shortly after this footage was captured. Some of us obeyed and some of us stayed and reenacted THIS scene from Forrest Gump.
Eternal thanks to Doug Stoup and Karyn Stanley at Ice Axe Expeditions for conjuring up this inconceivable adventure, and even more for pulling it off!
And now the dream threatens to become a nightmare of a season. The Wasatch just recorded one of the driest Decembers ever! However, a trip like that has kept me full until now.
A man is not old until regrets take the place of dreams.
– John Barrymore
Now wake up! Seals don't wave goodbye.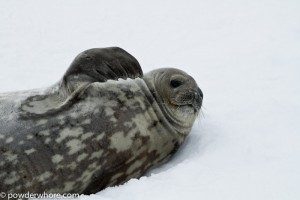 Help support the dream and find the gear you need to achieve yours by clicking the banner below.